Draft Agenda 15Th Meeting, 4 December 2013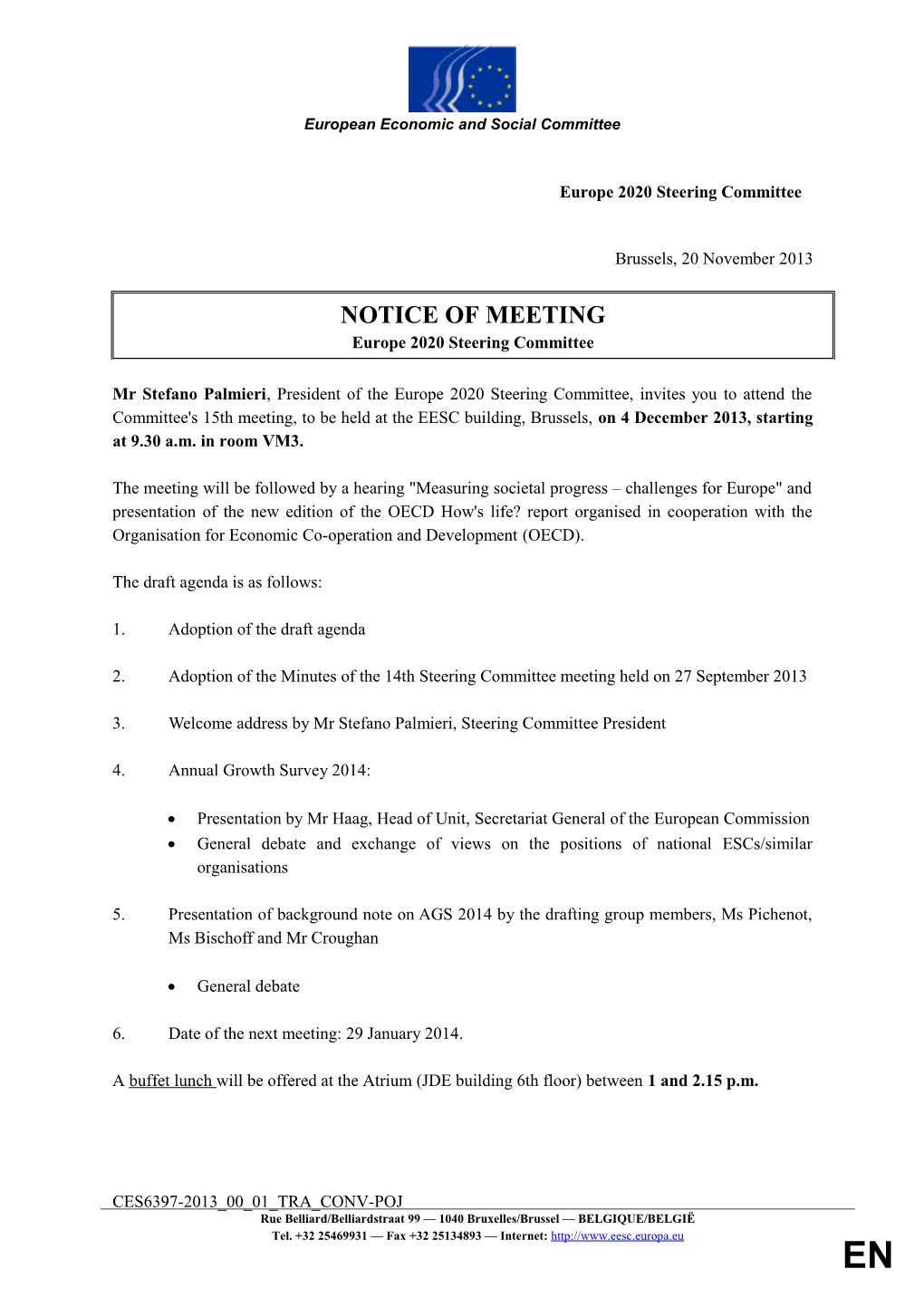 European Economic and Social Committee

CES6397-2013_00_01_TRA_CONV-POJ…/…

- 1 -

Europe 2020 Steering Committee
Brussels, 20November 2013
NOTICE OF MEETING
Europe 2020 Steering Committee


Mr Stefano Palmieri, President of the Europe 2020 Steering Committee, invites you to attend the Committee's 15th meeting, to be held at the EESC building, Brussels, on 4 December 2013, starting at 9.30 a.m. in room VM3.

The meeting will be followed by a hearing "Measuring societal progress – challenges for Europe" and presentation of the new edition of the OECD How's life? report organised in cooperation with the Organisation for Economic Co-operation and Development (OECD).

The draft agenda is as follows:
1.Adoption of the draft agenda
2.Adoption of the Minutes of the 14th Steering Committee meeting held on 27 September 2013
3.Welcome address by Mr Stefano Palmieri, Steering Committee President
4.Annual Growth Survey 2014:
Presentation by Mr Haag, Head of Unit, Secretariat General of theEuropean Commission
General debate and exchange of views on the positions of national ESCs/similar organisations
5.Presentation of background note on AGS 2014 by the drafting group members, Ms Pichenot, Ms Bischoff and Mr Croughan
6.Date of the next meeting: 29 January 2014.
A buffet lunch will be offered at the Atrium (JDE building 6th floor) between 1 and 2.15 p.m.

7.Hearing on"Measuring societal progress – challenges for Europe" and presentation of the new edition of the OECD How's life? report

Working languages: / ES-DE-EN-FR-IT
Interpreting: / ES-DE-EN-FR-IT into DE-EN-FR-IT


______

N.B.:The documents referred to in this invitation will be made available as soon as possible via the Members' Portal.

Members and experts are asked to sign the attendance list in order to ensure that their meeting expenses are refunded.

Members unable to attend the meeting are asked to give advance notice to their group secretariat so that interpreters do not attend unnecessarily.

Recorded meeting - see DI CESE 22/2010.


OECD
Better Life Initiative /
European Economic and Social Committee
Europe 2020 Steering Committee


European Economic and Social Committee (EESC) and the
Organisation for Economic Co-operation and Development (OECD)

Hearing

"Measuring societal progress – challenges for Europe" and presentation of the new edition of the OECD How's life? report

4 December 2013, 2.30-4.30 p.m., EESC (Rue Belliard 99, B-1040 Brussels)

Provisional Agenda

2.30 p.m. / Introduction and Welcome speech
Joost van Iersel, President of the Economic and Monetary Union and Economic and Social Cohesion Section, EESC
2.40 p.m. / Presentation of the How's Life? Report
Martine Durand, Chief Statistician and Director of the Statistics Directorate, OECD
3 p.m. / Round-table – Presentations
Facilitator: Stefano Palmieri, President of the Europe 2020 Steering Committee
Speaker:Eduardo Barredo Capelot, Director, Social statistics, EUROSTAT
Speaker:Robin Miege, Director of Directorate F-Strategy, DG Environment, European Commission
Speaker:Robert Strauss, Head of Employment analysis unit,DG Employment, Social Affairs and Inclusion, European Commission (tbc)
3.45 p.m. / Discussion with the floor on measuring well-being and societal progress
4.20 p.m. / Concluding remarks
Stefano Palmieri, President of the Europe 2020 Steering Committee


______

CES6397-2013_00_01_TRA_CONV-POJ