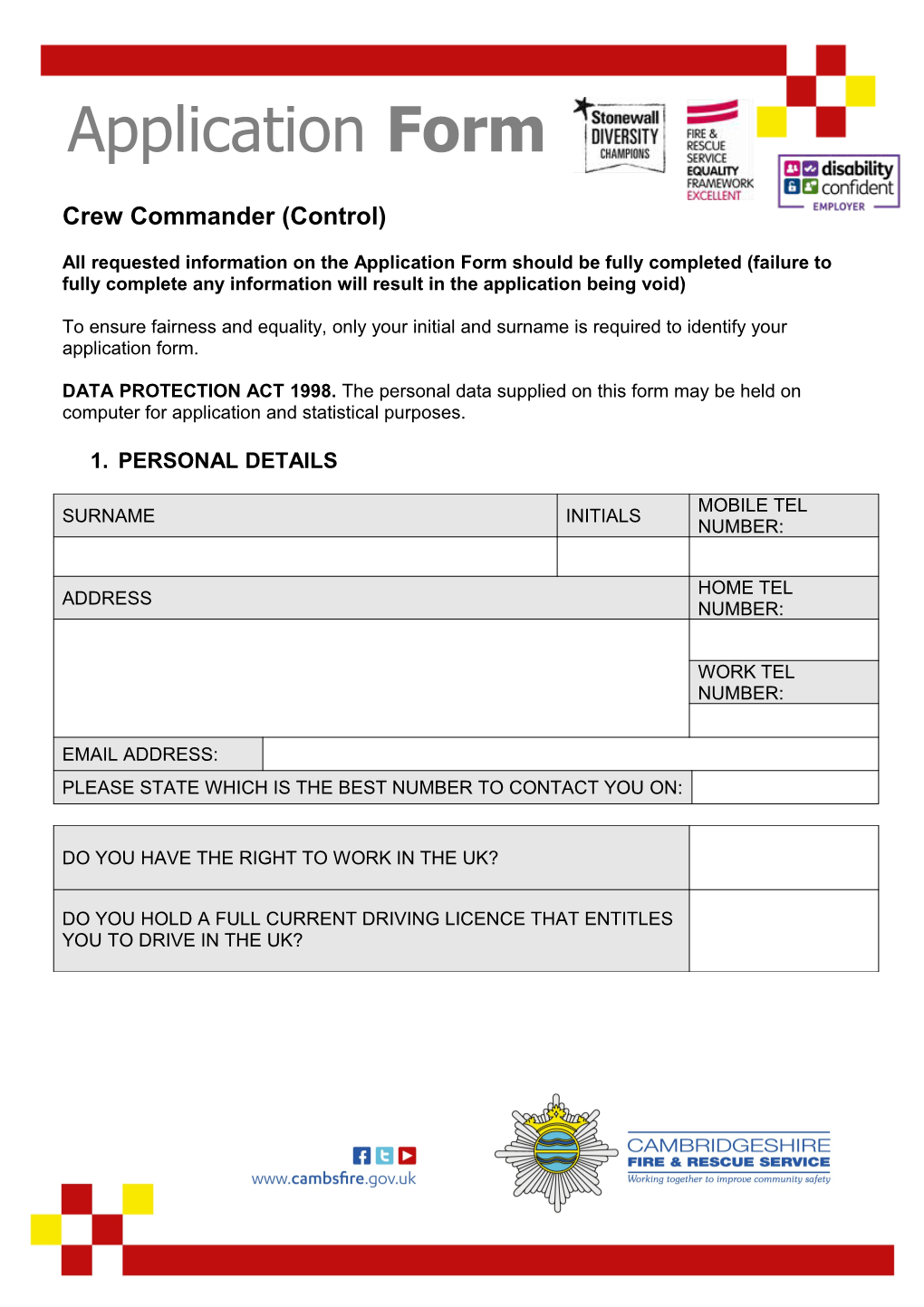 Crew Commander (Control)
All requested information on the Application Form should be fully completed (failure to fully complete any information will result in the application being void)
To ensure fairness and equality, only your initial and surname is required to identify your application form.
DATA PROTECTION ACT 1998. The personal data supplied on this form may be held on computer for application and statistical purposes.
PERSONAL DETAILS

SURNAME / INITIALS / MOBILE TEL NUMBER:
ADDRESS / HOME TEL NUMBER:
WORK TEL NUMBER:
EMAIL ADDRESS:
PLEASE STATE WHICH IS THE BEST NUMBER TO CONTACT YOU ON:
DO YOU HAVE THE RIGHT TO WORK IN THE UK?
DO YOU HOLD A FULL CURRENTDRIVING LICENCE that entitles you to drive in the uk?

COUNCIL MEMBERS

Are you related to any serving member (Councillor) of Cambridgeshire County Council or Peterborough City Council?
If YES, state to whom, your relationship and their designation. (Canvassing will disqualify).

DISABILITIES OR IMPAIRMENTS
Our "Disability confident" status means that we guarantee to interview all applicants who have rights under the Equality Act 2010 and who meetthe essential criteria for the post.

Do you have a disability or impairment that you believe may give you rights under the Equality Act?
if yes, please detail any adjustments you require so that we can ensure we have made appropriate arrangements for you during the selection process.

DECLARATION OF OFFENCES

You are required to declare any convictions for offences that are not spent under the Rehabilitation of Offenders Act 1974. Include offences dealt with by a court of law, HM Services disciplinary procedures and any driving offences.
Are you currently subject to any criminal conviction, which is not yet spent under the Rehabilitation of Offenders Act 1974?
Offence: ………………………………………Date of Conviction: ………………………
Judgement and sentence: …………………………………………………………………………………………..
Give details of any charges pending: ……………………………………………………………………………………………… …………………………………………………………………………………………………………………………………………………………………………………………………......
No information need be given concerning any conviction which is considered 'spent' under the Rehabilitation of Offenders Act 1974.


Candidate Number: _____(To be completed internally)

Your application will be shortlisted using the information contained in section 5, 6 & 7.
EDUCATION, TRAINING AND QUALIFICATIONS
GENERAL EDUCATION

(School certificates, GCSE, O and A Levels, CSE, NVQ's, others)

SCHOOLS/ COLLEGES ATTENDED / DATES / QUALIFICATION
FROM / TO / EXAM TYPE
(e.g. GCSE) / SUBJECT / GRADE/
RESULT/LEVEL


If you are currently a member of a professional association, please give details below.

Date of joining / Institute/Association / CURRENT Grade/ Level
of Membership


FURTHER EDUCATION AND OTHER TRAINING.

Please give details of all Degrees/Diplomas/Certificates/Professional/Technical and Management Education and training courses you have attended that are relevant to your application.

DATE / INSTITUTION / TITLE OF COURSE OR QUALIFICATION
(as appropriate) / GRADE/RESULT/
LEVEL OBTAINED

EMPLOYMENT DETAILS - CURRENT / MOST RECENT POST

NAME AND ADDRESS OF EMPLOYER / JOB TITLE/ OCCUPATION
DATE COMMENCED / DATE LEFT
(if relevant) / NOTICE PERIOD REQUIRED / SALARY & GRADE
REASON FOR LEAVING OR WISHING TO LEAVE
MAIN DUTIES AND RESPONSIBILITIES (Please continue on a separate sheet if necessary)


1

PREVIOUS EMPLOYERS IN LAST 10 YEARS (most recent first)

EMPLOYER / DATES / JOB TITLE / MAIN DUTIES AND RESPONSIBILITIES / REASON FOR
LEAVING
FROM / TO


Please continue on a separate sheet if necessary

1
SKILLS AND EXPERIENCE RELEVANT TO THE JOB ROLE
Please state how you meet the requirements of the post, in particular the essential criteria that are listed on the person specification.This section is your opportunity to tell us why you feel you are a good candidate for the role. Pleasedo not write more than 2 sides of A4. Please use font Arial 12. Anything in addition to this will be removed prior to the application form being sent to the shortlisting panel.
8.REFERENCES
In order to confirm your appointment with Cambridgeshire Fire and Rescue Service, we will seek to undertake references that are satisfactory to the Service. Reference enquiries will therefore be made of current and previous employers, any organisations where you have volunteered plus where required a character reference. Referees will only be contacted if you are successful with your application.

The references need cover a minimum of 3 years therefore please ensure that you fully complete the reference section included contact telephone numbers and email addresses. If you have not been employed at any point during this 3 year period, a character/personal reference should be supplied.

Character/personal references should be from someone who has known you for more than 3 years and who is employed in a professional capacity. Character/personal references should not be either living with you or related to you.

Currently in employment

Your current employer must be one of your referees. If you have had more than two jobs in the last 3 years, please provide the contact details of all previous employers or voluntary organisations during this period so that they can be contacted for a reference. If you have only had one employer for the last 3 years, please provide the details of a previous employer or someone who can provide a character reference.

Currently in full/part time education

If you are still in full/part time education you should give the name of your college/university tutor plus a character reference or an employment reference as appropriate.

Currently self-employed

Candidates who are or have been self-employed should provide the name and contact details for their accountant. If appropriate, contact details should also be provided for those companies/individuals that work had been regularly undertaken.

Currently not employed

If you have never been in employment, please provide 2 character references.

Criteria for a character/personal reference

The personal or character reference must be completed by someone you have known 3 years or more and work within a professional capacity, some examples are as follows:accountant, articled clerk of a limited company, bank/building society official, barrister, chairman/director of limited company, civil servant (permanent), dentist, director/manager of a VAT-registered charity, director/manager/personnel officer of a VAT-registered company, engineer - with professional qualifications, funeral director, insurance agent (full time) of a recognised company, journalist, licensee of public house, local government officer, manager/personnel officer of a limited company, Member of Parliament, Merchant Navy officer, minister of a recognised religion - including Christian Science, nurse - RGN or RMN, officer of the armed services, optician, paralegal - certified paralegal, qualified paralegal or associate member of the Institute of Paralegals, person with honours – e.g. an OBE or MBE, pharmacist, photographer – professional, police officer, Salvation Army officer, social worker, solicitor, surveyor, teacher, lecturer, trade union officer, Warrant Officers and Chief Petty Officers.

EMPLOYMENT REFERENCES

Name: / Job Title:
Company Name:
Address:
Post Code:
Telephone Number:
Email Address:
Dates you were employed / Start date: / End date:
Name: / Job Title:
Company Name:
Address:
Post Code:
Telephone Number:
Email Address:
Dates you were employed / Start date: / End date:
Name: / Job Title:
Company Name:
Address:
Post Code:
Telephone Number:
Email Address:
Dates you were employed / Start date: / End date:


CHARACTER/PERSONAL REFERENCES

Name: / Job Title:
Relationship to you:
Company Name (if applicable):
Address:
Post Code:
Telephone Number: / Email Address:


COLLEGE/UNIVERSITY TUTOR REFERENCES

Name: / Job Title:
Relationship to you:
College/University:
Address:
Post Code:
Telephone Number:
Email Address:
May we contact this person prior to the interview? / YES/NO
Dates attended: / Start date / End date:

DECLARATION
I consent to the information held within this application form to be seen by Cambridgeshire Fire and Rescue Service employees outside of the Recruitment/Human Resources department where appropriate and necessary. Should I disagree with the above I will contact Recruitment, on 01480 444500or

I confirm that I have completed this application form and that to the best of my knowledge the information I have provided in it is true and correct and I have not withheld any relevant information that may impact on Cambridgeshire Fire and Rescue Service's ability to make an informed decision on my suitability for employment. I understand that any misrepresentation will invalidate my application or could lead to the termination of my employment if I am appointed.

I agree to the information and personal data supplied on this form being stored for the purposes of my application, for monitoring and for reasonable research into the application process, in accordance with the Data Protection Act 1998.

I understand that if offered the role I will be required to complete a health questionnaire and I am prepared to undergo a medical examination, if necessary. I give permission for all relevant referees to be contacted in connection with this application.

Signed: ……………………………………………………Date: …………………………………

Please return your completed application form to:

The closing date for applications is Tuesday 16 January 2018 at 12 noon

WHERE DID YOU FIRST HEAR ABOUT THIS VACANCY:


Confidential

Equality and Inclusion Monitoring Form

Cambridgeshire Fire and Rescue Service values diversity and actively promotes equality and fairness and does not discriminate against any person because of age; disability; gender reassignment; marriage and civil partnership; pregnancy and maternity; race; religion and belief; sex; sexual orientation.

Any information you provide here will be separated from your application form treated in the strictest confidence and only used for monitoring purposes in line with the requirements of the Data Protection legislations and Equality Act 2010.This is to ensure we are treating all applicants on the basis of their ability to carry out the job they have applied for. This data will be only be accessed by Human Resources Group, Equality Advisor and Business Performance Group.

DATE OF BIRTH: / AGE GROUP: (please circle) / 17-24 36-45 56-65
25-35 46-55 over 65
Prefer not to say
AGE:
GENDER (please circle)
Male / Female / Identify in another way / Prefer not to say
NATIONALITY:
ETHNIC ORIGIN: / (please circle) / Prefer not to say
Asian/Asian
British / Indian / Black / Caribbean
Pakistani / African
Bangladeshi / Any other:
Chinese / Mix/Multiple
Ethnic Group / White/Black Caribbean
Any other: / White/Black African
White / British, English, Scottish, Welsh / White/Asian
Irish / Any other:
Gypsy/Traveller / Other Ethnic Group / Arabic
Any other: / Any other:
RELIGION OR BELIEF: (please circle) / Prefer not to say
Buddhist / Christian / Hindu / Jew
Muslim / Sikh / No Religion / Other
SEXUAL ORIENTATION (please circle)
Bisexual / Lesbian / Gay / Heterosexual / Prefer not to say
DISABILITY:
Do you have a long term physical or mental impairment or medical condition that you believe may give you rights under the Equality Act 2010?
Yes / No / Prefer not to say


1