Classified Employee Application Packet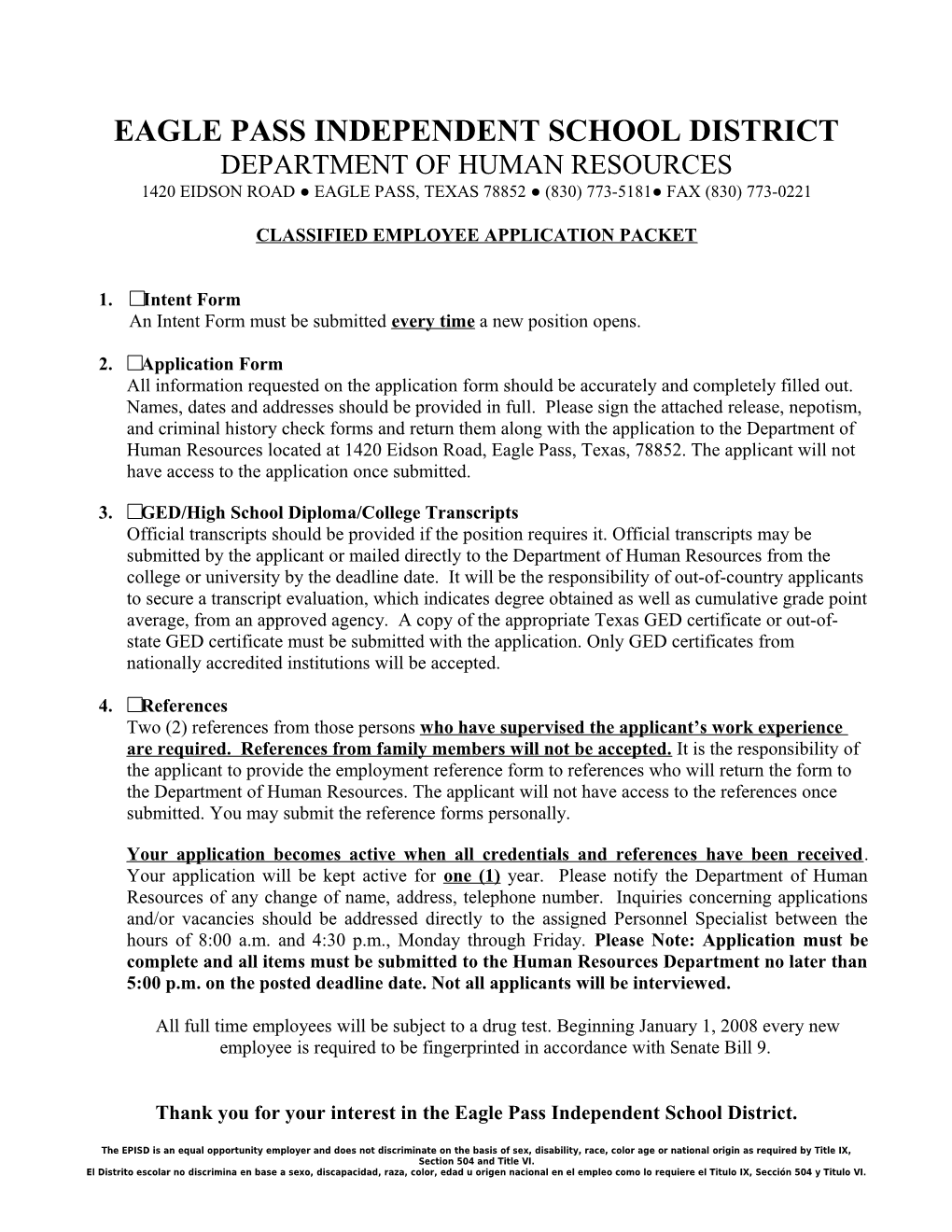 EAGLE PASS INDEPENDENT SCHOOL DISTRICT
DEPARTMENT OF HUMAN RESOURCES
1420 EIDSON ROAD ● EAGLE PASS, TEXAS 78852 ● (830) 773-5181● FAX (830) 773-0221
CLASSIFIED EMPLOYEE APPLICATION PACKET
Intent Form
An Intent Form must be submitted every time a newposition opens.
Application Form
All information requested on the application form should be accurately and completely filled out. Names, dates and addresses should be provided in full. Please sign the attached release, nepotism, and criminal history check forms and return them along with the application to the Department of Human Resources located at 1420 Eidson Road, Eagle Pass, Texas, 78852.The applicant will not have access to the application once submitted.
GED/High School Diploma/College Transcripts
Official transcripts should be provided if the position requires it. Official transcripts may be submitted by the applicant or mailed directly to the Department of Human Resources from the college or university by the deadline date. It will be the responsibility of out-of-country applicants to secure a transcript evaluation, which indicates degree obtained as well as cumulative grade point average, from an approved agency. A copy of the appropriate Texas GED certificate or out-of-state GED certificate must be submitted with the application. Only GED certificates from nationally accredited institutions will be accepted.
References
Two (2) references from those persons who have supervised the applicant's work experience are required. References from family members will not be accepted. It is the responsibility of the applicant to provide the employment reference form to references who will return the form to the Department of Human Resources. The applicant will not have access to the references once submitted. You may submit the reference forms personally.
Your application becomes active when all credentials and references have been received. Your application will be kept active for one (1)year. Please notify the Department of Human Resources of any change of name, address, telephone number. Inquiries concerning applications and/or vacancies should be addressed directly to the assigned Personnel Specialist between the hours of 8:00 a.m. and 4:30 p.m., Monday through Friday.Please Note: Application must be complete andall items must be submitted to the Human Resources Department no later than 5:00 p.m. on the posted deadline date. Not all applicants will be interviewed.

All full time employees will be subject to a drug test.Beginning January 1, 2008 every new employee is required to be fingerprinted in accordance with Senate Bill 9.

Thank you for your interest in the Eagle Pass Independent School District.

EAGLE PASS INDEPENDENT SCHOOL DISTRICT

DEPARTMENT OF HUMAN RESOURCES

1420 EIDSON ROAD ● EAGLE PASS, TEXAS 78852 ● (830) 773-5181 FAX (830) 773-0221

INTENT FORM - PARAPROFESSIONAL

DATE:
NAME:
S.S.# or ID:
PHONE:
ADDRESS:
POSITION APPLYING FOR:


An Intent Form must be submitted every time a new position opens.

EAGLE PASS INDEPENDENT SCHOOL DISTRICT

DEPARTMENT OF HUMAN RESOURCES

1420 EIDSON ROAD ● EAGLE PASS, TEXAS 78852 ● (830) 773-5181 FAX (830) 773-0221

APPLICATION FOR CLASSIFIED EMPLOYMENT

I. PERSONAL INFORMATION

(PRINT ININK OR TYPE INFORMATION)

Date of Application: / Date Available for Employment:
Name: / Social Security Number:
Address: / City: / State: / Zip Code:
Home Telephone Number: / Business/Office Telephone:
Have you ever been employed with EPISD? No Yes if YES, please list position:
Are you currently employed in another school district? No Yes if YES, Name of District


Have you been or are you currently on an employee growth plan? No Yes if yes, please explain below.

Have you ever been terminatedfor cause, been asked to resign, had a contract non-renewed, resigned in lieu of non-renewal, or left employment involuntarily? No Yes if yes, please explain below.

Have you ever been disciplined for inappropriate conduct with a co-worker, student or third party, been placed on disciplinary probation or been suspended from any position? No Yes if yes, please explain below.

Have you ever held a certificate in any state which was canceled, revoked, or suspended, received a sanction from a credentialing or licensing authority? No Yes if yes, please explain below.

Have you ever left a school district during the school year or any place of employmentfor reasons other thanmedical? No Yes if yes, explain below.

Have you ever accepted a transfer or taken any other action to avoid possible disciplinary action against you at any place of employment? No Yes if so, please explain below.

Has a co-worker every filed a grievance against you or filed a complaint against you concerning your work or behavior at any place of employment? No Yes if so please explain below.

Has a parent or any other person ever filed a complaint against you at any place of employment? No Yes if so, please explain

Has any person or entity ever stated a complaint, formally or informally, against you at any place of employment? No Yes if so, please explain below.

Explanation (attach separate sheet if necessary):


Are you a retired employee participating in Texas-TRS? Yes No

II. POSITION APPLYING FOR:


III. EDUCATIONAL BACKGROUND

List High School, GED, Colleges and University information

Name of
Institution / Location / Dates Attended / Date of
Graduation / Type of Degree/Diploma / Major
Bachelor/Masters / Minor


IV. EXPERIENCE

List in order all work experience beginning with most recent. (Attach separate sheet if necessary.)

From Mo/Yr / To
Mo/Yr / Name and Address of Employer / Position / Immediate Supervisor / Area Code and Phone Number / Reason for Leaving


V. REFERENCES


Full Name of Reference / School District/Firm Name / Mailing Address / Position/Title / Area Code and Phone Number


The applicant has the responsibility of securing references for the Department of Human Resources. Two (2) reference forms are enclosed for your use and must be completed by someone who has supervised your work. You may send a form and a stamped envelope (addressed to the Department of HumanResources, Eagle Pass Independent School District, 1420 Eidson Rd, EaglePass, Texas, 78852) to each reference or you may submit the completed reference form personally.

VII. PROFESSIONAL DATA

List specific skills and/or any machines or equipment you can operate:
List licenses and/or certifications held:


Have you ever been convicted of a felony or any offense involving moral turpitude? Yes No

Have you received probation, deferred adjudication, pleaded no contest, or served time in prison? Yes No

If YES, explain


I hereby affirm that all information provided on this form is true and accurate. I also understand that employment based upon information contained on this application which later proves to be false or incomplete shall result in or termination of employment. Furthermore, it is understood that this form and any other related documents become the property of the District. The District reserves the right to accept or reject any application.

Day of / 20
Legal Signature of Applicant


EAGLE PASS INDEPENDENT SCHOOL DISTRICT

DEPARTMENT OF HUMAN RESOURCES

1420 EIDSON ROAD ● EAGLE PASS, TEXAS 78852 ● (830) 773-5181 FAX (830) 773-0221

RELEASE FORM

I hereby give the Eagle Pass Independent School District (EPISD) permission to access and disclose testing records (TExES, EXcet, or any other certification exam) to the Human Resources staff and any school-based administrators for verification of eligibility of teaching assignment and verification of compliancy with the No Child Left Behind Act. I understand that under the Family Educational Rights and Privacy Act of 1974 (FERPA: 20 USC 123g; 34CFR §99; commonly known as the "Buckley Amendment") no disclosure of my records can be made without my written consent unless otherwise provided for in legal statutes and judicial decisions. I also understand that I may revoke this consent at any time (via written request to the EPISD) except to the extent that action has already been taken upon this release.

I give the EPISD permission to make inquiries on reference of former employers concerning my performance in the past. This permission form may be attached to request information and I hereby authorize the party receiving this form to give full and complete information of any and all records, transcripts, data sheets, service records, letters of recommendation, police records, criminal history records, etc., as may be requested by the EPISD. I agree that the information requested will not be disclosed to me but will be treated as confidential by the District, and I waive all rights to see this information.

(Please print or type the following information)

Full Name / SSN
Address
City / State / Zip Code
Signature / Date


EAGLE PASS INDEPENDENT SCHOOL DISTRICT

DEPARTMENT OF HUMAN RESOURCES

1420 EIDSON ROAD ● EAGLE PASS, TEXAS 78852 ● (830) 773-5181 FAX (830) 773-0221

NEPOTISM STATEMENT

I, , hereby attest or affirm that (check one) I am I am not related to the Superintendent of Schools and/or the Board Members of the Eagle Pass Independent School District, within three degrees of consanguinity (blood relation) or by two degrees of affinity (marriage).

I fully understand that any false information contained here will be just cause for the immediate termination of my employment in this position.

Signature of Applicant Date

These illustrations depict the relationships that violate the nepotism law.

CONSANGUINITY (Blood)Superintendent/Board Member is prospective employee's:

First Degree
Second Degree
Third Degree / Parent
Grandparent
Great Grandparent / Child
Grandchild
Great Grandchild / Sister/Brother
Aunt/Uncle / Niece/Nephew


AFFINITY (Marriage) Board Member/Superintendent's spouse is the prospective employee or

Board Member/Superintendent's spouse is prospective employee's or

Prospective employee's spouse is Superintendent's/Board Member's

First Degree
Second Degree / Parent
Grandparent / Child
Grandchild / Sister/Brother


NOTE: The spouses of two persons related by blood are not by the fact related. The affinity chart supposes only on affinity relationship between the Superintendent of Schools/Board Member and prospective employee through either of their spouses.

EAGLE PASS INDEPENDENT SCHOOL DISTRICT

DEPARTMENT OF HUMAN RESOURCES
CRIMINAL HISTORY CHECK AUTHORIZATION AND INFORMATION FORM
Conviction of crime is not an automatic bar to consideration for employment except where employment is prohibited by Texas law or EPISD policy for certain convictions. For other offenses, factors such as the date of offense, the period between the offense and the present, the nature and seriousness of the offense, and rehabilitation will be considered by the Eagle Pass Independent School District.

Applicants for employment and employees of the Eagle Pass Independent School District are requested to complete this Criminal History Check Authorization and Information form in compliance with Chapter 22, Subchapter C of the Texas Education Code (or as subsequently revised). The following information will be used solely for the purpose of assisting the EPISD in conducting a Criminal History Check (local, state, and national). Failure to provide all of the information requested will result in rejection of an applicant or discipline, up to and including termination, of an employee.

Name: / Social Security Number:
Mailing Address
Male Female / Date of Birth / Ethnic Identifier


List all aliases or former names, including maiden names, and list dates of use:

Have you ever pled guilty or nolo contendere (no contest) or been convicted of any criminal offense (misdemeanor or felony) other than moving violations and/or parking tickets? Yes No

If yes, provide complete information on all criminal offenses, including dates, location (city and state), and disposition. Use additional sheets if necessary.

If you are currently serving any of the following for any criminal offense, check the appropriate box.

Pretrial Diversion Community Supervision Suspended Sentence

Probation with adjudication of guilt Probation Deferred adjudication

For each box checked, provide complete information on the criminal offense, nature of program and date of completion. Use additional sheets if necessary.

ACKNOWLEDGEMENT/AUTHORIZATION

I acknowledge that I read and understand this form and certify that the above information and representations are true, correct and complete and contain no omissions. I understand that false, incorrect, misleading, or incomplete information on this form will result in rejection of my application or termination if employed. I understand that the Eagle Pass Independent School District (EPISD) will request a Criminal History Check after making a conditional employment offer and at certain times during employment, such as promotion, transfer, or performance evaluation. EPISD is required to submit certain identifying information in order to obtain a Criminal History Check. I agree to provide additional information (including fingerprints) if requested by EPISD. I understand that if the Criminal History Check discloses a conviction or other action, which would make me unsuitable for employment in the position for which, I have applied or in which I am working, I will be considered ineligible for employment and will not be transferred to another position.

Applicant's/Employee's Signature Date

EAGLE PASS INDEPENDENT SCHOOL DISTRICT

DEPARTMENT OF HUMAN RESOURCES

1420 EIDSON ROAD ● EAGLE PASS, TEXAS 78852 ● (830) 773-5181 FAX (830) 773-0221

EMPLOYMENT REFERENCE

REFERENCE MUST BE AFORMER OR CURRENT SUPERVISOR/INSTRUCTOR.

SECTION 1. TO BE COMPLETED BY THE APPLICANT:

Applicant's Name: / Social Security Number:
Position for which you are applying:
Reference Name / Relationship to applicant
Company/School / Telephone Number


AUTHORIZATION STATEMENT

I have applied for employment with the Eagle Pass ISD. I authorize EPISD to collect information, either orally or in writing, pertaining to my past performance and qualifications. I will not hold you or the organization liable for supplying any such information concerning my employment/education. Thank you for your assistance.

Signature of Applicant
/ Date


SECTION II. TO BE COMPLETED BY REFERENCE:

CHARACTERISTICS / STRONG / ACCEPTABLE / NOT ACCEPTABLE / NO BASIS TO JUDGE/ COMMENTS
General appearance, appropriate dress, grooming
Exercises professional judgment in absences from work
Accepts constructive criticism and supervision
Communicates information effectively
Demonstrates good judgment
Establishes personal growth and career path
Effectively diagnosis and addresses situations or conditions
Displays a practical approach to problem solving
Inspires cooperation and confidence
Provides support and assistance when needed
Is knowledgeable and current in field
Is receptive to new ideas and changes


How long have you known the applicant?

Would you recommend the applicant for the position desired? Yes No

Signature of Reference / Date
Position/Title of Reference


EAGLE PASS INDEPENDENT SCHOOL DISTRICT

DEPARTMENT OF HUMAN RESOURCES

1420 EIDSON ROAD ● EAGLE PASS, TEXAS 78852 ● (830) 773-5181 FAX (830) 773-0221

EMPLOYMENT REFERENCE

REFERENCE MUST BE AFORMER OR CURRENT SUPERVISOR/INSTRUCTOR.


SECTION 1. TO BE COMPLETED BY THE APPLICANT:

Applicant's Name: / Social Security Number:
Position for which you are applying:
Reference Name / Relationship to applicant
Company/School / Telephone Number


AUTHORIZATION STATEMENT

I have applied for employment with the Eagle Pass ISD. I authorize EPISD to collect information, either orally or in writing, pertaining to my past performance and qualifications. I will not hold you or the organization liable for supplying any such information concerning my employment/education. Thank you for your assistance.

Signature / Date


SECTION II. TO BE COMPLETED BY REFERENCE:

CHARACTERISTICS / STRONG / ACCEPTABLE / NOT ACCEPTABLE / NO BASIS TO JUDGE/ COMMENTS
General appearance, appropriate dress, grooming
Exercises professional judgment in absences from work
Accepts constructive criticism and supervision
Communicates information effectively
Demonstrates good judgment
Establishes personal growth and career path
Effectively diagnosis and addresses situations or conditions
Displays a practical approach to problem solving
Inspires cooperation and confidence
Provides support and assistance when needed
Is knowledgeable and current in field
Is receptive to new ideas and changes


How long have you known the applicant?

Would you recommend the applicant for the position desired? Yes No

Signature of Reference / Date
Position/Title of Reference