Class Title:Personnel Aide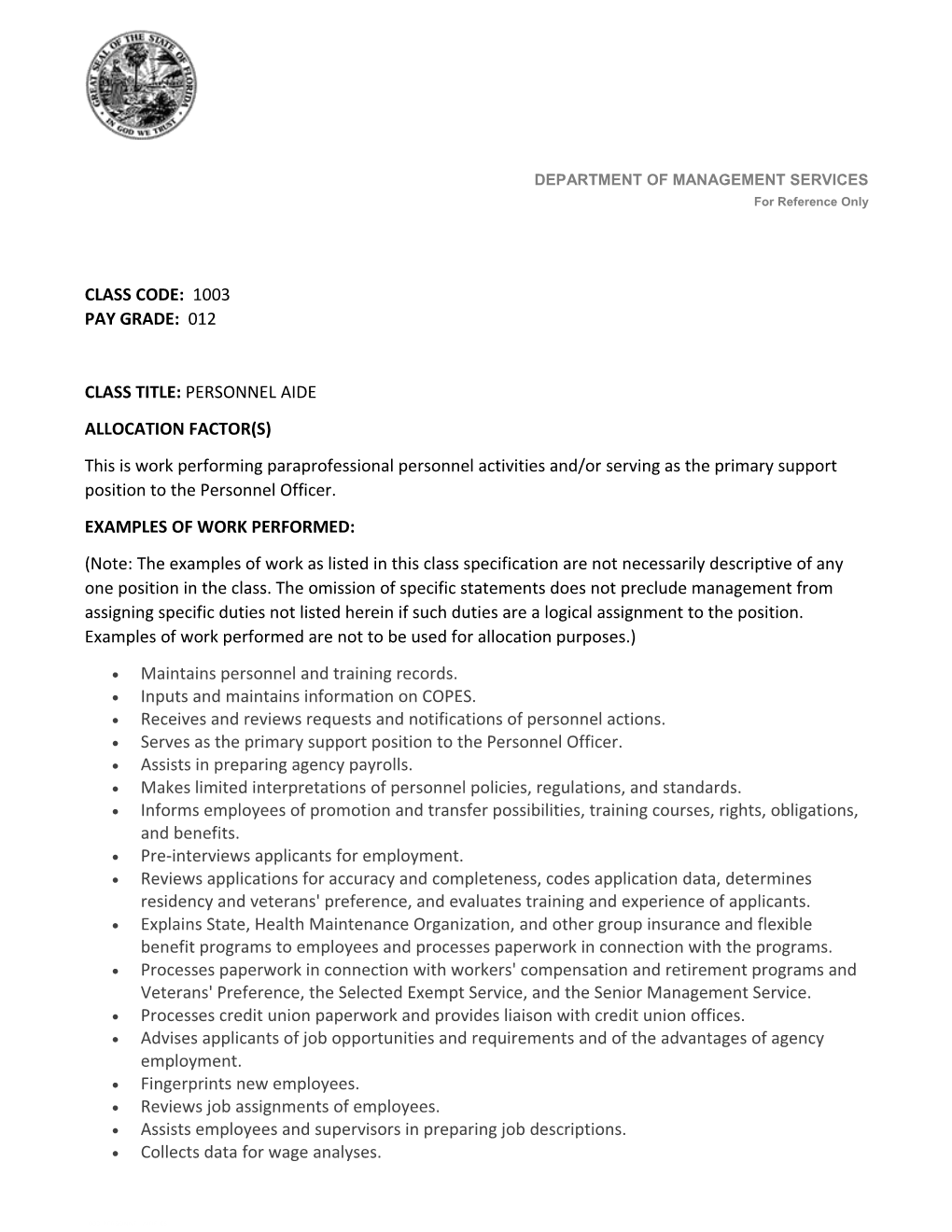 CLASS CODE: 1003
PAY GRADE: 012


CLASS TITLE:PERSONNEL AIDE

ALLOCATION FACTOR(S)

This is work performing paraprofessional personnel activities and/or serving as the primary support position to the Personnel Officer.

EXAMPLES OF WORK PERFORMED:

(Note: The examples of work as listed in this class specification are not necessarily descriptive of any one position in the class. The omission of specific statements does not preclude management from assigning specific duties not listed herein if such duties are a logical assignment to the position. Examples of work performed are not to be used for allocation purposes.)
Maintains personnel and training records.
Inputs and maintains information on COPES.
Receives and reviews requests and notifications of personnel actions.
Serves as the primary support position to the Personnel Officer.
Assists in preparing agency payrolls.
Makes limited interpretations of personnel policies, regulations, and standards.
Informs employees of promotion and transfer possibilities, training courses, rights, obligations, and benefits.
Pre-interviews applicants for employment.
Reviews applications for accuracy and completeness, codes application data, determines residency and veterans' preference, and evaluates training and experience of applicants.
Explains State, Health Maintenance Organization, and other group insurance and flexible benefit programs to employees and processes paperwork in connection with the programs.
Processes paperwork in connection with workers' compensation and retirement programs and Veterans' Preference, the Selected Exempt Service, and the Senior Management Service.
Processes credit union paperwork and provides liaison with credit union offices.
Advises applicants of job opportunities and requirements and of the advantages of agency employment.
Fingerprints new employees.
Reviews job assignments of employees.
Assists employees and supervisors in preparing job descriptions.
Collects data for wage analyses.
Prepares visual training aids such as charts, graphs and posters.
Participates in orientation training.
Performs related work as required.
KNOWLEDGE, SKILLS AND ABILITIES:
(Note: The knowledge, skills and abilities (KSA's) identified in this class specification represent those needed to perform the duties of this class. Additional knowledge, skills and abilities may be applicable for individual positions in the employing agency.)
Knowledge of basic arithmetic.
Knowledge of office procedures and practices.
Knowledge of the principles and techniques of effective communication.
Knowledge of standard office equipment.
Knowledge of basic filing practices.
Ability to remember numbers and details.
Ability to spell and locate information that is listed alphabetically and numerically.
Ability to follow office procedures and practices.
Ability to organize and file materials.
Ability to operate standard office equipment.
Ability to organize and maintain filing systems.
Ability to alphabetize and file.
Ability to perform basic arithmetical calculations.
Ability to plan, organize and coordinate work assignments.
Ability to communicate effectively.
Ability to establish and maintain effective working relationships with others.
MINIMUM QUALIFICATIONS
A high school diploma or its equivalent and three years of clerical experience.
College education from an accredited institution can substitute at the rate of 30 semester or 45 quarter hours for each year of the required experience.
Vocational/technical training in business, office or clerical studies can substitute at the rate of 720 classroom hours for each year of the required experience.
EFFECTIVE:
6/18/1990
HISTORY:
01/01/1984