Chief Diversity Officer Responsibilities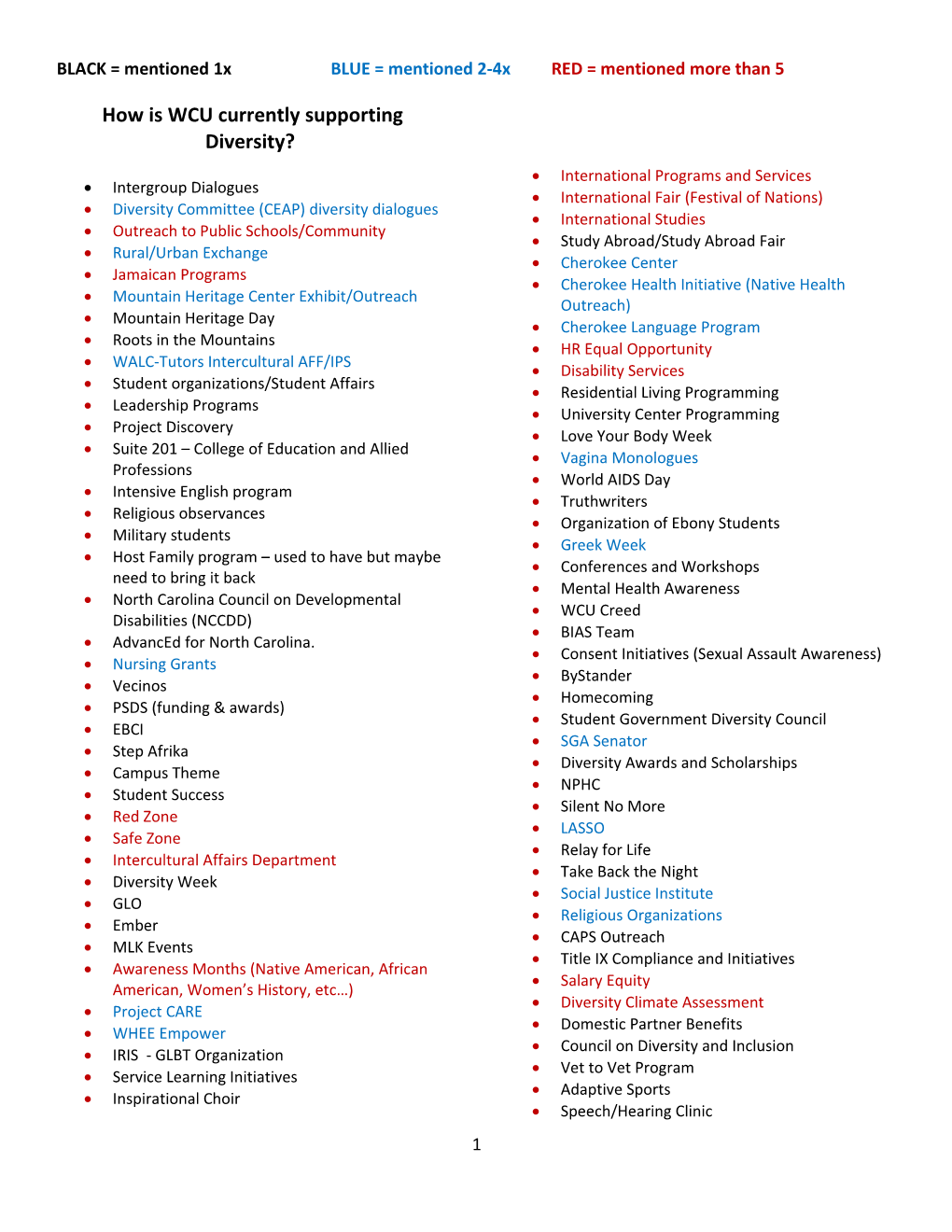 BLACK = mentioned 1xBLUE = mentioned 2-4xRED = mentioned more than 5
How is WCU currently supporting Diversity?

Diversity Committee (CEAP) diversity dialogues
Outreach to Public Schools/Community
Rural/Urban Exchange
Jamaican Programs
Mountain Heritage Center Exhibit/Outreach
Mountain Heritage Day
Roots in the Mountains
WALC-Tutors Intercultural AFF/IPS
Student organizations/Student Affairs
Leadership Programs
Project Discovery
Suite 201 – College of Education and Allied Professions
Intensive English program
Religious observances
Military students
Host Family program – used to have but maybe need to bring it back
North Carolina Council on Developmental Disabilities (NCCDD)
AdvancEd for North Carolina.
Nursing Grants
Vecinos
PSDS (funding & awards)
EBCI
Step Afrika
Campus Theme
Student Success
Red Zone
Safe Zone
Intercultural Affairs Department
Diversity Week
GLO
Ember
MLK Events
Awareness Months (Native American, African American, Women's History, etc…)
Project CARE
WHEE Empower
IRIS - GLBT Organization
Service Learning Initiatives
Inspirational Choir
International Programs and Services
International Fair (Festival of Nations)
International Studies
Study Abroad/Study Abroad Fair
Cherokee Center
Cherokee Health Initiative (Native Health Outreach)
Cherokee Language Program
HR Equal Opportunity
Disability Services
Residential Living Programming
University Center Programming
Love Your Body Week
Vagina Monologues
World AIDS Day
Truthwriters
Organization of Ebony Students
Greek Week
Conferences and Workshops
Mental Health Awareness
WCU Creed
BIAS Team
Consent Initiatives (Sexual Assault Awareness)
ByStander
Homecoming
Student Government Diversity Council
SGA Senator
Diversity Awards and Scholarships
NPHC
Silent No More
LASSO
Relay for Life
Take Back the Night
Social Justice Institute
Religious Organizations
CAPS Outreach
Title IX Compliance and Initiatives
Salary Equity
Diversity Climate Assessment
Domestic Partner Benefits
Council on Diversity and Inclusion
Vet to Vet Program
Adaptive Sports
Speech/Hearing Clinic
Physical Therapy
Secrets of Powerful Women Classes
Band of Brothers Classes
Financial Aid
Braille Signage
LEAD Classes
CAT Camp
Transaction Day
Club Zero
First Generation
IT strategic plan support community service
20/20 plan supports diversity
Women in Leadership
Exchange Programs
UP Program
Welcome Committee (College of Education and Allied Health)
Counseling and Psychological Services diversity services (LGBT support group)
Diversity Plan
Alumni Relations
Women's Conference
African American Reunion & Post Game Reception
Groups/clubs, awareness events more on the student side.
Workshops offered through the Compliance office.
Hiring Managers are often left to their own creativity to meet diversity goals
Identification of under-represented groups
Professional development workshops on diversity and cultural diversity.
Need for Community support structures inside/outside the University
Eliminate/mitigate barriers
Departments plan and advertise a range of diversity activities from movies to speakers to activities. Individual classes support aspects of diversity that are relevant to their topic content. Diversity is an aspect of searches.
We highlight certain months/times of the year to recognize diverse groups - maybe some more than others We promote events and student groups that represent diversity
There are events for women, gay students, gamers, and a variety of other niche groups.
1