Chemical Change Demonstration Project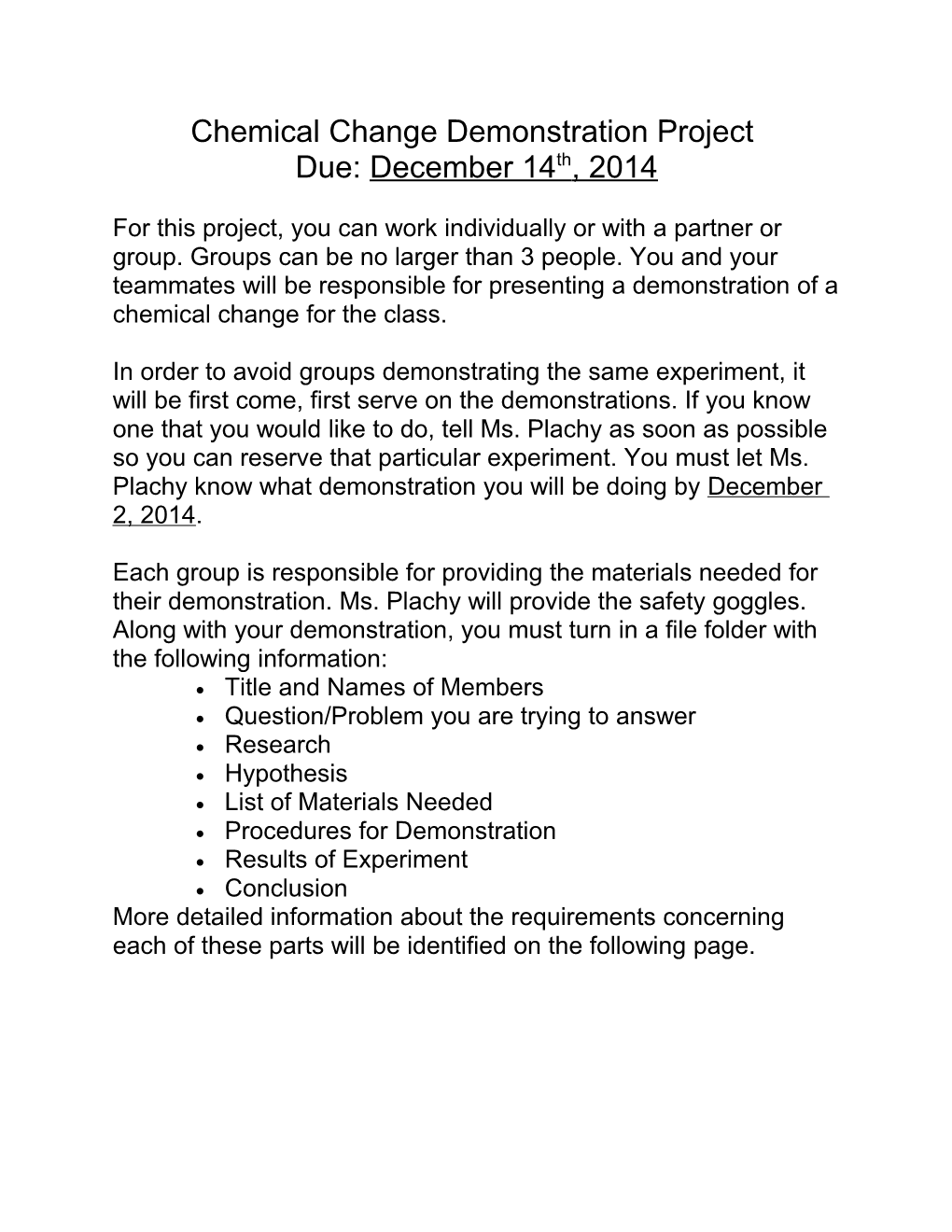 Chemical Change Demonstration Project
Due: December 14th, 2014
For this project, you can work individually or with a partner or group. Groups can be no larger than 3 people. You and your teammates will be responsible for presenting a demonstration of a chemical change for the class.
In order to avoid groups demonstrating the same experiment, it will be first come, first serve on the demonstrations. If you know one that you would like to do, tell Ms. Plachy as soon as possible so you can reserve that particular experiment. You must let Ms. Plachy know what demonstration you will be doing by December 2, 2014.
Each group is responsible for providing the materials needed for their demonstration. Ms. Plachy will provide the safety goggles.
Along with your demonstration, you must turn in a file folder with the following information:
Title and Names of Members
Question/Problem you are trying to answer
Research
Hypothesis
List of Materials Needed
Procedures for Demonstration
Results of Experiment
Conclusion
More detailed information about the requirements concerning each of these parts will be identified on the following page.
Title & Names of Members
Title for Demonstration
Names of all Group Members
/ List of Materials Needed

List ALL the materials you need in order to complete the demonstration
This includes exact measurements if necessary
Question/Problem
The following question must appear: What substances can I combine to demonstrate a chemical change?
/ Procedures for Demonstration

Step-by-step procedures for what needs to be done for your demonstration
"First", "second", "third", last" etc. are good words to use
Steps must be in complete sentences

Research

This is your group's research on the demonstration.
What substances are you using?
What makes up those substances?
This must be in your own words.
/ Results of Demonstration

What happened during the chemical change?
This is not just "bubbling" or "an explosion." You must explain what is happening chemically.
For example: The yeast helped remove the oxygen from the hydrogen peroxide very quickly. The soap allowed us to see the bubbles created by this reaction.

Hypothesis

If I combine ______and ______, then a chemical change will occur.
/ Conclusion:

Was your hypothesis correct?
How do you know a chemical change occurred?



RUBRIC FOR CHEMICAL CHANGE DEMONSTRATION

Name: ______Title of Demonstration: ______

Demonstration: 50 points possible

Element / Points Possible / Points Earned
Introduction to Project and Members / 5
Identify Materials Needed / 5
Step-by-Step Procedures as group goes through demonstration / 20
Explanation of Results / 10
Participation by all group members / 5
Average of Group Member Evaluation / 5


File Folder: 50 points possible

Element / Points Possible / Points Earned
Title & Names of Members / 2
Question/Problem / 3
Research / 5
Hypothesis / 5
Materials List / 5
Procedures / 5
Results / 5
Conclusion / 5
Neat, Organized, Creative / 5
Spelling / 5
Resources / 5


Grade: ______

Group Member Evaluation

You will rate your group members based on their contribution to the project, their work ethic, and how easily you worked with them.

Rate them on a scale of 1 through 5.

1: This member did not participate or contribute anything to the group and was difficult to work with.
2: This group member participated once but and was sometimes easy to work with and sometimes difficult to work with.
3: This group member participated some and was sometimes easy to work with and sometimes difficult to work with.
4: This group member did their part of the work and was usually easy to work with.
5: This group member contributed a lot of ideas and did their share of the work. He or she was very easy to work with.


Group Member #1: ______

Circle the rating:

12345

Additional Comments (Why did you rate them this way): ______

______

Group Member #2: ______

Circle the rating:

12345

Additional Comments (Why did you rate them this way): ______

______

Rated by: ______