Boi Mavqahhmnifsqfispnrdcvkf Qenmnhgefeftggevplitgesfavep 52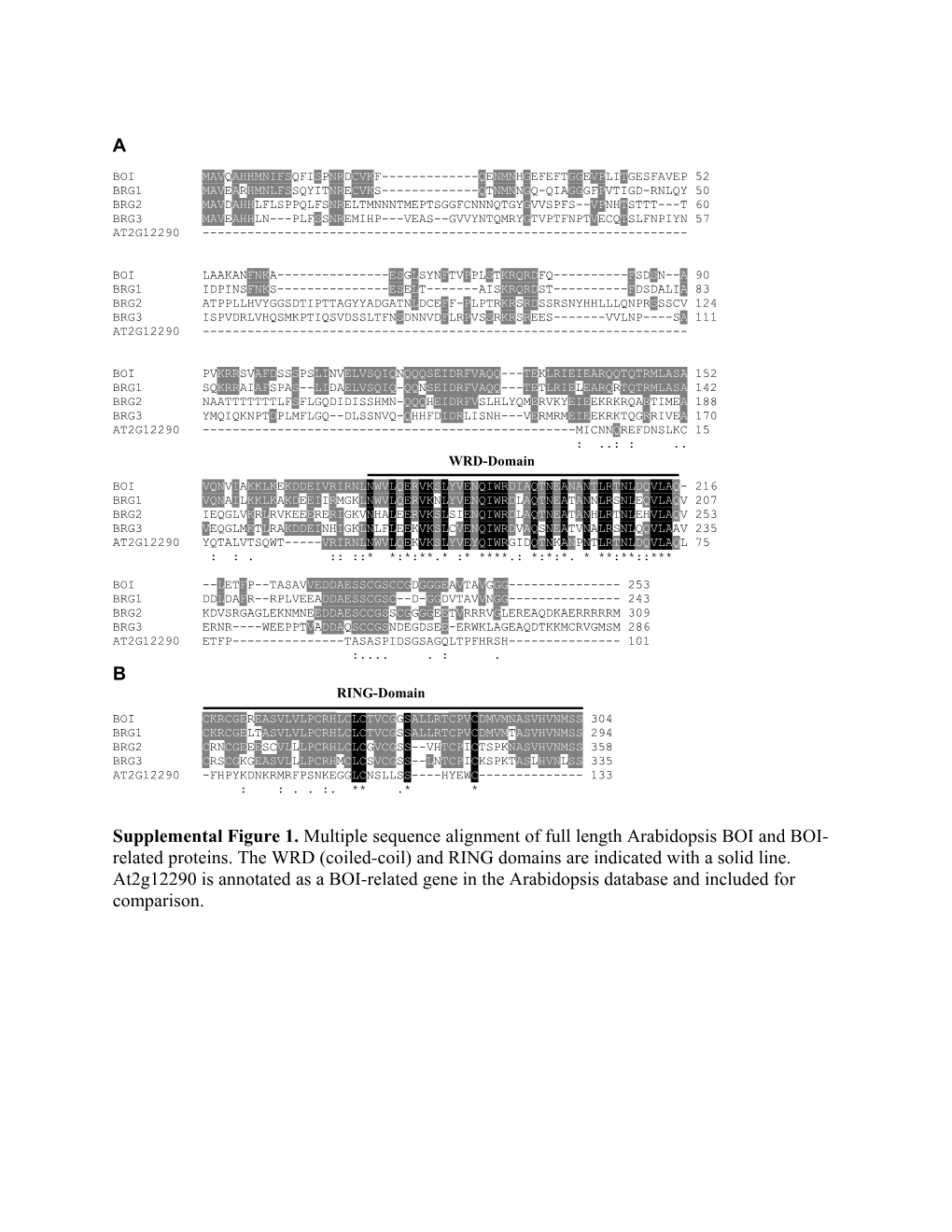 A
BOI MAVQAHHMNIFSQFISPNRDCVKF------QENMNHGEFEFTGGEVPLITGESFAVEP 52
BRG1 MAVEARHMNLFSSQYITNRECVKS------QTNMNNGQ-QIAGGGFPVTIGD-RNLQY 50
BRG2 MAVDAHHLFLSPPQLFSNRELTMNNNTMEPTSGGFCNNNQTGYGVVSPFS--VPNHTSTTT---T 60
BRG3 MAVEAHHLN---PLFSSNREMIHP---VEAS--GVVYNTQMRYGTVPTFNPTVECQTSLFNPIYN 57
AT2G12290 ------
BOI LAAKANFNKA------ESGLSYNFTVPPLSTKRQRDFQ------FSDSN--A90
BRG1 IDPINSFNKS------ESELT------AISKRQRDST------FDSDALIA83
BRG2 ATPPLLHVYGGSDTIPTTAGYYADGATNLDCEFF-PLPTRKRSRDSSRSNYHHLLLQNPRSSSCV 124
BRG3 ISPVDRLVHQSMKPTIQSVDSSLTFNSDNNVDFLRPVSSRKRSREES------VVLNP----SA 111
AT2G12290 ------
BOI PVKRRSVAFDSSSPSLINVELVSQIQNQQQSEIDRFVAQQ---TEKLRIEIEARQQTQTRMLASA152
BRG1 SQKRRAIAFSPAS--LIDAELVSQIQ-QQNSEIDRFVAQQ---TETLRIELEARQRTQTRMLASA142
BRG2 NAATTTTTTTLFSFLGQDIDISSHMN-QQQHEIDRFVSLHLYQMERVKYEIEEKRKRQARTIMEA188
BRG3 YMQIQKNPTDPLMFLGQ--DLSSNVQ-QHHFDIDRLISNH---VERMRMEIEEKRKTQGRRIVEA170
AT2G12290 ------MICNNQREFDNSLKC 15
: ..: : ..
BOI VQNVIAKKLKEKDDEIVRIRNLNWVLQERVKSLYVENQIWRDIAQTNEANANTLRTNLDQVLAQ- 216
BRG1 VQNAILKKLKAKDEEIIRMGKLNWVLQERVKNLYVENQIWRDLAQTNEATANNLRSNLEQVLAQV 207
BRG2 IEQGLVKRLRVKEEERERIGKVNHALEERVKSLSIENQIWRDLAQTNEATANHLRTNLEHVLAQV 253
BRG3 VEQGLMKTLRAKDDEINHIGKLNLFLEEKVKSLCVENQIWRDVAQSNEATVNALRSNLQQVLAAV 235
AT2G12290 YQTALVTSQWT-----VRIRNLNWVLQEKVKSLYVEYQIWRGIDQTNKANPNTLRTNLDQVLAQL 75
: : . :: ::* *:*:**.* :* ****.: *:*:*. * **:**::***
BOI --LETFP--TASAVVEDDAESSCGSCCGDGGGEAVTAVGGG------253
BRG1 DDLDAFR--RPLVEEADDAESSCGSC--D-GGDVTAVVNGG------243
BRG2 KDVSRGAGLEKNMNEEDDAESCCGSSCGGGGEETVRRRVGLEREAQDKAERRRRRM 309
BRG3 ERNR----WEEPPTVADDAQSCCGSNDEGDSEE-ERWKLAGEAQDTKKMCRVGMSM 286
AT2G12290 ETFP------TASASPIDSGSAGQLTPFHRSH------101
:.... . : .
B
BOI CKRCGEREASVLVLPCRHLCLCTVCGGSALLRTCPVCDMVMNASVHVNMSS 304
BRG1 CKRCGELTASVLVLPCRHLCLCTVCGSSALLRTCPVCDMVMTASVHVNMSS 294
BRG2 CRNCGEEESCVLLLPCRHLCLCGVCGSS--VHTCPICTSPKNASVHVNMSS 358
BRG3 CRSCGKGEASVLLLPCRHMCLCSVCGSS--LNTCPICKSPKTASLHVNLSS 335
AT2G12290 -FHPYKDNKRMRFPSNKEGGLCNSLLSS----HYEWC------133
: : . . :. ** .* *
Supplemental Figure 1. Multiple sequence alignment of full length Arabidopsis BOI and BOI-related proteins. The WRD (coiled-coil) and RING domains are indicated with a solid line. At2g12290 is annotated as a BOI-related gene in the Arabidopsis database and included for comparison.
Supplemental Figure 2. The BOI protein contains a predicted coiled-coil region. The BOI protein sequence was analyzed using the COILS program (Lupas et al., 1991) for the presence of the coiled-coil region. The region from amino acids 158 to 186 has a high probability to form the coiled coil structure.
Supplemental Figure 3. Phylogenetic relationship between BOI and other BOI related proteins in plants. The Genbank numbers for the protein sequences used in this analysis are indicated under the legend for Figure 1. The proteins were first aligned using the Clustal W program (Thompson et al., 1994) and phylogenetic analysis was performed using Phylip (Felsenstein, 1993).
Supplemental Figure 4. Interaction assays between BOS1 and BRG proteins.
(A)Yeast two hybrid assay showing weak interaction between BOS1 and BRG1 and lack of interaction between BOS1 and the other BRG proteins. Full length BOS1 in the pAD vector and full length BRG cDNAs in the pBD vector was used for the interaction assays. The left column shows growth on selective medium and the right column shows β- gal assay.
(B) Bimolecular fluorescence complementation (BiFC) assay showing lack of interaction between BRG1 and BOS1 in plant cells.
In (B) pBRG1-cYFP and pBOS1-nYFP were transiently co-expressed or were co-expressed with the empty vector in Nicotiana benthamiana leaf cells. Images were examined under the bright field (left column), fluorescence (YFP), and as a merged image (right).DAPI, is the nuclear stain 4,6, diamidino-2-phenylindole.
Supplemental Figure 5. BOI RNAi plants show normal expression of the BRG1 gene.
Supplemental Figure 6. 35S:BOS1-GUS overexpressionlines are tolerant to oxidative stress.
caused by Paraquat (Methyl Viologen).Two independent 35S:BOS1-GUS lines each in the wild type or BOI RNAi plants were tested.
Supplemental Figure 7. Bacterial growth in BOI RNAi and 35S:BOI plants inoculated with P.syringae.
The bacterial disease assay was done by infiltration of plants with a bacterial suspension(OD600:0.001). CFU, colony forming units
Supplemental Figure 8.Quantitative RT-PCR data showing the expression of BOI Related Genes in responses toB. cinereaand plant hormones.
Expression of BOI RELATED GENES (BRG1-BRG3) in response to
(A)B. cinerea
(B)Salicylic acid
(C)Methyl jasmonate and
(D)ACC (1-aminocyclopropane-1-carboxylic acid)
Quantitative RT-PCR was performed as described previously (Dhawan et al., 2009) and in the methods section. The experiments were repeated at least two times with similar results.
Supplemental Table1. List of primers used in this study
BOI RNAi (pGSA1165)
BOI-2F: 5'-GCACTAGTCCATGGATGAACCACGGCGAGTTTGA-3'
BOI-2R: 5'-GCGGATCCGGCGCGCCTATCAACGACGGTGATGATGA-3'
Cloning BOI for over expression
BOI-1F: 5'-AGAGAATTCATGGCTGTTCAAGCTCATCACA-3'
BOI-1R: 5'-GCGGTCGACTCAAGAAGACATGTTAACATGCA-3'
BOI recombinant protein expression in E.Coli (pRSET-A and pMAL-C2X)
pRSET-A:
BOI-7F: 5'-ACTCTCGAGATGGCTGTTCAAGCTCATCAC-3'
BOI-5R: 5'-GCGGGTACCTCAAGAAGACATGTTAACATGCA-3'
pMAL-C2X: same with the primers for LacZ assay in yeast
BOI-1F: 5'-AGAGAATTCATGGCTGTTCAAGCTCATCACA-3'
pBD-BOI-F257-304: 5'-AGAGAATTCGGTGAGAGAGAAGCGAGTGT-3'
pBD-BOI-R1-178: 5'-GCGGTCGACTCATAAAACCCAGTTTAGGTTTCG-3'
pBD-BOI-R1-214: 5'-GCGGTCGACTCAAGAACTTGGTCTAGGTTTGT-3'
pBD-BOI-R1-257: 5'-GCGGTCGACTCAGCACCGTTTACAACCACCAC-3'
BOI-1R: 5'-GCGGTCGACTCAAGAAGACATGTTAACATGCA-3'
BOS1 recombinant protein expression and purification (pGEX-4T-1)
BOS1-1F: 5'-AGTGGATCCATGGATGAAAAAGGAAGAAG-3'
BOS1-2R: 5'-GCGGTCGACTCAGAAGCTACCATTATTGT-3'
BiFC
BOS1-VN173-F: 5'-AGAGAGCTCATGGATGAAAAAGGAAGAAGC-3'
BOS1-VN173-R: 5'-GCGTCTAGAGAAGCTACCATTATTGTTGAACT-3'
BOI-VC155-F: 5'-AGAACTAGTATGGCTGTTCAAGCTCATCACA-3'
BOI-VC155-R: 5'-GCGGAATTCAGAAGACATGTTAACATGCACAC-3'
Interaction of BOI and BOS1 in yeast
pAD-BOS1-F: 5'-AGTGGATCCATGGATGAAAAAGGAAGAAGCT-3'
pAD-BOS1-R: 5'-GCGGTCGACTCAGAAGCTACCATTATTGT-3'
BOI-1F: 5'-AGAGAATTCATGGCTGTTCAAGCTCATCACA-3'
pBD-BOI-F257-304: 5'-AGAGAATTCGGTGAGAGAGAAGCGAGTGT-3'
pBD-BOI-R1-178: 5'-GCGGTCGACTCATAAAACCCAGTTTAGGTTTCG-3'
pBD-BOI-R1-214: 5'-GCGGTCGACTCAAGAACTTGGTCTAGGTTTGT-3'
pBD-BOI-R1-257: 5'-GCGGTCGACTCAGCACCGTTTACAACCACCAC-3'
BOI-1R: 5'-GCGGTCGACTCAAGAAGACATGTTAACATGCA-3'
Cloning cDNAs of BOI related genes into Y2H bait vector
At5g45100-F: 5'-AGAGAATTCATGGCTGTTGAAGCAAGACACA-3'
At5g45100-R: 5'-GCGGTCGACTCATGATGACATGTTAACATGTACA-3'
At3g12920-F: 5'-AGAGAATTCATGGCCGTTGAAGCTCACCA-3'
At3g12920-R: 5'-GCGGTCGACCTAAGAGGAAAGATTAACATGTAGA-3'
At1g79110-F: 5'-AGAGAATTCATGGCCGTCGATGCTCACCA-3'
At1g79110-R: 5'-GCGGTCGACTCAAGATGACATGTTGACATGA-3'
PCR identification of T-DNA insertion alleles for BOIRELATED GENES
SALK_010178-LP: 5'-TAAATAGCATTTATGCACGGG-3'
SALK_010178-RP: 5'-CGCCAGATCTGATTCTCTACG-3'
CS878543-LP: 5'-CCAATCAGTAAGATTGCATCG-3'
CS878543-RP: 5'-TGAAAAAGCTGAAAGCGAAAG-3'
CS872611-LP: 5'-CTTCCATCTTTCGTTGCATTC-3'
CS872611-RP: 5'-GTTGCTACCGCAACAAGACTG-3'
CS872977-LP: 5'-GTATCATCAAAATTTAACCTCTGGC-3'
CS872977-RP: 5'-TATGCCCAAAGAAGAGAATCAATAG-3'
CS871026-LP: 5'-GGGATTTATTGTTTTCCGAGATAAG-3'
CS871026-RP: 5'-CCAAGACATTGATATCTCCTCTCAC-3'
Sail_73_H10-LP: 5'-TAGTACATGTGGAATCTTTGATTCC-3'
Sail_73_H10-RP: 5'-ATCAATTGTCACTGATTTGATGTTC-3'
Arabidopsis Actin2 for qRT-PCR
qACT2-F: 5'-GTCGTACAACCGGTATTGTGCTG-3'
qACT2-R: 5'-CCTCTCTCTGTAAGGATCTTCATGAG-3'
BotrytisActinA gene for qRT-PCR
qACT2-F: 5'-ACTCATATGTTGGAGATGAAGCGCA-3'
qACT2-R: 5'-AATGTTACCATACAAATCCTTACGGA-3'
BOI-GFP and BOS1-GFP fusion for sub cellular localization studies
BOI-GFP-F: 5'-AGAACTAGTATGGCTGTTCAAGCTCATCACA-3'
BOI-GFP-R: 5'-GCGGGATCCAGAAGACATGTTAACATGCACAC-3'
BOS1-GFP-F: 5'-AGAGTCGACATGGATGAAAAAGGAAGAAGC-3'
BOS1-GFP-R: 5'-GCGGGTACCGAAGCTACCATTATTGTTGAACT-3'
BOI Promoter -GUS cloning into pCAMBIA 1391 vector
BOI-3F: 5'-GCGCTGCAGAGCGAATATAAGACGAGTAACGAGT-3'
BOI-3R-2: 5'-AGAGGATCCTGTTGTTGAAAAAAGCTCCTAGAGA-3'
BOS1 Promoter-GUS cloning into pCAMBIA 1391
BOS1FP: 5' GCGTCGAC AACAGAGTTATTTTATGCACGGAGA 3'
BOS1RP: 5'CGGGATCC TGATATACACAGAAGAGACCACAAC 3'
BOS1-GUS fusion construct into binary vector: same with the primers for protein expression
pGEX-4T-1
BOS1-1F: 5'-AGTGGATCCATGGATGAAAAAGGAAGAAG-3'
BOS1-2R: 5'-GCGGTCGACTCAGAAGCTACCATTATTGT-3'
Quantitative RT-PCR primers
qBRG2-F: 5'-ACCGGTGGGAGGAGCCGCCCACG-3'
qBRG2-R: 5'- CTACCCTACACATCTTTTTCGTAT-3'
qBRG3-F: 5'-CGATTAGAGAAAAACATGAACGAA-3'
qBRG3-R: 5'- TCCTCCTCTCCGCCTTATCCTGCG-3'
qBRG1-F: 5'-TGATTTAGATGCGTTTCGTCGTC-3'
qBRG1-R: 5'-GTTAACAACCGCCGTTACATCACCT-3'
qBOI-F: 5'- AACGTTTCCAACCGCTTCAGCC-3'
qBOI-R: 5'- TTACCGCTTCACCACCACCAT-3'