Board of Examiners for Speech-Language Pathology and Audiology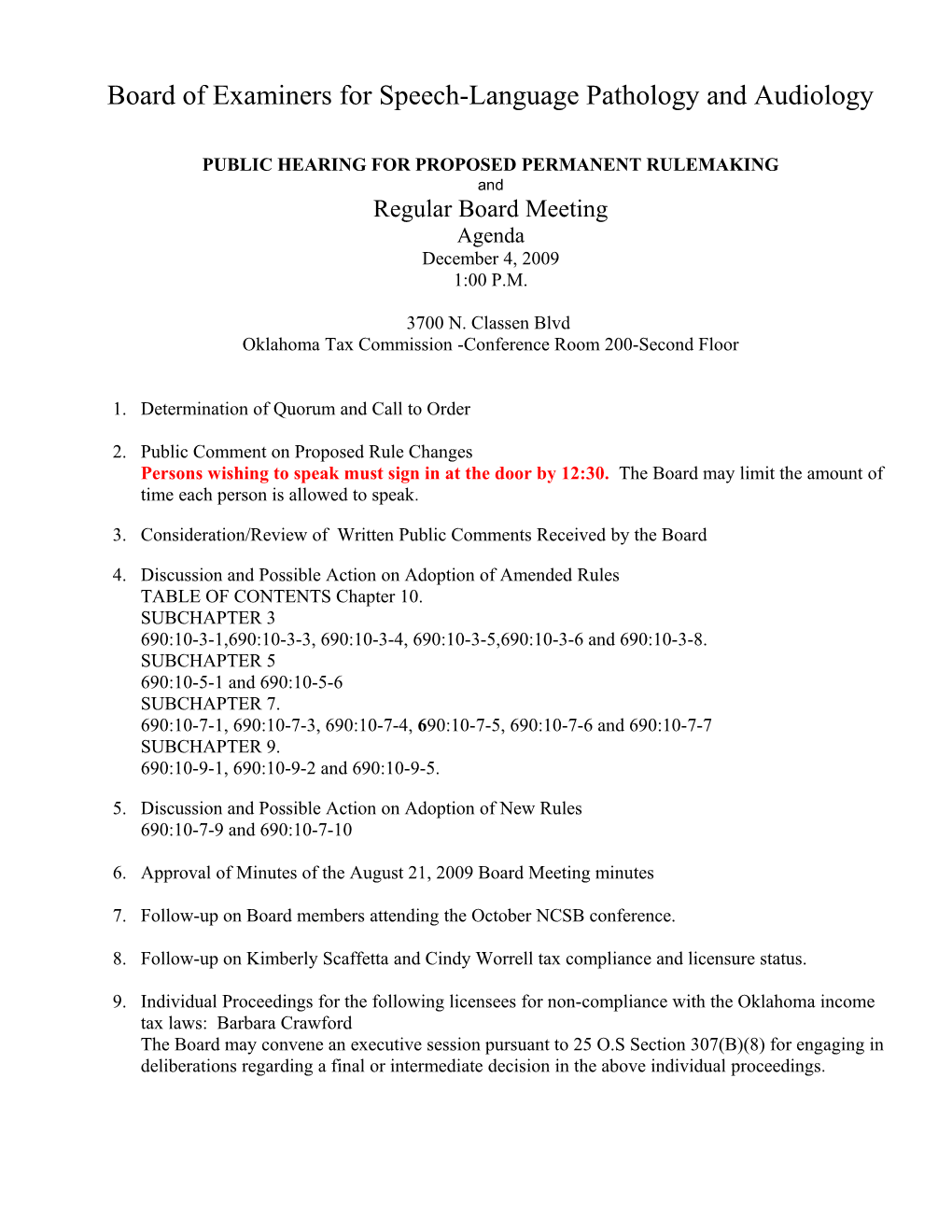 Board of Examiners for Speech-Language Pathology and Audiology
PUBLIC HEARING FOR PROPOSED PERMANENT RULEMAKING
and
Regular Board Meeting
Agenda
December 4, 2009
1:00 P.M.
3700 N. Classen Blvd
Oklahoma Tax Commission -Conference Room 200-Second Floor
1.Determination of Quorum and Call to Order
2.Public Comment on Proposed Rule Changes
Persons wishing to speak must sign in at the door by 12:30. The Board may limit the amount of time each person is allowed to speak.
Consideration/Review of Written Public Comments Received by the Board
Discussion and Possible Action on Adoption of Amended Rules
TABLE OF CONTENTS Chapter 10.
SUBCHAPTER 3
690:10-3-1,690:10-3-3, 690:10-3-4, 690:10-3-5,690:10-3-6 and 690:10-3-8.
SUBCHAPTER 5
690:10-5-1 and 690:10-5-6
SUBCHAPTER 7.
690:10-7-1, 690:10-7-3, 690:10-7-4, 690:10-7-5, 690:10-7-6 and 690:10-7-7
SUBCHAPTER 9.
690:10-9-1, 690:10-9-2 and 690:10-9-5.
Discussion and Possible Action on Adoption of New Rules
690:10-7-9 and 690:10-7-10
Approval of Minutes of the August 21, 2009 Board Meeting minutes
Follow-up on Board members attending the October NCSB conference.
8.Follow-up on Kimberly Scaffetta and Cindy Worrell tax compliance and licensure status.
9.Individual Proceedings for the following licensees for non-compliance with the Oklahoma income tax laws: Barbara Crawford
The Board may convene an executive session pursuant to 25 O.S Section 307(B)(8) for engaging in deliberations regarding a final or intermediate decision in the above individual proceedings.
10.Discussion and Possible Action for 2010 Board meeting schedule (notice must be given to the Secretary of State by December 15th) Handout with dates that are available with DOC.
Possible dates: Friday, March. 5th, 2010, Friday, May 7th, 2010, Friday, June 11th, 2010, Friday Sept. 3, 2010 and Friday, December 3rd, 2010.
11.Review, Discussion and Possible Action on Financial Reports.
12.Review and possible action on pending licensure applications and assistant applications. List Below.
13.New Business
14. Adjournment
Board of Examiners for Speech-Language Pathology & Audiology
APPLICANTS FOR FULL LICENSURE CONSIDERATION FOR
AUDIOLOGY
December 4, 2009
Name: / License Number: / Date Issued:
Julie Ann Mattiesen, Au.D.
Leslie Te, Au.D. / 376
377 / 09/04/2009
11/12/2009
Board of Examiners for Speech-Language Pathology & Audiology
APPLICANTS FOR FULL LICENSURE CONSIDERATION FOR
SPEECH-LANGUAGE PATHOLOGY

December 4, 2009
Name: / License Number: / Date Issued:
Jennifer Swinney, M.S.
Alison M. Miller, M.S.
Sarah Johnson, M.S.
Delores A. Ponce de Leon, M.A.
Amy Ellis Pelley, M.S.
Christina L. Martin, M.S.
Terri Bieri, M.A.
Dana Redding Nye, M.A.
Heather C. Ziegler, M.S.
Ophelia Taylor-Walker, M.A. / 3556
3557
3558
3559
3560
3561
3562
3563
3564
3565 / 08/18/2009
08/25/2009
08/28/2009
09/14/2009
09/15/2009
09/15/2009
09/24/2009
09/24/2009
10/01/2009
10/01/2009
Remake of Certificates:
Tiffany A. Keitz, M.S. / 3182 / 09/29/2005


Board of Examiners for Speech-Language Pathology & Audiology

APPLICANTS FOR CEY LICENSURE CONSIDERATION FOR

SPEECH-LANGUAGE PATHOLOGY

December 4, 2009
Name: / Supervisor: / Date Issued:
Jennifer Masterson, M.S.
Kristen Dubler,M.S.
Megan G. Johnson, M.S.
Tara Massey, M.S.
Kristi Ramaekers, M.S.
Audrey Lott, M.S.
Breanna Helm, M.S.
Kyla Tree, M.S.
Bethany Sheridan, M.S.
Marcy Lee Staton, M.A.
Jessie Boss, M.S.
Kirsten M. Beeson, M.S.
Susan Bruton, M.A.
Rebecca Turner, M.S.
Kimberly D. Yost, M.S. / Emily Jaskowiak, ASHA# 12137552
Patsy Steeley, SP# 2372
Kelly Croucher, SP# 3215
Deanna Severson, SP# 2561
Gay Chalfant, TX SP# 19470
Trina Hemmerling, SP# 2971
Kathy Soland, SP# 661
Claire Baldwin, SP# 3317
Susan Gililland, SP# 397
Terri Dragoo, SP# 2328
Barbara Venard, SP# 787
Courtney Branch, SP# 3023
Tammi Miller, SP# 552
Katie Gillett, SP# 2778
Cindy Threadgill, SP# 2502
Brenda Newby, SP# 842 / 08/17/2009
08/17/2009
08/18/2009
08/18/2009
08/18/2009
08/20/2009
08/25/2009
09/25/2009
08/26/2009
08/28/2009
08/28/2009
09/01/2009
09/11/2009
09/11/2009
10/20/2009
10/26/2009