Ballyboden Saint Enda S G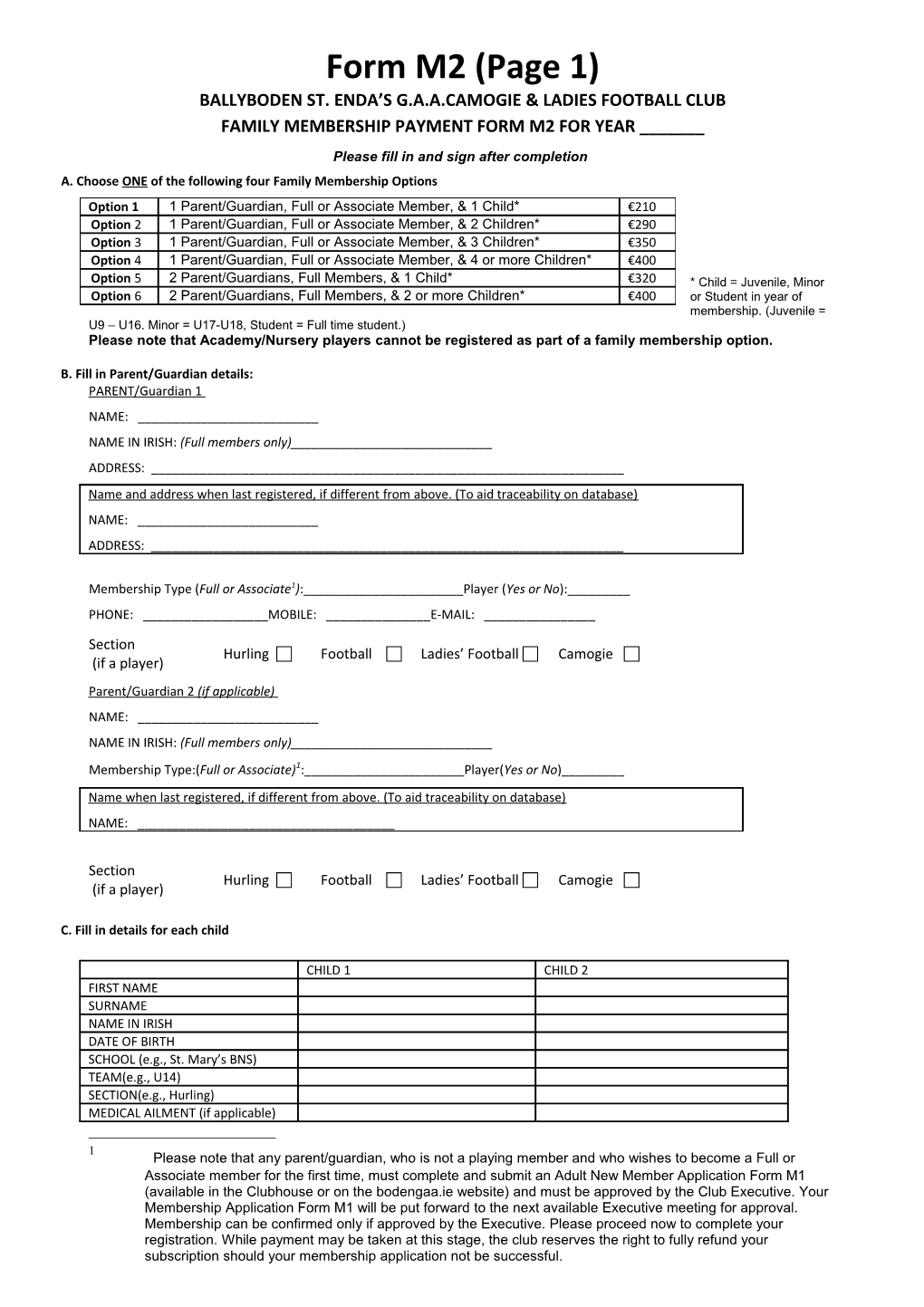 Form M2 (Page 1)

BALLYBODEN ST. ENDA'S G.A.A.CAMOGIE & LADIES FOOTBALL CLUB

FAMILY MEMBERSHIP PAYMENTFORM M2 FOR YEAR ______

Please fill in and sign after completion

A. Choose ONE of the following four Family Membership Options

Option 1 / 1 Parent/Guardian, Full or Associate Member, & 1 Child* / €210
Option 2 / 1 Parent/Guardian, Full or Associate Member, & 2 Children* / €290
Option 3 / 1 Parent/Guardian, Full or Associate Member, & 3 Children* / €350
Option 4 / 1 Parent/Guardian, Full or Associate Member, & 4 or more Children* / €400
Option 5 / 2 Parent/Guardians, Full Members, & 1 Child* / €320
Option 6 / 2 Parent/Guardians, Full Members, & 2 or more Children* / €400


* Child = Juvenile, Minor or Student in year of membership. (Juvenile = U9 – U16. Minor = U17-U18, Student = Full time student.)

Please note that Academy/Nursery players cannot be registered as part of a family membership option.

B. Fill in Parent/Guardian details:

PARENT/Guardian 1

NAME: ______

NAME IN IRISH: (Full members only)______

ADDRESS: ______

Name and address when last registered, if different from above. (To aid traceability on database)
NAME: ______
ADDRESS: ______


Membership Type (Full or Associate[1]):______Player(Yes or No):______

PHONE: ______MOBILE: ______E-MAIL: ______

Section
(if a player) / Hurling  / Football  / Ladies' Football  / Camogie 


Parent/Guardian 2 (if applicable)

NAME: ______

NAME IN IRISH: (Full members only)______

Membership Type:(Full or Associate)1:______Player(Yes or No)______

Name when last registered, if different from above. (To aid traceability on database)
NAME: ______
Section
(if a player) / Hurling  / Football  / Ladies' Football  / Camogie 


C. Fill in details for each child

CHILD 1 / CHILD 2
FIRST NAME
SURNAME
NAME IN IRISH
DATE OF BIRTH
SCHOOL (e.g., St. Mary's BNS)
TEAM(e.g., U14)
SECTION(e.g., Hurling)
MEDICAL AILMENT (if applicable)


Continue on next page………..

Form M2(Page 2)

/ CHILD 3 / CHILD 4
FIRST NAME
SURNAME
NAME IN IRISH
DATE OF BIRTH
SCHOOL (e.g., St. mary's BNS)
TEAM(e.g., U14)
SECTION(e.g., Hurling)
MEDICAL AILMENT (if applicable)
CHILD 5 / CHILD 6
FIRST NAME
SURNAME
NAME IN IRISH
DATE OF BIRTH
SCHOOL (e.g., St. Mary's BNS)
TEAM(e.g., U14)
SECTION(e.g., Hurling)
MEDICAL AILMENT (if applicable)


D. PAYMENT DETAILS –

Family membership subscription of €______enclosed with this form. 

E. CHILD'S RELEVANT MEDICAL CONDITION OR INFORMATION (It is necessary to complete this section only in the case of a child or children who have not been registered previously)
Has any of your children been diagnosed, by a doctor, with any specific illness, conditions, allergies or disabilities of which the club should be aware (i.e., asthma, diabetes?
/ YES/NO

Is any of your children currently taking medication, which the club should be aware of?
/ YES/NO

Does any of your children need to be in possession of or need to be able to administer medication while participating in GAA games?
/ YES/NO
If YES, can your child administer this medication without assistance? / YES/NO


If you have answered YES to any of the above questions, please provide details on a separate sheet and enclose it with this application form.

Also, please inform your child's team mentors of relevant medical conditions.

F. COMMUNICATION WITH CHILDREN AND PARENTS.

Information on team training, games or club news will be sent to you on a regular basis via group texts. It is the Club's wish that this information be sent to the parents or guardians of our under-age players rather than directly to the under-age players. The mobile telephone number given will be used for this purpose.

G. PHOTOGRAPHY, CCTV AND IMAGES.

During the season our teams may be photographed or filmed for coaching purposes, or as part of match coverage in newspapers or for the use of our club web site or for publicising our club. Such images will adhere to the GAA Guidelines for use of photography and filming and should you object to any of your children being photographed or filmed, please inform the relevant team managers as part of this registration process.

H. PARENTAL/GUARDIAN CONSENT

I hereby consent to the above children participating in activities of Ballyboden St. Enda's GAA Club in line with the GAA's Code of Best Practice. I will inform the leaders of my children's activities of any changes to the information above.

SIGNATURE______DATE______

NAME IN CAPITALS______
[1] Please note that any parent/guardian, who is not a playing member and who wishes to become a Full or Associate member for the first time, must complete and submit an Adult New Member Application Form M1 (available in the Clubhouse or on the bodengaa.ie website) and must be approved by the Club Executive. Your Membership Application Form M1 will be put forward to the next available Executive meeting for approval. Membership can be confirmed only if approved by the Executive. Please proceed now to complete your registration. While payment may be taken at this stage, the club reserves the right to fully refund your subscription should your membership application not be successful.