Associate of Applied Science Degree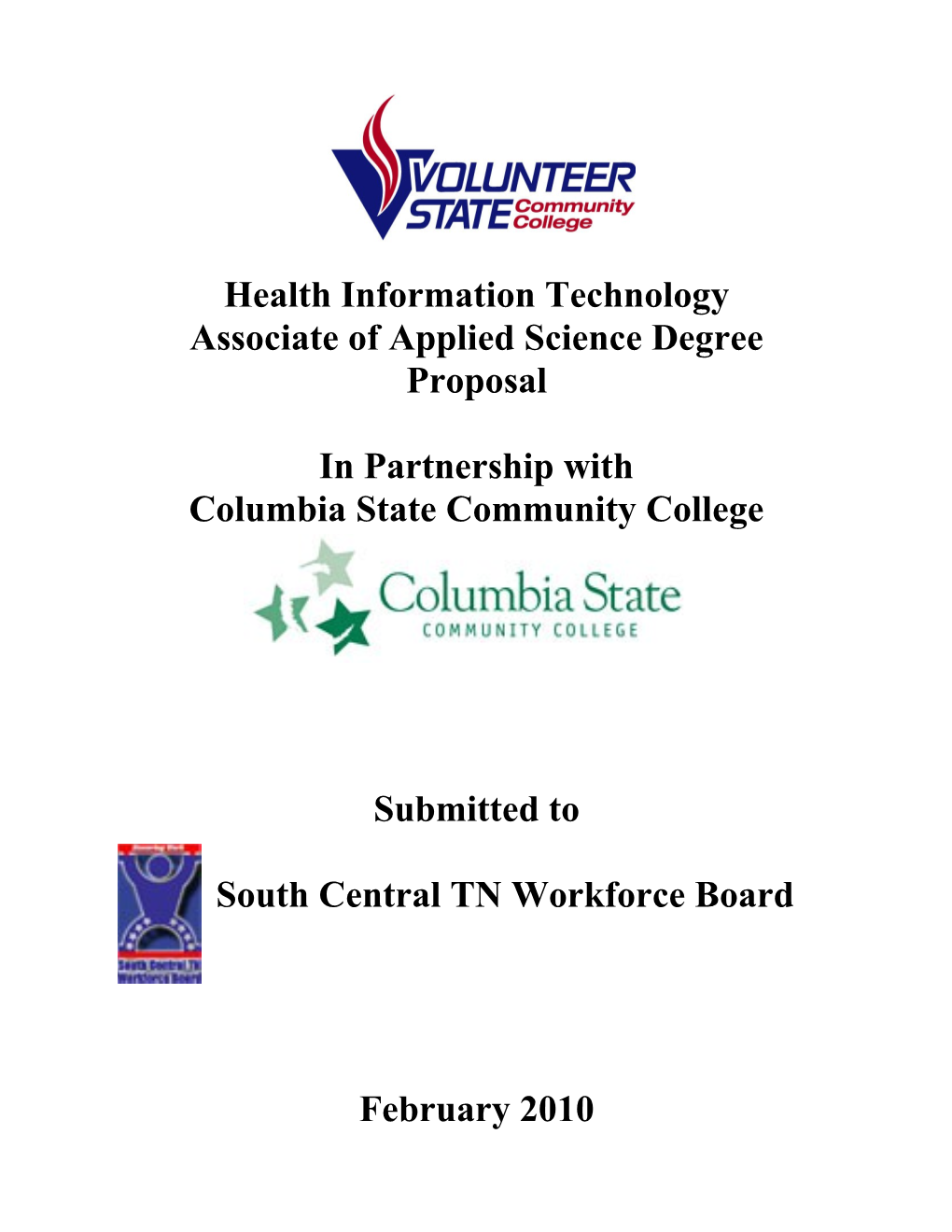 Health Information Technology
Associate of Applied Science Degree
Proposal
In Partnership with
ColumbiaStateCommunity College
Submitted to
South Central TN Workforce Board
February 2010
VolunteerStateCommunity College appreciates the opportunity to submit this proposal to the South Central TN Workforce Board for review and consideration.
VolunteerStateCommunity College(VSCC) will deliver the Health Information Technology Associate of Applied Science Degree Program at the GM at Spring Hill Northfield facility as described herein. VolunteerState will partner with ColumbiaStateCommunity College(CoSCC) for the delivery of specific courses as outlined in this proposal.
Proposal Contents
Health Information Technology Program Associate of Applied Science Degree Description
Criteria for Acceptance into the HIT Program
Selection and Notification
Health Information Technology General Education Course Requirements
Health Information Technology Major Core Course Requirements
Minimum/Maximum Number of Participants
Tuition, Fees, Books and Materials Costs
Facilities, Equipment, Etc. Necessary to Accommodate Instruction
Health Information Technology
Associate of Applied Science Degree Program
The Health Information Technology (HIT) program at Volunteer State Community College is specifically designed to prepare students for employment in the healthcare industry in maintaining health records in many kinds of agencies such as: hospitals, ambulatory healthcare facilities, industrial clinics, state and federal health agencies, skilled nursing facilities, group practice clinics, community health centers, student health centers, veterinary facilities, and other areas. The Health Information Technology program is accredited by the Commission on Accreditation for Health Informatics and Information Management Education (CAHIIM) in cooperation with the sponsoring professional association, the American Health Information Management Association.
Program Start Date
This two-year associate of applied science degree program is scheduled to begin Summer 2010 and culminate Spring 2012. ColumbiaStateCommunity College classes begin May 24. VolunteerStateCommunity College classes begin June 1.
The semester calendar for subsequent semesters will follow the established calendar for each institution.
Admission Requirements
To be considered a "Pre-HIT" student, the following criteria must be met:
Formal application must be submitted to both VolunteerStateCommunity College and ColumbiaStateCommunity College.
All high school transcripts, GED scores, and previous college transcripts must be submitted to Admissions at ColumbiaStateCommunity College and VolunteerStateCommunity College. Transcripts must be official. Copies will not be accepted.
New and returning students will be required to take the COMPASS or ASSET placement exam unless recent ACT/SAT scores are satisfactory. The placement exam is used to evaluate proficiency in reading, writing, and math.
Complete and submit the Health Information Technology Letter of Intent.
Note: ColumbiaStateCommunity College will provide all placement assessment and developmental coursework as necessary. It is expected that students would submit applications to ColumbiaState and complete any required placement testing by April 30, 2010. To be eligible, students must place at the Elementary Algebra level, Developmental Reading level, and Developmental Writing level, not below those levels. These developmental courses will be offered Summer 2010, as needed, based on placement or recent ACT/SAT scores. The developmental courses are listed below.

Course Number / Course Title / Credits / Semester / Institution
DSPR 0800 / Developmental Reading / 2 / Summer 2010 / ColumbiaState
DSPW 0800 / Developmental Writing / 2 / Summer 2010 / ColumbiaState
DSPM 0800 / Elementary Algebra / 3 / Summer 2010 / ColumbiaState


Criteria for Acceptance into the HIT Program:
Any required developmental courses must be successfully completed in order to be considered for admission into the Program.
Successful completion of the following courses with a grade of "C" or better:
HIT 115 – Introduction to Health Information Technology
CIS 109 – Computer Applications
BIOL 2010 – Human Anatomy & Physiology I
BIOL 2020 – Human Anatomy & Physiology II
OFA 240 – Medical Terminology
Submission of an official application to the Health Information Technology Program due no later than March 15, 2011.
Cumulative grade point average (GPA) of 2.5 or better.
Completion of an interview for screening purposes.
Preference is given to students who have completed all general education requirements including social science, fine arts, and English Composition I.
Selection and Notification
The selection process is scheduled once per year. The maximum class size is 24. Formal admission into the program is a competitive process. The Program adheres to the College's equal opportunity policy.
The following weighted criteria are used to determine acceptance into the Program:
BIOL 2020 (Human Anatomy & Physiology II) grade
Number of successfully completed pre-HIT (required general education) courses for the Associate of Applied Science in Health Information Technology
Interview score
GPA of Pre-HIT (general education) courses
Strength of personal references
The HIT Admissions Committee will select each year's class from the pool of applicants who meet minimum admission criteria. No applicant will be considered unless the minimum admission criteria are met. The student will be notified of acceptance in writing prior to the summer semester.
Formal acceptance will only be confirmed after the required background check* has been completed successfully. After formal acceptance into the program, three consecutive semesters of study are required for graduation.Students are expected to follow the established plan of study. Deviation from the established plan of study will require a longer period of time to complete the program.
* Background Checks
Prior to official acceptance into the HIT Program, all students are required to pay for background checks. There are certain convictions that will prevent an individual from being eligible to participate in clinical experiences and, as a result, not accepted into the Program. If a student does not have a clear background check, he/she will not be accepted into the Program.
The background check includes, but is not limited to, the following:
Name and Social Security Number verification
Seven-year multi-county or statewide felony and related misdemeanor criminal record search
Violent Sexual Offender and Predator Registry Search
Tennessee abuse registry maintained by the TN Department of Health pursuant to T.C.A. Section 68-11-1004
HHS/OIG list of excluded individuals/entities –
GSA list of parties excluded from federal programs
U.S. Treasury, Office of Foreign Assets Control (OFAC)
List of Specially Designated Nationals (SDN)
Health Information Technology Program

General Education Course Requirements

Course Number / Course Title / Credits / Institution
BIOL 2010 / Anatomy & Physiology I / 4 / ColumbiaState
ENGL 1010 / Composition I / 3 / ColumbiaState
BIOL 2020 / Anatomy & Physiology II / 4 / ColumbiaState
Humanities/Fine Arts such as PHIL 2030 / Introduction to Ethics (Fine Arts / 3 / ColumbiaState
Social Science such as
SOC 201 / Introduction to Sociology / 3 / ColumbiaState
Total General Education Credit Hours / 17


Health Information Technology

Major Core Course Requirements

Course Number / Course Title / Credits / Institution
HIT 115 / Introduction to Health Information Technology / 4 / VolunteerState
OFA 240 / Medical Terminology / 3 / ColumbiaState
CIS 109 / Computer Applications / 3 / ColumbiaState
HIT 125 / Computer Applications in Health Information Technology / 3 / VolunteerState
HIT 225 / Pathophysiologic Science / 3 / VolunteerState
HIT 250 / Legal Aspects of Health Records / 3 / VolunteerState
HIT 210 / Classification Systems – ICD-9-CM / 4 / VolunteerState
HIT 240 / Statistics / 3 / VolunteerState
HIT 270 / Supervisory Management for Healthcare / 3 / VolunteerState
HIT 281C / Professional Practice Experience I / 3 / VolunteerState
HIT 215 / Classification Systems – CPT / 4 / VolunteerState
HIT 230 / Reimbursement Methodologies / 3 / VolunteerState
HIT 275 / Quality Management in Healthcare / 3 / VolunteerState
HIT 280 / Seminar in Health Information Technology / 3 / VolunteerState
HIT 282C / Professional Practice Experience II / 3 / VolunteerState
Total Major Core
Credit Hours / 48
Total Degree Credit Hours / 65
Upon graduation, students are eligible to sit for AHIMA's RHIT exam.


Sequence of Classes

A complete semester-by-semester sequence of classes with the delivery format identified is provided in Attachment A. Some of these courses are offered online or in a hybrid format requiring that students have access to the Internet. Specific days and times for on ground classes will be determined at a later date. Deviation from the proposed sequence could result in additional costs or savings.

Please note that the Professional Practice Experience will be scheduled on weekdays during the daytime hours due to clinical site availability.

Minimum/Maximum Number of Participants

The minimum number of participants as well as the maximum allowable enrollment is provided in Attachment A. If the minimum number of students is not realized in any semester, there may be an additional per student cost to deliver the program. In any case, the institutions will negotiate with the South Central TN Workforce Board to continue to provide the instruction for students in the cohort.

Course Descriptions

Course descriptions for all courses listed are provided in Attachment B.

Orientation

A mandatory orientation for students will be scheduled by VolunteerStateCommunity College and ColumbiaStateCommunity College prior to the start of classes. The date and time will be mutually agreed upon by all parties.

Tuition, Fees, Books and Materials Costs

A one-time, non-refundable application fee of $10 is required by ColumbiaStateCommunity College and by VolunteerStateCommunity College (total of $20 in application fees). The estimated cost of tuition, fees, books and materials is provided below for each institution.

Institution / Estimated Tuition & Fees
for All Courses Listed* / Books and Materials / Total per Student
ColumbiaState
Community College / $3,897.00 / $1,001.00
based on Spring 2010 costs / $4,898.00
VolunteerState
Community College / $4,897.45 / $2,263.25
based on Spring 2010 costs / $7,170.70
Total for Program Per Student / $12,068.70


* An assumption of a 5% rate increase has been used. The colleges, in conjunction with the Tennessee Board of Regents, reserve the right to add, delete or change tuition and fees. Actual charges for tuition and fees would be those in effect at the college at the time of course enrollment. As indicated, textbook estimates are based on Spring 2010 costs. The actual cost, however, could be higher.

AdditionalStudent Costs

Upon acceptance into the HIT Program, students are responsible for additional costs not covered by tuition and fees:

Student membership in AHIMA / $35.00
Background check – approximation / $80.00 to $100.00
Professional liability insurance – approximation / $35.00
TB skin test – approximation / $10.00
Proof of current vaccinations
Drug Screen – dependent upon clinical site


Facilities, Equipment, Etc. Necessary to Accommodate Instruction

The South Central TN Workforce Board will provide the following to accommodate the instructional needs of the HIT Program, specific classrooms, supplies and equipment, etc. are necessary for course delivery at the GM at Spring Hill Northfield facility. These include:

General Purpose Classroom
A typical lecture classroom with an instructor workstation used for elementary algebra, general education (anatomy and physiology, fine arts, social science) and major core classes. This classroom should equal those available at the two institutions for lecture classes. Equipment would include a PC, monitor, media podium, DVS/VHS player, projector, electric screen, speakers. Specifications would be provided by the institutions.
A lockable lateral file is required to secure files for the HIT Program ($509.50) / $20,000.00
Estimated cost
$509.50
Anatomy and Physiology Laboratory
The laboratory, with tables and chairs, would need to be a dedicated room, utilized solely for the instruction of the specific science requirement. Models, slides, skeletons ($35,000), microscopes are required ($36,000). The lab should seat 24 students. The lab would need to have space on the tables for electrical outlets for microscopes. A sink is also required. Cost estimate does not include furniture. Specifications would be provided by ColumbiaState. / $71,000.00
Estimated cost
Computer Laboratory
A 24-seat computer lab with printing capabilities, instructor workstation/presentation system is required for developmental reading, developmental writing, medical terminology, computer applications, and major core courses. Microsoft Windows XP, MS Office 2007 and Internet access is required for all computers. Any additional specifications to accommodate instruction would be provided by the institutions. / Computer Lab Currently Exists
3M Document Management Software
HIT software needed for instruction in the computer lab.
3M Coding Software
Current VSCC set up not to exceed 32 users at any time. / Estimate of $3,100.00
Administrative/Faculty Travel
VolunteerState faculty/staff will be required to travel to meet with students at orientation, advising, and for instructional purposes. / $700.00


Contact Information

Proposal ContactsVolunteer State Community College

Hilary Marabeti

Assistant Vice President, Continuing Education

Phone: 615.230.3355

Email:

ColumbiaStateCommunity College

Joni Lenig

Associate Vice President, Faculty, Curriculum, & Programs

Phone: 931.540.2750

Email:

HITProgram ContactValerie Bowling

Director, Health Information Technology

Phone: 615.230.3337

Email:

Attachment A

VolunteerStateCommunity College

Health Information TechnologyAssociate of Applied Science Degree

For SouthCentral TNWorkforce Board

Proposed Sequence of Offerings

VolunteerStateCommunity College

And

ColumbiaStateCommunity College

Term / Course / Title / Hours / Minimum/
Maximum Enrollment / Delivery Format / College
Summer I
2010 / DSPR 0800 / Developmental Reading / 2 / 15/24 / Hybrid / CoSCC
DSPW 0800 / Developmental Writing / 2 / 15/20 / Hybrid / CoSCC
DSPM 0800 / Elementary Algebra / 3 / 15/27 / On Ground / CoSCC
HIT 115 / Introduction to Health Information Technology / 4 / 12/24 / On Ground / VSCC
Fall I
2010 / OFA 240 / Medical Terminology / 3 / 15/24 / Online / CoSCC
BIOL 2010 / Anatomy & Physiology I / 4 / 15/24 / On Ground / CoSCC
ENGL 1010 / English Composition I / 3 / 15/25 / On Ground / CoSCC
Spring I
2011 / BIOL 2020 / Anatomy & Physiology II / 4 / 15/24 / On Ground / CoSCC
CIS 109 / Computer Literacy / 3 / 15/24 / On Ground / CoSCC
Humanities/
Fine Arts such as
PHIL 2030 / Introduction to Ethics / 3 / 15/30 / On Ground / CoSCC
Social Science
such as
SOC 201 / Introduction to Sociology / 3 / 15/30 / On Ground / CoSCC
Summer II
2011 / HIT 125 / Computer Applications in Health Information Technology / 3 / 12/24 / Online / VSCC
HIT 225 / Pathophysiologic Science / 3 / 12/24 / Online / VSCC
HIT 250 / Legal Aspects of Health Records / 3 / 12/24 / Online / VSCC
Fall II
2011 / HIT 210 / Classification Systems – ICD -9-CM / 4 / 12/24 / On Ground / VSCC
HIT 240 / Statistics / 3 / 12/24 / Online / VSCC
HIT 270 / Supervisory Management for Healthcare / 3 / 12/24 / Online / VSCC
HIT 281C / Professional Practice Experience I / 3 / 12/24 / On Ground
Clinical / VSCC
Spring II
2012 / HIT 215 / Classification Systems – CPT / 4 / 12/24 / On Ground / VSCC
HIT 230 / Reimbursement Methodologies / 3 / 12/24 / Online / VSCC
HIT 275 / Healthcare Quality Management / 3 / 12/24 / Online / VSCC
HIT 280 / Seminar in Health Information Technology / 3 / 12/24 / Online / VSCC
HIT 282C / Professional Practice Experience II / 3 / 12/24 / On Ground
Clinical / VSCC
Total Degree Hours / 65


VolunteerStateCommunity College = 42 credit hours

ColumbiaStateCommunity College = 23 credit hours + DSP (as needed)

Attachment B

VolunteerStateCommunity College

Health Information Technology Associate of Applied Science Degree Program

In Partnership With

ColumbiaStateCommunity College

COURSE DESCRIPTIONS

Columbia State Community College will deliver the following courses, 23 credit hours, for the South Central TN Workforce Board in support of VolunteerState's Health Information Technology Associate of Applied Science Degree Program. The developmental courses listed will be offered as needed, based on placement or ACT/SAT scores.

Course Descriptions:

BIOL 2010Human Anatomy & Physiology I4 credits

Fundamentals of cellular biology are introduced to the student in preparation for later emphasis on the human integumentary, skeletal, muscular, digestive, and respiratory systems. Lab/Lecture Hours:3 hrs. lecture, 2 hrs. lab.

BIOL 2020Human Anatomy & Physiology II4 credits

A study of the structure and function of the human excretory, reproductive, endocrine, circulatory, and nervous systems with final emphasis on the interrelationships of the various systems. Prerequisites: (Prerequisites: Successful completion of BIOL 2010.) Lab/Lecture Hours: 3 hrs. lecture, 2 hrs. lab.

CIS 109Computer Applications3 credits

This course provides hands-on experience using commercial software packages for business applications. Topics include microcomputer system components, operating systems, word processing, spreadsheets, and presentation software. Keyboarding skills are highly recommended.

ENGL 1010Composition I3 credits

Development of essays by various rhetorical patterns; reading and discussion of selected essays; introduction to basic research and documentation. Prerequisites: (Prerequisite: satisfactory ACT or placement test scores.)

OFA 240Medical Terminology3 credits

A study of the language of the allied health sciences and medicine with emphasis on body systems, prefixes, suffixes, root terms, pronunciation and spelling.

PHIL 2030Introduction to Ethics3 credits

This course is designed to introduce the student to various ethical theories and to show how they apply in both personal and social situations. Emphasis will also be placed on different types of professional problems involving ethical concerns.

SOC 201Introduction to Sociology3 credits

Sociology is the systematic study of human society. This introductory course will provide an assessment of how social forces, institutions, and inequality influence human interaction. Topics of study include: culture, crime, economy, government, media, family, religion, education, healthcare, race, ethnicity, poverty, and gender.

Developmental Studies Courses, As Necessary

DSPR 0800Developmental Reading (Institutional Credit)2 credits

Acourse which focuses on comprehension and vocabulary skills needed for general college reading and reading expository text. Major topics include vocabulary development, main idea and details, critical reading, flexible rate and strategies for organizing textbook information. Prerequisites: (Prerequisite: DSPR 0700 or entry assessment.) Lab/Lecture Hours:2 hrs. lecture, with additional individual and group conferences.

DSPW 0800Developmental Writing (Institutional Credit)2 credits

Focuses on writing competencies necessary for successfully completing Composition I. Topics include conceiving ideas, organizing, proofreading, revising, rewriting, and determining the most effective writing style for different readers and purposes. Microsoft Word is utilized for some word processing. Upon earning a grade of "C" or better, the student advances to college-level English courses. Prerequisites: (Prerequisite: DSPW 0700 or entry assessment.)

DSPM 0800Elementary Algebra (Institutional Credit)3 credits

Topics for instruction include integers, algebraic operations, linear equations, inequalities, functions, graphing techniques, and systems of equations. Methods for solving real-world applications are integrated throughout the course content. Upon earning a grade of "C" or better, the student advances to Intermediate Algebra, DSPM 0850. Prerequisites: (Prerequisite: DSPM 0700 or entry assessment.)