2018 Merle Kirkley Merit Scholarship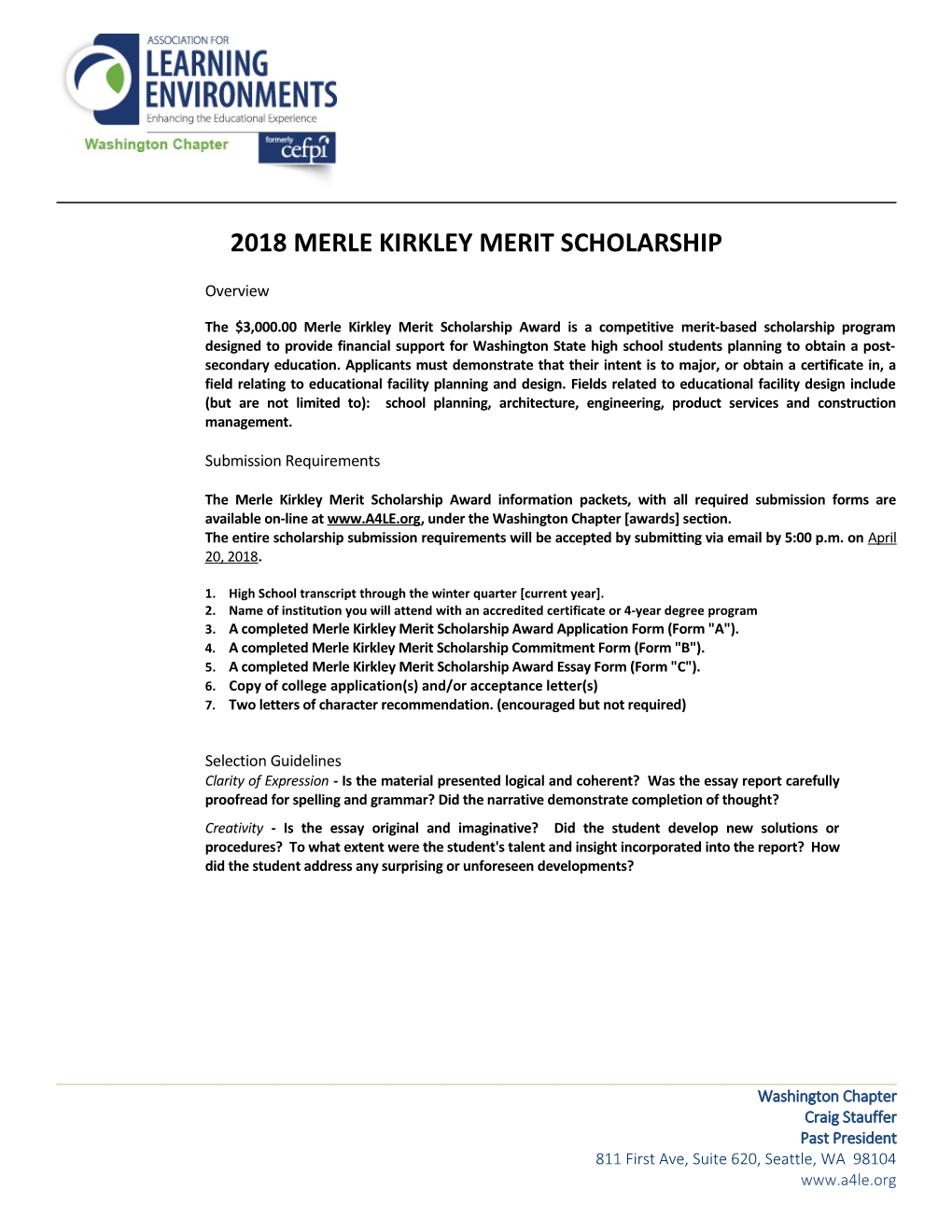 2018 Merle Kirkley Merit Scholarship
Our vision is to create and build resources to promote high performance learning environments
/ Overview
The $3,000.00 Merle Kirkley Merit Scholarship Award is a competitive merit-based scholarship program designed to provide financial support for Washington State high school students planning to obtain a post-secondary education. Applicants must demonstrate that their intent is to major, or obtain a certificate in, a field relating to educational facility planning and design. Fields related to educational facility design include (but are not limited to): school planning, architecture, engineering, product services and construction management.
Submission Requirements
The Merle Kirkley Merit Scholarship Award information packets, with all required submission forms are available on-line at , under the Washington Chapter [awards] section.
The entire scholarship submission requirements will be accepted by submitting via email by 5:00 p.m. on April 20, 2018.

High School transcript through the winter quarter [current year].
Name of institution you will attend with an accredited certificate or 4-year degree program
A completedMerle Kirkley Merit Scholarship Award Application Form (Form "A").
A completed Merle Kirkley Merit Scholarship Commitment Form (Form "B").
A completedMerle Kirkley Merit Scholarship Award Essay Form (Form "C").
Copy of college application(s) and/or acceptance letter(s)
Two letters of character recommendation. (encouraged but not required)
Selection Guidelines
Clarity of Expression - Is the material presented logical and coherent? Was the essay report carefully proofread for spelling and grammar? Did the narrative demonstrate completion of thought?
Creativity - Is the essay original and imaginative? Did the student develop new solutions or procedures? To what extent were the student's talent and insight incorporated into the report? How did the student address any surprising or unforeseen developments?
Conditions

A candidate can only receive one award throughout their educational career
Award may be used only for pre-approved tuition, fees, books, room and board
Recipient may defer up to one year the scholarship award after completion of high school
Announcement of Award (s)
We intend to announce winners no later than June 1, 2018. A press release will be sent to local media and the students' schools announcing the winners.
Sendcompleted information to:
Craig Stauffer, PCS Structural Solutions, 811 First Ave, Suite 620, Seattle, WA 98104
Or email
Questions can be answered by Craig Stauffer via email or at 206.292.5076


Merle Kirkley Merit Scholarship

APPLICATION FORM "A"

(to be completed by the Applying Student)

I, , a student at ______High Schoolam applying for the 2018 Merle Kirkley Merit Scholarship and I affirm my desire to be considered. I understand that this application will be reviewed by qualified members ofA4LE for their use in the scholarship selection. I affirm that the information contained herein is true and correct to the best of my knowledge and belief.

Signed: Date:

(Student Signature)

Legal Name in Full:

Permanent Address:

City/State/Zip: Phone Number ( )

High School Currently Attending:

I have attached the following required Submission Materials:

____Application Form "A"

____Engagement Form "B"

____Essay Form "C"

____Copy of college application(s) and/or acceptance letter(s) or evidence of enrollment

____Two character recommendation letters (encouraged but not required)

Nomination Application Form "A", Engagement Form "B", Essay Form "C", and college application(s),

acceptance letter(s) and/or evidence of enrollment and the optional two (2) character recommendation letters can be submitted via US Postal Service and must be postmarked April 20, 2018or submitted via email by 5:00 p.m. on April 20, 2018.

2018Merle Kirkley Merit Scholarship

ENGAGEMENT FORM "B"

(to be completed by the Applying Student)

Participation and Curricular Achievement

Complete Engagement Form "B" by chronicling your involvement and contribution to your high school community. These activities can include, but are not limited to academic, life skills through employment or involvement in social, religious, scientific, military, civic and leadership organizations.

High School Involvement: (Please attach additional sheet(s) if needed.)


ENGAGEMENT FORM "B" (continued)

Course Work (subject matter)
Vocational Trade/ Advanced Placement and/or College Courses Taken
Please list any AP, college or vocational training courses you have taken while a high school Student
Community Activities (volunteer, paid employment)
ENGAGEMENT FORM "B" (continued)
Describe how you contribute to your community or have made a difference in someone else's life. What responsibilities did you take on, how long were you involved and what was your approximate weekly hourly commitment?Please attach additionalsheet(s) if needed.


Please attach additional sheet(s) if needed.

2018 Merle Kirkley Merit Scholarship

ESSAY FORM "C"

(to be completed by the Nominated Student)

Just as a building requires a team to envision, design, construct, furnish and operate, so does a community need active participants to make it thrive. Actively participating in a high school community is a mixture of common interests and the structure the building offers to express those values. In 1,000 words or less, please describe how your high school has contributed to your sense of community and how you engage with it. Also, please describe the changes that you would propose to the design or furnishings of your high school that you feel once implemented, would improve the quality of education and sense of community.

Please attach additional sheet(s) if needed to complete Essay Form "C".

______

Washington Chapter

Craig Stauffer

Past President

811 First Ave, Suite 620, Seattle, WA 98104