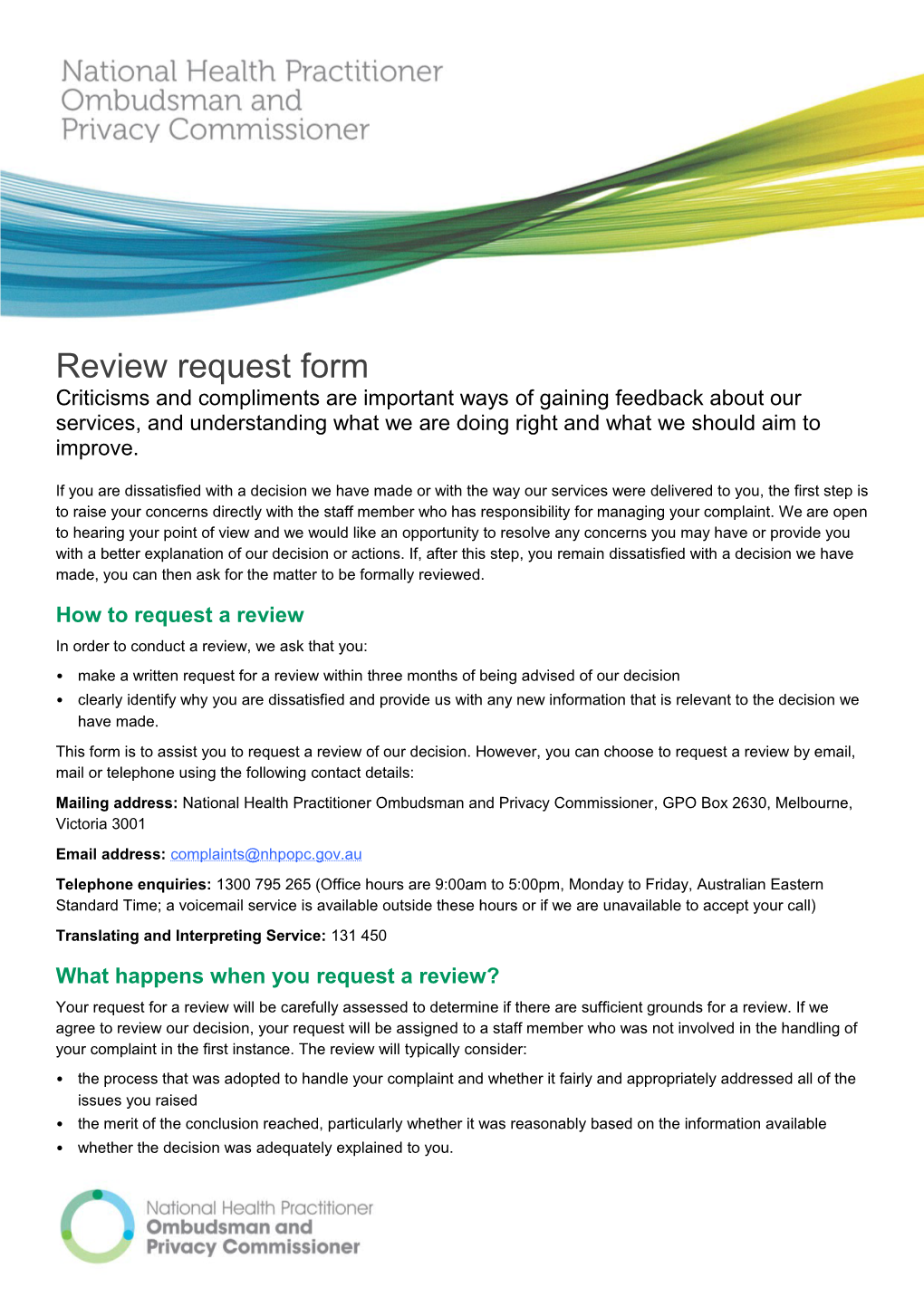 Review request form
Criticisms and compliments are important ways of gaining feedback about our services, and understanding what we are doing right and what we should aim to improve.
If you are dissatisfied with a decision we have made or with the way our services were delivered to you, the first step is to raise your concerns directly with the staff member who has responsibility for managing your complaint. We are open to hearing your point of view and we would like an opportunity to resolve any concerns you may have or provide you with a better explanation of our decision or actions. If, after this step, you remain dissatisfied with a decision we have made, you can then ask for the matter to be formally reviewed.
How to request a review
In order to conduct a review, we ask that you:
•make a written request for a review within three months of being advised of our decision
•clearly identify why you are dissatisfied and provide us with any new information that is relevant to the decision we have made.
This form is to assist you to request a review of our decision. However, you can choose to request a review by email, mail or telephone using the following contact details:
Mailing address: National Health Practitioner Ombudsman and Privacy Commissioner,GPO Box 2630, Melbourne, Victoria 3001
Email address:
Telephone enquiries:1300 795 265 (Office hours are 9:00am to 5:00pm, Monday to Friday, Australian Eastern Standard Time; a voicemail service is available outside these hours or if we are unavailable to accept your call)
Translating and Interpreting Service: 131 450
What happens when you request a review?
Your request for a review will be carefully assessed to determine if there are sufficient grounds for a review. If we agree to review our decision, your request will be assigned to a staff member who was not involved in the handling of your complaint in the first instance. The review will typically consider:
•the process that was adopted to handle your complaint and whether it fairly and appropriately addressed all of the issues you raised
•the merit of the conclusion reached, particularly whether it was reasonably based on the information available
•whether the decision was adequately explained to you.
You will be informed of the outcome of our review in writing. Possible outcomes include:
•upholding the original decision
•changing the decision, or
•referring the matter back to the staff member who originally had responsibility for your complaint so that further inquiries can be made.
Once a matter has been reviewed, there is no further avenue of appeal or review of the decision. We only review a matter once.
About you
Please only provide information that you would like us to use in our communications with you.

Title

 Mr  Miss  Ms  Mrs  Dr  Professor  Mx  Other (please specify)

Full name
Mailing address
Contact number
Email address
Date of birth / (Please note: the format of your date of birth should be dd/mm/yyyy)


Do you require a translating and interpreting service?

Yes No

If yes, please specify the language required

NHPOPC reference number (if known)

When were you told about the decision?

Have you raised your concerns with the staff member who has responsibility for managing your complaint?

 Yes  No
Authorisation to request a review on behalf of someone else
Are you authorised to request a review on behalf of someone else, or do you have a representative that you give authorisation to act on your behalf?
Yes, complete information below No, go to next section
Complainant: Authorisation
I give consent to the authorised person to disclose my personal information to the NHPOPC. I understand that the authorised person will also receive my personal information from the NHPOPC in relation to my request for a review.

Signature ofcomplainant
Full name of complainant
Contact number
Date

Authorised person: Acknowledgment
I acknowledge that I have read, understand and accept the authorisation made by the complainant.

Signature ofauthorised person
Full name of authorised person
Relationship to complainant
Contact number
Email address
Date

Review request details
Please explain why you disagree with our decision
Please attach a copy (not the original) of any new information that is relevant to the decision we have made
Declaration
I declare that all the information I have provided in this review form is true and correct.I acknowledge that I must advise the NHPOPC if my circumstances change and update the office with any details that are relevant to my request for a review.

Signature
Full name
Date

Accessibility
To receive this publication in an accessible format, please phone 1300 795 265, using the National Relay Service 13 36 77 if required, or email
Authorised and published by the National Health Practitioner Ombudsman and Privacy Commissioner,December 2018.
Available on the National Health Practitioner Ombudsman and Privacy Commissioner website<