Requires Experience and Knowledge in the Use of FEA Design Tools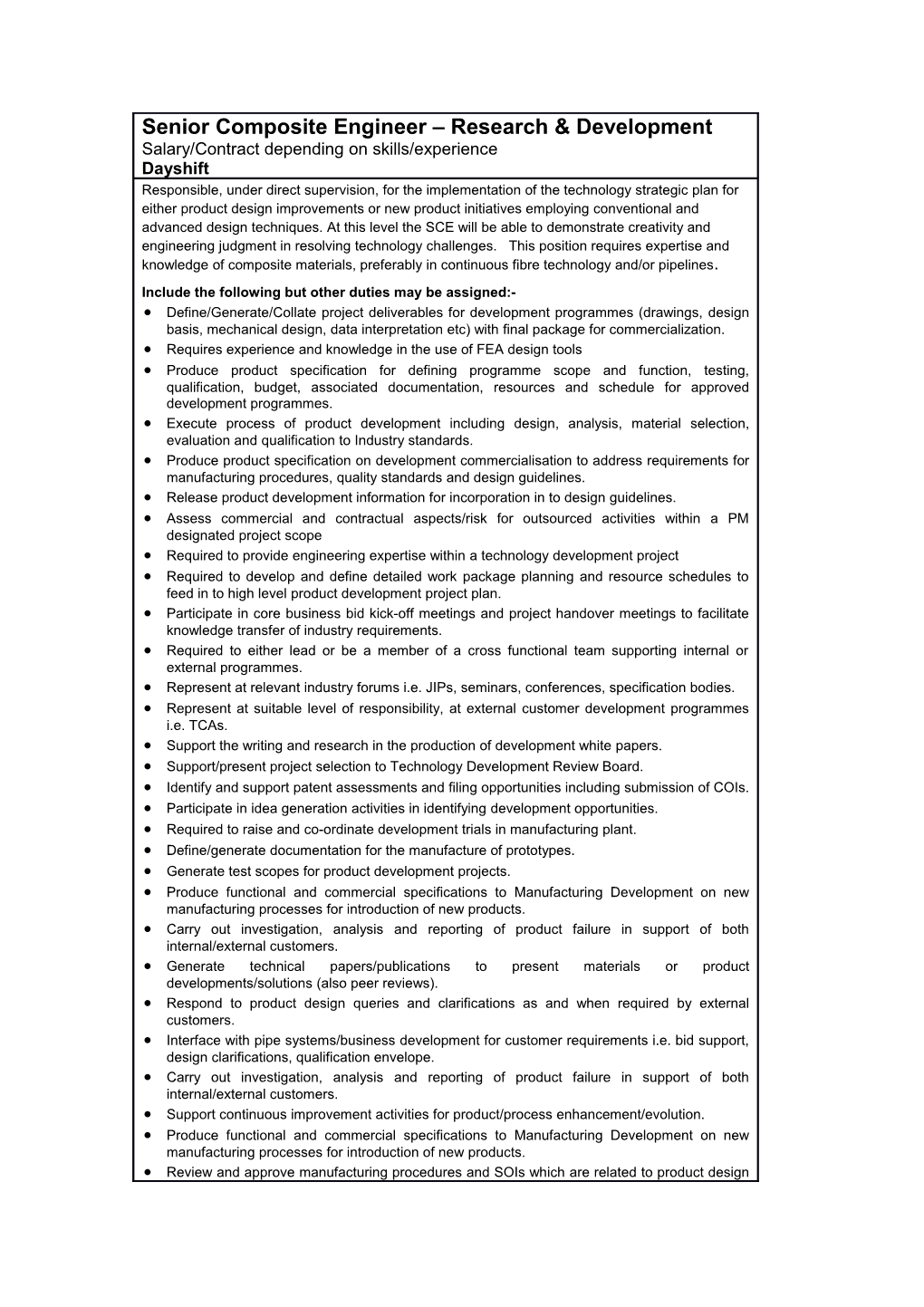 Senior Composite Engineer – Research & Development Salary/Contract depending on skills/experience
Dayshift
Responsible, under direct supervision, for the implementation of the technology strategic plan for either product design improvements or new product initiatives employing conventional and advanced design techniques. At this level the SCE will be able to demonstrate creativity and engineering judgment in resolving technology challenges. This position requires expertise and knowledge of composite materials, preferably in continuous fibre technology and/or pipelines.
Include the following but other duties may be assigned:-

Define/Generate/Collate project deliverables for development programmes (drawings, design basis, mechanical design, data interpretation etc) with final package for commercialization.
Requires experience and knowledge in the use of FEA design tools
Produce product specification for defining programme scope and function, testing, qualification, budget, associated documentation, resources and schedule for approved development programmes.
Execute process of product development including design, analysis, material selection, evaluation and qualification to Industry standards.
Produce product specification on development commercialisation to address requirements for manufacturing procedures, quality standards and design guidelines.
Release product development information for incorporation in to design guidelines.
Assess commercial and contractual aspects/risk for outsourced activities within a PM designated project scope
Required to provide engineering expertise within a technology development project
Required to develop and define detailed work package planning and resource schedules to feed in to high level product development project plan.
Participate in core business bid kick-off meetings and project handover meetings to facilitate knowledge transfer of industry requirements.
Required to either lead or be a member of a cross functional team supporting internal or external programmes.
Represent at relevant industry forums i.e. JIPs, seminars, conferences, specification bodies.
Represent at suitable level of responsibility, at external customer development programmes i.e. TCAs.
Support the writing and research in the production of development white papers.
Support/present project selection to Technology Development Review Board.
Identify and support patent assessments and filing opportunities including submission of COIs.
Participate in idea generation activities in identifying development opportunities.
Required to raise and co-ordinate development trials in manufacturing plant.
Define/generate documentation for the manufacture of prototypes.
Generate test scopes for product development projects.
Produce functional and commercial specifications to Manufacturing Development on new manufacturing processes for introduction of new products.
Carry out investigation, analysis and reporting of product failure in support of both internal/external customers.
Generate technical papers/publications to present materials or product developments/solutions (also peer reviews).
Respond to product design queries and clarifications as and when required by external customers.
Interface with pipe systems/business development for customer requirements i.e. bid support, design clarifications, qualification envelope.
Carry out investigation, analysis and reporting of product failure in support of both internal/external customers.
Support continuous improvement activities for product/process enhancement/evolution.
Produce functional and commercial specifications to Manufacturing Development on new manufacturing processes for introduction of new products.
Review and approve manufacturing procedures and SOIs which are related to product design requirements.
Ensuring that all development projects have 3rd party IVA where applicable.
Generate technical notes (bulletins) in the reporting of product improvements and clarifications.
To be a nominated focal point for a specific product area.
Liaise and co-ordinate with 3rd party external consultants in the provision of development related services.
Provide product development instruction/awareness/training/seminars to both internal and external customers.
Provide a product development consultancy service, as required, for external customers.
Writing and/or approving procedures applicable to product development projects.
Carry out supplier technical audits in support of SCM vendor appraisals.
Existing Vendor technical support, develop and maintain technical liaison with vendors as part of continuous improvement.
Respond to vendor technology queries and clarifications as and when required.
Required to provide general tech. support to none local operations.
Provide technical support to business development i.e. external customer presentations.
Provide guidance on Health and Safety requirements in regard to product design, manufacture and testing.
Provide engineering support in the development, review and application of Product Quality Standard.
Directly coordinate/lead programmes with external test houses when required by the development programmes (including test rig development).
Interface through testing Services with External Test Houses when required but also an awareness of ongoing programmes to capture key knowledge.
Develop and implement bespoke testing in the support of development projects.
Source and/or develop links with external test houses.
Coordinate testing programmes with internal test facilities and external test houses.
Generate visitor reports (conferences, vendors, customers, external institutions etc).
Feedback and report on industry/competitor information relevant to industry.
Provide training and development to engineers i.e, graduate programmes etc.
Ensure the implementation of quality and safety plans in accordance with Company, Client and statutory requirements in the execution of assigned development projects.
Ensure personnel comply with quality and safety requirements in accordance with Company, Client and statutory requirements.
Any other duties as directed by the PTL Materials & Product Development.
Ability to work to a schedule and conduct work which may involve conflicting project requirements.
Be a creative thinker to identify near term material development solutions.
Good organisation skills with the ability to directly inform and instruct Engineers, Technicians and other employees of specific engineering and HSEQ requirements.
Ability to work within a team environment but with a team of high level engineers.
A university degree in a related subject; Master's degree or equivalent or extensive experience at a Lead Engineer level functioning with an increased level of specialization, practice and responsibility plus development of others and demonstrating leadership responsibilities.