Request to Cooperate in Finding a Replacementtenant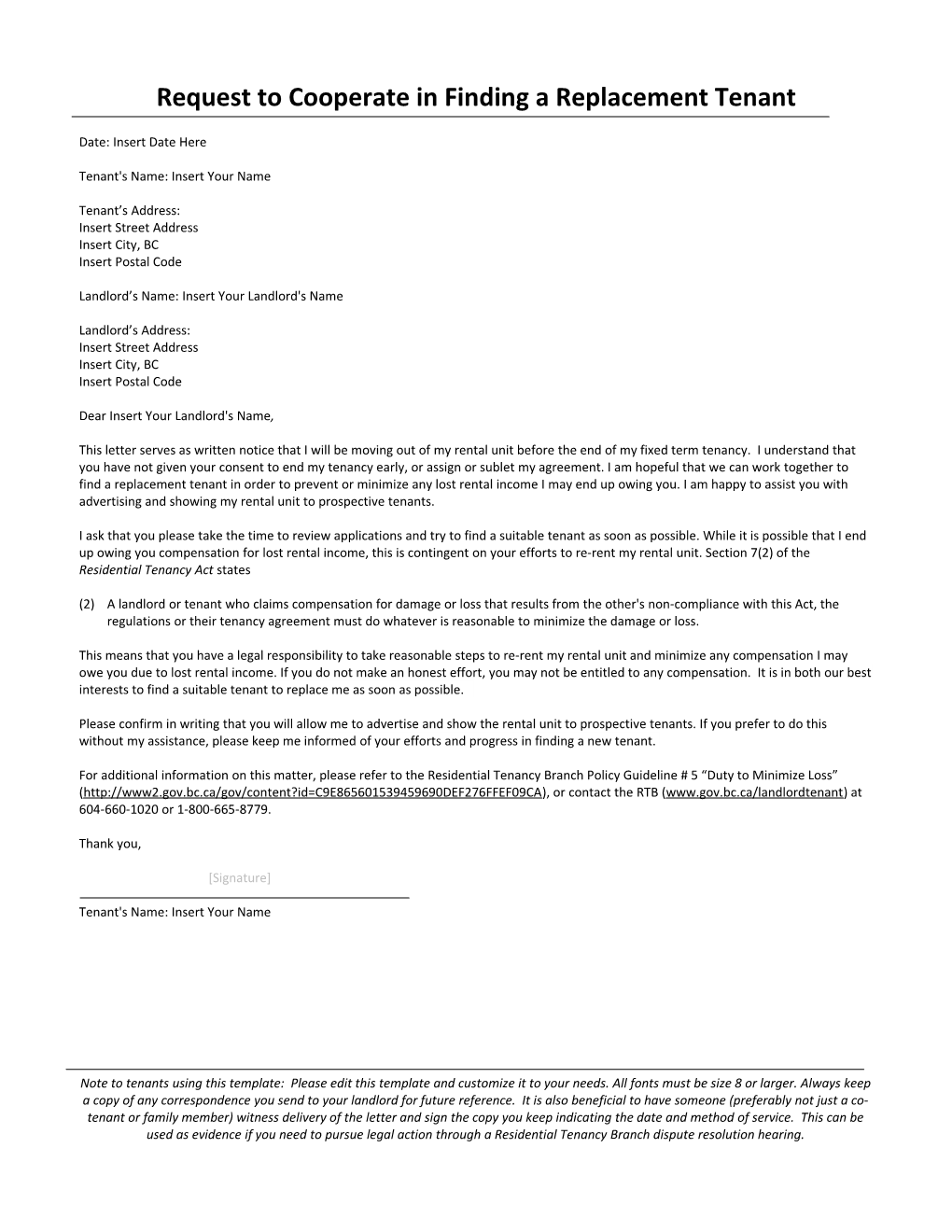 Request to Cooperate in Finding a ReplacementTenant
Date:Insert Date Here
Tenant's Name: Insert Your Name
Tenant's Address:
Insert Street Address
Insert City, BC
Insert Postal Code
Landlord's Name: Insert Your Landlord's Name
Landlord's Address:
Insert Street Address
Insert City, BC
Insert Postal Code
Dear Insert Your Landlord's Name,
This letter serves as written notice that I will be moving out of my rental unit before the end of my fixedterm tenancy. I understand that you have not given your consent to end my tenancy early, or assign or sublet my agreement. I am hopeful that we can work together to find a replacement tenant in order to prevent or minimize any lost rental income I may end up owing you. I am happy to assist you with advertising and showing my rental unit to prospective tenants.
I ask that you please take the time to review applications and try to find a suitable tenant as soon as possible. While it is possible that I end up owing you compensation for lost rental income, this is contingent on your efforts to re-rent my rental unit. Section 7(2) of the Residential Tenancy Act states
(2)A landlord or tenant who claims compensation for damage or loss that results from the other's non-compliance with this Act, the regulations or their tenancy agreement must do whatever is reasonable to minimize the damage or loss.
This means that you have a legal responsibility to take reasonable steps to re-rent my rental unit and minimize any compensation I may owe you due to lost rental income. If you do not make an honest effort, you may not be entitled to any compensation. It is in both our best interests to find a suitable tenant to replace me as soon as possible.
Please confirm in writing that you will allow me to advertise and show the rental unit to prospective tenants. If you prefer to do this without my assistance, please keep me informed of your efforts and progress in finding a new tenant.
For additional information on this matter, please refer to the Residential Tenancy Branch Policy Guideline # 5 "Duty to Minimize Loss"( contact the RTB ( at604-660-1020 or 1-800-665-8779.
Thank you,

[Signature]

Tenant's Name: Insert Your Name

Note to tenants using this template: Please edit this template and customize it to your needs. All fonts must be size 8 or larger. Always keep a copy of any correspondence you send to your landlord for future reference. It is also beneficial to have someone (preferably not just a co-tenant or family member) witness delivery of the letter and sign the copy you keep indicating the date and method of service. This can be used as evidence if you need to pursue legal action through a Residential Tenancy Branch dispute resolution hearing.