Name of Work- Construction of Smart Kitchen at East Campus, HBTI, Kanpur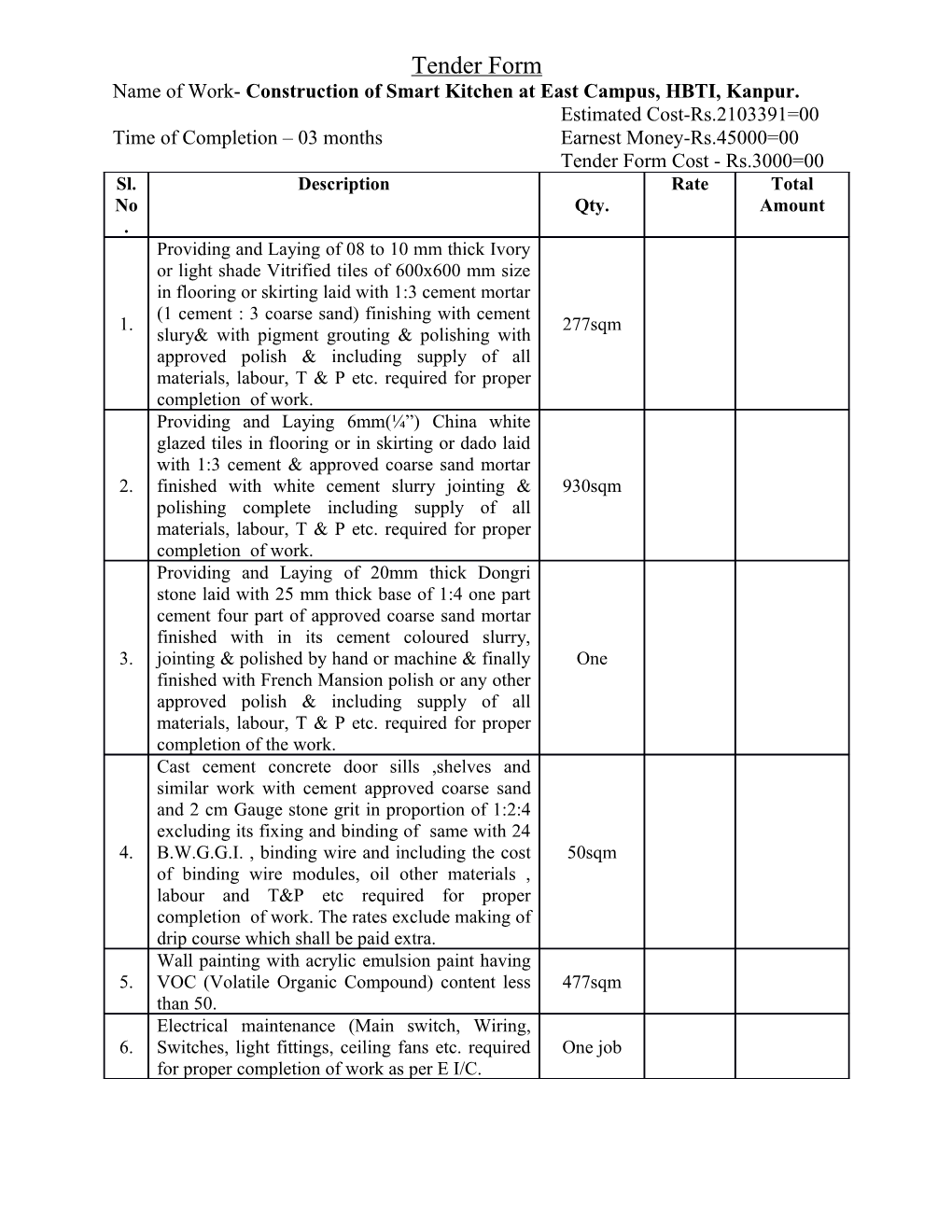 Tender Form

Name of Work- Construction of Smart Kitchen at East Campus, HBTI, Kanpur.

Estimated Cost-Rs.2103391=00

Time of Completion – 03 monthsEarnest Money-Rs.45000=00

Tender Form Cost - Rs.3000=00

Sl. No. / Description / Qty. / Rate / Total Amount
1. / Providing and Laying of 08 to 10 mm thick Ivory or light shade Vitrified tiles of 600x600 mm size in flooring or skirting laid with 1:3 cement mortar (1 cement : 3 coarse sand) finishing with cement slury& with pigment grouting & polishing with approved polish & including supply of all materials, labour, T & P etc. required for proper completion of work. / 277sqm
2. / Providing and Laying 6mm(¼") China white glazed tiles in flooring or in skirting or dado laid with 1:3 cement & approved coarse sand mortar finished with white cement slurry jointing & polishing complete including supply of all materials, labour, T & P etc. required for proper completion of work. / 930sqm
3. / Providing and Laying of 20mm thick Dongri stone laid with 25 mm thick base of 1:4 one part cement four part of approved coarse sand mortar finished with in its cement coloured slurry, jointing & polished by hand or machine & finally finished with French Mansion polish or any other approved polish & including supply of all materials, labour, T & P etc. required for proper completion of the work. / One
4. / Cast cement concrete door sills ,shelves and similar work with cement approved coarse sand and 2 cm Gauge stone grit in proportion of 1:2:4 excluding its fixing and binding of same with 24 B.W.G.G.I. , binding wire and including the cost of binding wire modules, oil other materials , labour and T&P etc required for proper completion of work. The rates exclude making of drip course which shall be paid extra. / 50sqm
5. / Wall painting with acrylic emulsion paint having VOC (Volatile Organic Compound) content less than 50. / 477sqm
6. / Electrical maintenance (Main switch, Wiring, Switches, light fittings, ceiling fans etc. required for proper completion of work as per E I/C. / One job
7. / Finishing walls with one coat of water proof cement paint of approved make & quality on previously old treated surface with this paint to give an even shade including supply of all material, labour and tools and plants etc. required for proper completion of work. / 350sqm
8. / Supply & fixing of 4cm (1½") thick flush doors commercial quality conforming to IS 2202 Part 1 (1983) including supply & fixing of wooden cleats & stops & including fixing & adjustment of hinges, bolts, locks, handles, spring & other fittings but excluding their supply & including painting with two coats of black Japan on all iron fitting if necessary. / 25sqm
9. / Steel Z section window, fast, tieods grating etc. wrought to required form including supply of steel bolt, nuts, wastage etc. & their fixing required for proper completion of the work excluding Glass panes / 500kg
10. / Renewing panes of glass in door, windows & ventilator or fixing in the new work with 4 mm thick glass panes fixed with brads & putty including supply of all material, labour and tools and plants etc. required for proper completion of work. / 50sqm
11. / 10-12 mm thick Glass doors with movable springs etc. complete their fixing required for proper completion of the work. (3x2.1 mtr.) / 02 Nos.


Terms & Conditions-
All the work is to be executed as per PWD specification and norms.
The contractor should attached a copy of TIN No.
The contractor should attached a copy of PAN No. and copy of last year ITR.
The contractor should attached a copy of registration certificate of state/central govt.
An affidavit to the effect that firm is not black listed by any state/central Govt. Deptt.
Satisfactory working certificate is necessary for similar type of work and amount.
Annual turnover of the firm should be Rs 1.00 crore or more.
The quantity may increase or decrease as per decision of competent authority.
Without attachment of the above the tenders are not considered.
In case of unjustified quoted rate below the tender cost, tender will be considered non-responsive and his/her earnest money will be forfeited.
After allotment of said work security money (10%) will be deposited within a week, otherwise earnest money will be forfeited and work will allotted to second lowest.
Any query about tender can be made from institute during working day and time.
Payment will be made after completion and satisfactory report of the said work, running payment would made after satisfaction of work and recommendation of committee constituted by Director.
Name of work- Construction of Smart Kitchen at East Campus, HBTI, Kanpur.
Signature of Contractor______
Name, Address & Mobile no. of Contractor______
______