Legends for Supplementary Figures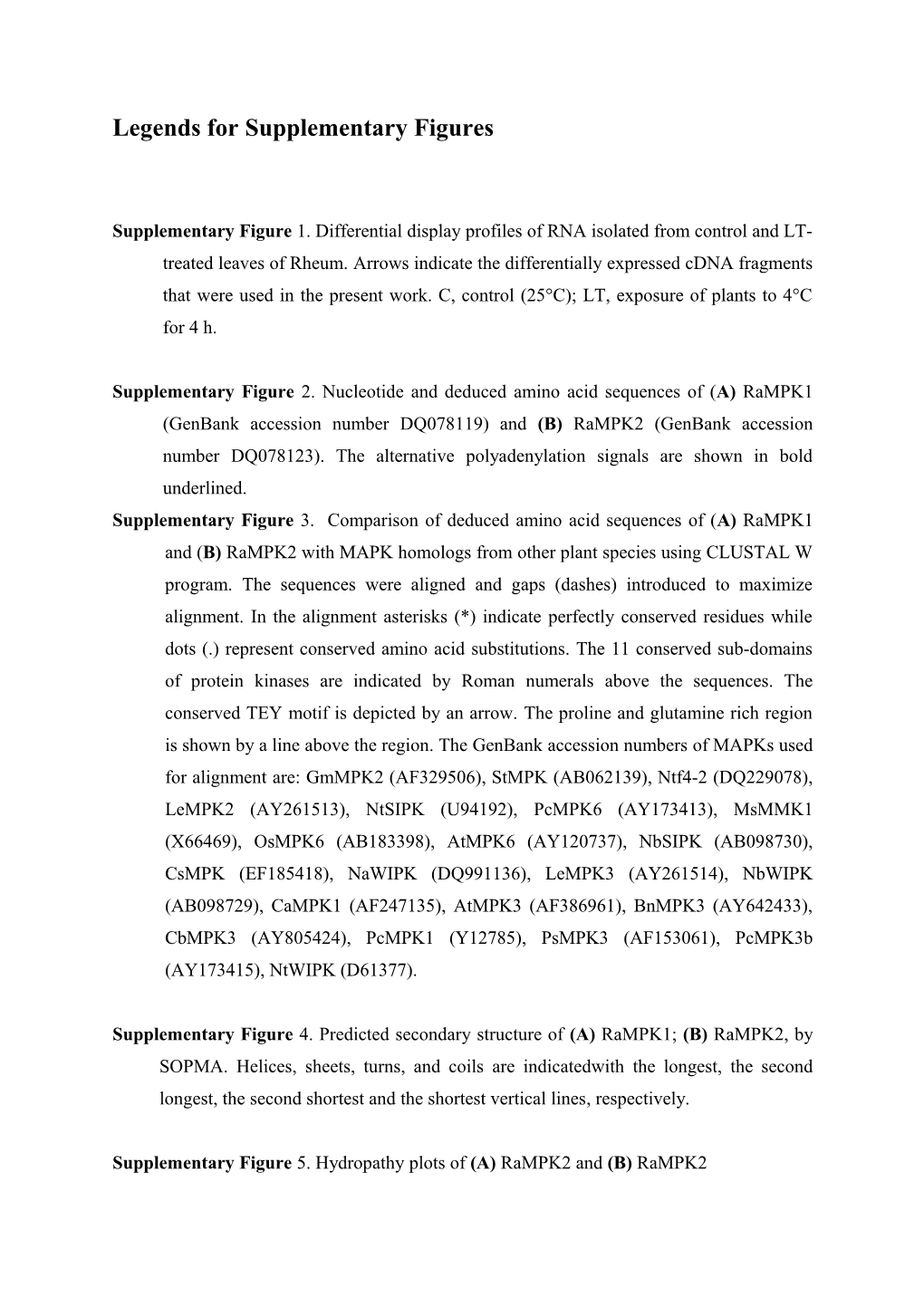 Legends for Supplementary Figures
Supplementary Figure 1. Differential display profiles of RNA isolated from control and LT-treated leaves of Rheum. Arrows indicate the differentially expressed cDNA fragments that were used in the present work. C, control (25°C); LT, exposure of plants to 4°C for 4 h.
Supplementary Figure2. Nucleotide and deduced amino acid sequences of (A) RaMPK1 (GenBank accession number DQ078119) and (B) RaMPK2 (GenBank accession number DQ078123). The alternative polyadenylation signals are shown in bold underlined.
Supplementary Figure 3. Comparison of deduced amino acid sequences of (A)RaMPK1 and (B)RaMPK2 with MAPK homologs from other plant species using CLUSTAL W program. The sequences were aligned and gaps (dashes) introduced to maximize alignment. In the alignment asterisks (*) indicate perfectly conserved residues while dots (.) represent conserved amino acid substitutions. The 11 conserved sub-domains of protein kinases are indicated by Roman numerals above the sequences. The conserved TEYmotif is depicted by an arrow. The proline and glutamine rich region is shown by a line above the region. The GenBank accession numbers of MAPKs used for alignment are: GmMPK2 (AF329506), StMPK (AB062139), Ntf4-2 (DQ229078), LeMPK2 (AY261513), NtSIPK (U94192), PcMPK6 (AY173413), MsMMK1 (X66469), OsMPK6 (AB183398), AtMPK6 (AY120737), NbSIPK (AB098730), CsMPK (EF185418), NaWIPK (DQ991136), LeMPK3 (AY261514), NbWIPK (AB098729), CaMPK1 (AF247135), AtMPK3 (AF386961), BnMPK3 (AY642433), CbMPK3 (AY805424), PcMPK1 (Y12785), PsMPK3 (AF153061), PcMPK3b (AY173415), NtWIPK (D61377).
Supplementary Figure4. Predicted secondary structure of(A) RaMPK1; (B) RaMPK2, by SOPMA.Helices, sheets, turns, and coils are indicatedwith the longest, the second longest, the second shortest and the shortest vertical lines, respectively.
Supplementary Figure5. Hydropathy plots of (A) RaMPK2 and (B) RaMPK2
Supplementary Figure 3A.
Supplementary Figure 3B
Supplementary Figure 4A.
Supplementary Figure 4B.
Supplementary Figure 5A.
Supplementary Figure 5B.
Supplementary table 1. Primer sequences used in this study

Primer / Sequence
H-AP-1 / 5'-AAGCTTGATTGCC-3'
H-AP-66 / 5'-AAGCTTGCCTTTA-3'
H-T11G / 5'-AAGCTTTTTTTTTTTTTG-3"
GSP RaMPK1 / 5'-GCTGATGTCATGCAGCGAGTTAAGGTAA-3'
nGSP RaMPK1 / 5'-CAAGCGCATCTTCAACTGTTATTCGCT-3'
MAP1F / 5'-CCCACTAAGGGATTCTTTTAATGAT-3'
MAP1R / 5'-ATAAGCTCCATAAGTAGACGTAACT-3'
GSP RaMPK2 / 5'-GGCATCATGTAGCCTTGCCAGGTAAGGATG-3'
nGSP RaMPK2 / 5'-TGATCCGGCGAGTGGGATCAAATGTTAAC-3'
MAP2F / 5'-TACGAAGAGAATTCACGGATGTTT- 3'
MAP2R / 5'-GTTACCAAGCGCATTTGGGGAACAT-3'


Supplementary table 2: ESTs generated using DD

S.No. / GenBank Accession No. / Homology In Database / cDNA Insert
Size (bp)
1 / GE745568 / No significant similarity / 131 bp
2 / GE745569 / No significant similarity / 400 bp
3 / GE745570 / P700 chlorophyll a-protein PSI-A2 / 289 bp
4 / GE745571 / No significant similarity / 176 bp
5 / GE745572 / Mitogen activated protein kinase1 / 542 bp
6 / GE745573 / Mitogen activated protein kinase2 / 501 bp
7 / GE745574 / Hypothetical protein OsI_023532 / 410 bp
8 / GE745575 / Hypothetical protein / 382 bp
9 / GE745576 / Putative epoxide hydrolase / 338 bp
10 / GE745577 / Hypothetical protein / 348 bp
11 / GE745578 / Hypothetical protein / 280 bp
12 / GE745579 / No significant similarity / 271 bp
13 / GE745580 / No significant similarity / 240 bp
14 / GE745581 / Hypothetical protein / 257 bp
15 / GE745582 / No significant similarity / 245 bp
16 / GE745583 / Hypothetical protein / 147 bp
17 / GE745584 / No significant similarity / 338 bp
18 / GE745585 / Unnamed protein product / 449 bp
19 / GE745586 / Serine carboxypeptidase / 598 bp
20 / GE745587 / No significant similarity / 470 bp
21 / GE745588 / ribulose 1,5 biphosphate carboxylase / 353 bp
22 / GE745589 / Ribosomal protein S1 / 300 bp
23 / GE745590 / Hypothetical protein / 263 bp
24 / GE745591 / Ribosomal protein L35 / 259 bp
25 / GE745592 / No significant similarity / 241 bp
26 / GE745593 / No significant similarity / 130 bp
27 / GE745594 / Hypothetical protein / 560 bp
28 / GE745595 / Basic helix loop helix protein / 531 bp
29 / GE745596 / Hypothetical protein / 480 bp
30 / GE745597 / Rab geranylgeranyl transferase / 465 bp
31 / GE745598 / No significant similarity found / 438 bp
32 / GE745599 / No significant similarity / 437 bp
33 / GE745600 / No significant similarity / 388 bp
34 / GE745601 / No significant similarity / 318 bp
35 / GE745602 / Metacaspase / 441 bp
36 / GE745603 / UDP glucosyltransferase / 494 bp
37 / GE745604 / hypothetical protein / 456 bp
38 / GE745605 / Nitrilase-associated protein / 428 bp
39 / GE745606 / Hypothetical protein / 608 bp
40 / GE745607 / Proline rich protein / 330 bp
41 / GE745608 / Histone H3 / 301 bp