Itrace Workplace Travel Plan Pro-Forma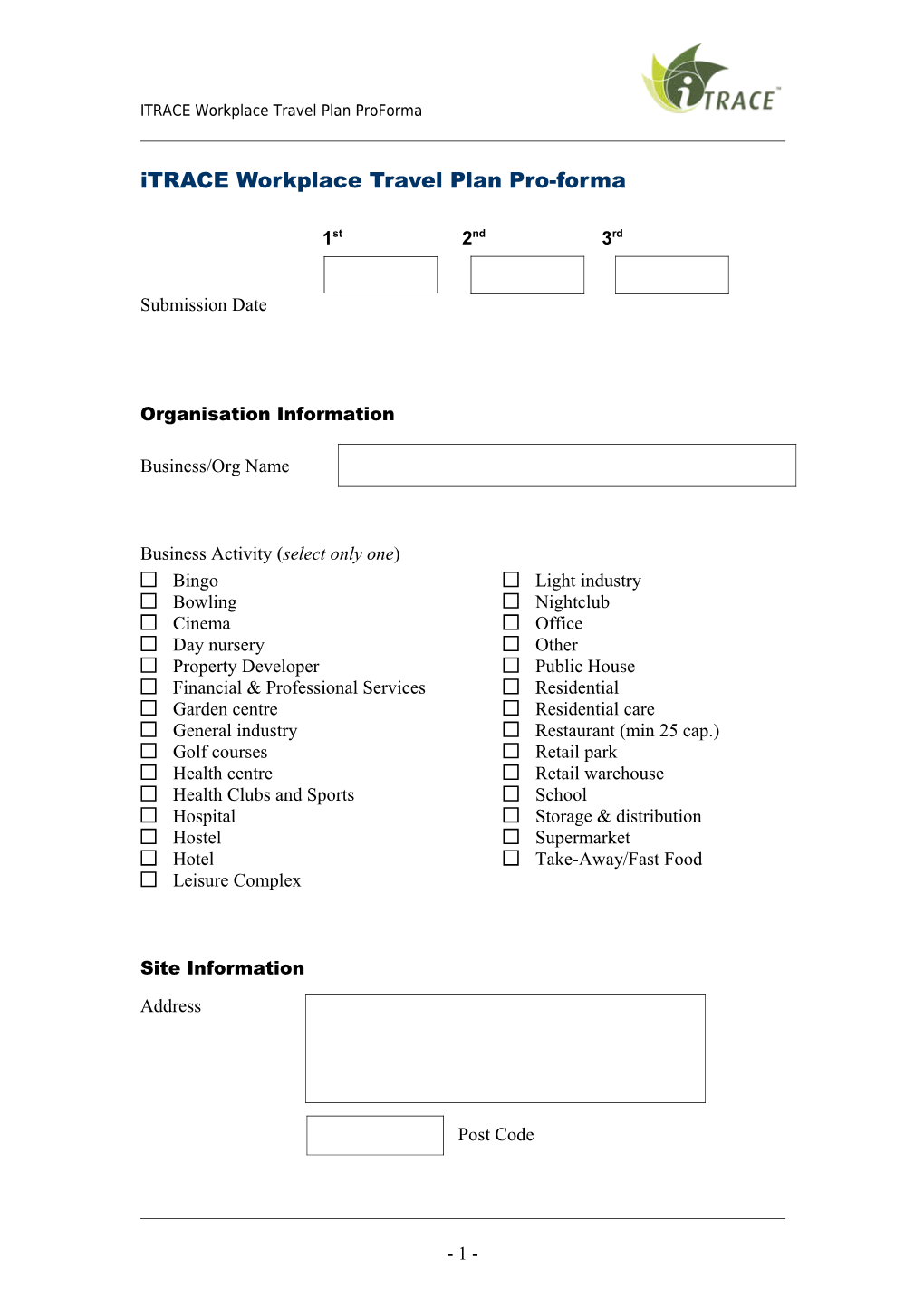 ITRACE Workplace Travel Plan ProForma
iTRACE Workplace Travel Plan Pro-forma
3rd
2nd
1st
Submission Date
Organisation Information
Business/Org Name
Business Activity (select only one)
BingoLight industry
BowlingNightclub
CinemaOffice
Day nurseryOther
Property DeveloperPublic House
Financial & Professional ServicesResidential
Garden centreResidential care
General industryRestaurant (min 25 cap.)
Golf coursesRetail park
Health centreRetail warehouse
Health Clubs and SportsSchool
HospitalStorage & distribution
HostelSupermarket
HotelTake-Away/Fast Food
Leisure Complex
Site Information
Address
Post Code
Land Use (select only one)
Assembly and LeisureHotels
BusinessNon Residential Institutions
DwellinghousesResidential Institutions
Financial or Professional ServicesShops
Food and DrinkStorage or Distribution
General Industrial
m²
m²
Net Site Area
Gross Site Are
Contact Information
TP Coordinator Name
Job Title
Email
Fax
Tel
Planning Information
Application No.
Date of Occupancy
Actual or Proposed
Please specify if the date of Occupation for the site in question is actual or proposed.
Targets
Any Targets based on 'Modal Shift', to be included in a Travel Plan, should be provided as 'Percentage Point Change' Targets.
e.g. – increase the current level of cycling by 5% (Percentage Points) by 01/09/2008= if 10% of staff currently cycle to work and a 5% (percentage point) increase is achieved by/or before 01/09/2008 then overall 15% of staff will be cycling to work. In actual figures that can be shown as – from a total of 100 staff, if 10 currently cycle, a 5%age point increase would equate to 15 people cycling
NOTE: These targets should be determined by the information gathered from the 'BASELINE' survey and should 'demonstrate ambition'.
Target Type
/
Target % Change
/
Target Date
/
Target Required
/
Date Required
SELECT FROM DROP-DOWN LISTAllocated Car SpacesAllocated Motorcycle SpacesAllocated Bicycle SpacesCar Share ProgramCar ClubFuel Efficient Vehicles IncentiveFuel Efficient Freight Vehicles IncentiveTaxi ServiceCar (as driver alone)Car (as driver with others)Car (as passenger)MotorcycleBusTramUnderground/TubeRailBicycle/RailBicycleFootOther
/
+/-
SELECT FROM DROP-DOWN LISTAllocated Car SpacesAllocated Motorcycle SpacesAllocated Bicycle SpacesCar Share ProgramCar ClubFuel Efficient Vehicles IncentiveFuel Efficient Freight Vehicles IncentiveTaxi ServiceCar (as driver alone)Car (as driver with others)Car (as passenger)MotorcycleBusTramUnderground/TubeRailBicycle/RailBicycleFootOther
/
+/-
SELECT FROM DROP-DOWN LISTAllocated Car SpacesAllocated Motorcycle SpacesAllocated Bicycle SpacesCar Share ProgramCar ClubFuel Efficient Vehicles IncentiveFuel Efficient Freight Vehicles IncentiveTaxi ServiceCar (as driver alone)Car (as driver with others)Car (as passenger)MotorcycleBusTramUnderground/TubeRailBicycle/RailBicycleFootOther
/

+/-

SELECT FROM DROP-DOWN LISTAllocated Car SpacesAllocated Motorcycle SpacesAllocated Bicycle SpacesCar Share ProgramCar ClubFuel Efficient Vehicles IncentiveFuel Efficient Freight Vehicles IncentiveTaxi ServiceCar (as driver alone)Car (as driver with others)Car (as passenger)MotorcycleBusTramUnderground/TubeRailBicycle/RailBicycleFootOther

/

+/-

SELECT FROM DROP-DOWN LISTAllocated Car SpacesAllocated Motorcycle SpacesAllocated Bicycle SpacesCar Share ProgramCar ClubFuel Efficient Vehicles IncentiveFuel Efficient Freight Vehicles IncentiveTaxi ServiceCar (as driver alone)Car (as driver with others)Car (as passenger)MotorcycleBusTramUnderground/TubeRailBicycle/RailBicycleFootOther

/

+/-

SELECT FROM DROP-DOWN LISTAllocated Car SpacesAllocated Motorcycle SpacesAllocated Bicycle SpacesCar Share ProgramCar ClubFuel Efficient Vehicles IncentiveFuel Efficient Freight Vehicles IncentiveTaxi ServiceCar (as driver alone)Car (as driver with others)Car (as passenger)MotorcycleBusTramUnderground/TubeRailBicycle/RailBicycleFootOther

/

+/-

SELECT FROM DROP-DOWN LISTAllocated Car SpacesAllocated Motorcycle SpacesAllocated Bicycle SpacesCar Share ProgramCar ClubFuel Efficient Vehicles IncentiveFuel Efficient Freight Vehicles IncentiveTaxi ServiceCar (as driver alone)Car (as driver with others)Car (as passenger)MotorcycleBusTramUnderground/TubeRailBicycle/RailBicycleFootOther

/

+/-

SELECT FROM DROP-DOWN LISTAllocated Car SpacesAllocated Motorcycle SpacesAllocated Bicycle SpacesCar Share ProgramCar ClubFuel Efficient Vehicles IncentiveFuel Efficient Freight Vehicles IncentiveTaxi ServiceCar (as driver alone)Car (as driver with others)Car (as passenger)MotorcycleBusTramUnderground/TubeRailBicycle/RailBicycleFootOther

/

+/-

If more targets are required, please duplicate this page

When individual 'Modal Shift Targets' are not provided, an overall target of 'Total Percentage of Employees travelling by car (as driver)' by a defined date, will suffice.

e.g. - no more than 40% of all staff will travel to work by car (as driver) by 2010.

Target % by Car

Date Required (MM/YYYY)

%

Threshold 1:

%

Threshold 2:

Comments:
Generic Site/Organisation Survey
Total No. of Employees / No. Car Club Members
No. Car Spaces* / Fuel Efficient Vehicles / Yes No
No. Motorcycle Spaces / No. Fuel Eff. Vehicles
No. Bicycle Spaces / Fuel Eff. Freight Vehicles / Yes No
No. Disables Spaces / No. Fuel Eff. Freight Vehicles
No. HGV Spaces / Flexible Working / Yes No
Car Share Program / Yes No / Home Working / Yes No
No. of Car Share Members / Shower Facilities / Yes No
Taxi Service (GRH**) / Yes No / Locker Facilities / Yes No
Car Club / Yes No / Travel Card Subsidy / Yes No
* not including disabled spaces

GRH** - Guaranteed Ride Home
Baseline Modal Survey – Main Mode
Car (driver alone) / Tube
Car (driver with others) / Rail
Car (as passenger) / Bike/Rail
Motorcycle / Bicycle
Bus / Foot
Tram / Other


Model Survey response requires actual figures to allow input into iTRACE:

e.g. 78 people travel to the site by Bus (Not percentages!)

END OF DOCUMENT

- 1 -