Introductory Biology - Sbi 3U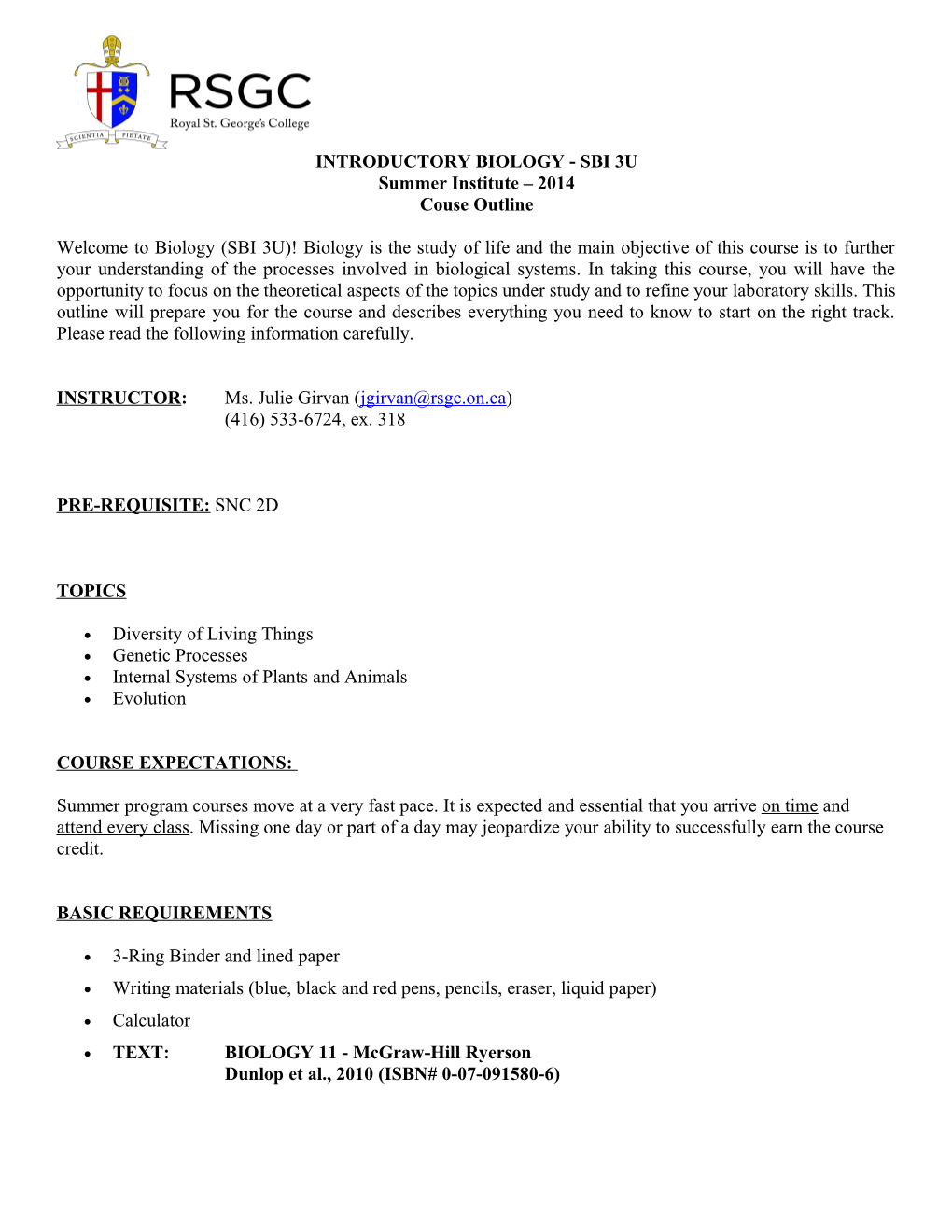 INTRODUCTORY BIOLOGY - SBI 3U
Summer Institute – 2014
Couse Outline
Welcome to Biology (SBI 3U)! Biology is the study of life and the main objective of this course is to further your understanding of the processes involved in biological systems. In taking this course, you will have the opportunity to focus on the theoretical aspects of the topics under study and to refine your laboratory skills. This outline will prepare you for the course and describes everything you need to know to start on the right track. Please read the following information carefully.
INSTRUCTOR: Ms. Julie Girvan ()
(416) 533-6724, ex. 318
PRE-REQUISITE: SNC 2D
TOPICS
Diversity of Living Things
Genetic Processes
Internal Systems of Plants and Animals
Evolution
COURSE EXPECTATIONS:
Summer program courses move at a very fast pace. It is expected and essential that you arrive on time and attend every class. Missing one day or part of a day may jeopardize your ability to successfully earn the course credit.
BASIC REQUIREMENTS
3-Ring Binder and lined paper
Writing materials (blue, black and red pens, pencils, eraser, liquid paper)
Calculator
TEXT: BIOLOGY 11 - McGraw-Hill Ryerson
Dunlop et al., 2010 (ISBN# 0-07-091580-6)

NOTEBOOK RECOMMENDATIONS

1.All notes should be written in blue or black ink except for drawings and diagrams. Use pencil for all biological drawings.

2. All notes should be titled, dated, and underlined.

3.All handouts and lab reports should be dated and placed in the correct sequence in your notebook.

4. Complete all homework in complete sentences.

Remember: Your notebook is your best resource. Students with neat and organizednotebooks find it much easier to

study for tests and the final exam!!

Note: Laptops are NOT a replacement for a notebook and are only to be used at thediscretion of the teacher.

COURSE EVALUATION:

The final percentage grade for the course will be 70% based on work done throughout the course, and a 30% final exam which will be administered at the end of the course. The final exam is compulsory and will cover all topics. On all course work and the final exam, students will be evaluated based on the following four categories of assessment: knowledge/understanding, inquiry/problem solving, application, and communication. These categories will help to determine areas where students should focus their efforts in order to improve their standing in the course.

Evaluation Summary:

Categories / Weighting
Term Evaluation: / Mini-tests 10%
Tests 30%
Laboratory Reports 15%
Assignments 15%
Culminating Activities: / Final Examination 30%


DAILY OUTLINE:

Classes run promptly from 8:15am to 2:15pm. You will be given 30 minutes for lunch and two 10-minute breaks. There will be tutorial time/extra help available Monday to Thursday from 2:15-3:00pm. Please plan accordingly.

Date / Class / Concepts to be Covered / Activities, Labs and Assignments / Unit Tests
Thursday,
June 19, 2014 / 1 /  Introduction to SBI 3U
 Species Concepts
 Classification and Taxonomy
 Dichotomous Keys
Determining How Species are Related
 Phylogeny /  Activity 1.1: Snake or Lizard?
 Dichotomous Key
 How to Make Cladograms
Anolis Lizard Activity
Friday
June 20, 2014 / 2 /  Viruses
 Kingdoms & Domains
Archaea and Bacteria / Virus Outbreak Activity
Lab Inv.: Measles Immunization
Monday,
June 23, 2014 / 3 / Theory of Endosymbiosis
 Characteristics of Protists
 Characteristics of Plants /  Mini-Test
Pond Water Analysis
Tuesday,
June 24, 2014 / 4 /  Characteristics of Fungi
 Characteristics of Animals /  Animal Phyla Jigsaw Activity
Wednesday,
June 25, 2014 / 5 /  Review for Diversity of Life Test
 Field trip to the ROM – Diversity Exhibit
Thursday,
June 26, 2014 / 6 /  DNA Structure and Function
 DNA Replication /  DNA Extraction Lab / ★ Diversity of Life Test
Friday,
June 27, 2014 / 7 /  Cell Cycle
 Stages of Mitosis
 Stages of Meiosis
Errors in Meiosis /  Dealing with Meiosis
 Mitosis and Meiosis Internet Activity
Wednesday, July 2, 2014 / 8 /  Prenatal Typing and Karyotyping
Mendelian Genetics
 Incomplete and Dominance, Multiple Alleles / Mini-Test
Computer Karyotyping Activity
Thursday,
July 3, 2014 / 9 / Sex-Linked Traits
Pedigree Analysis
Genetic Disorders
Review for Genetics Test /  Genetics Problem Set
Friday,
July 4, 2014 / 10 /  Human Respiratory System /  Active vs. Resting Breathing Rates Activity
 Lung Volumes Lab / ★ Genetics Unit Test
Mid-Term Report Card
Monday,
July 7, 2014 / 11 /  Function of Circulation
 Mammalian Heart
 Blood Components
 Human Circulatory System
 Blood Types
 Circulatory System Disorders /  Listening to Heart Sounds Activity
Tuesday,
July 8, 2014 / 12 /  The Human Digestive System
 Macromolecules /  Mini-Test
 Lab: Chemical Digestion of Food (Part 1)
Wednesday, July 9, 2014 / 13 /  The Chemical Digestion of Food
 Digestive System Disorders
 Review for Internal Systems Test /  Respiratory System Disorder Presentations
 Lab: Chemical Digestion of Food (Part II)
Fetal Pig Dissection
Thursday,
July 10, 2014 / 14 /  Factors that Affect Enzyme Activity
 Adaptations and Variation
 History of Evolutionary Thought
 Natural Selection
Evidence for Evolution /  Peppered Moth Simulation
Molecular Connections Activity
Friday,
July 11, 2014 / 15 /  Artificial Selection
 Human Evolution /  The Perfect Cow Activity / ★ Internal Systems Test
Monday,
July 14, 2014 / 16 /  Mechanisms for Evolution
 Adaptation and Speciation
 Prep for Zoo Visit
 Review for Evolution Test
Plant Reproduction /  Mini-Test
Tuesday,
July 15, 2014 / 17 /  Trip to the Zoo! (Tentative) /  Evolution Culminating Activity
Wednesday, July 16, 2014 / 18 /  Exam Review
Work on Evolution Culminating Activity
Transport in Plants
Plant Growth and Development / ★Evolution Unit Test
Thursday,
July 17, 2014 / 19 /  Exam Review
Course Survey
Friday,
July 18, 2014 / 20 /  Final Exam (8:15-10:15am)
Mystery Activity  (10:15-12:30pm)
 Pizza Lunch and Exam Return (12:30-1:30pm)