Guidelines for the Collection of Blood Samples at Different Time Points to Monitor Asparaginase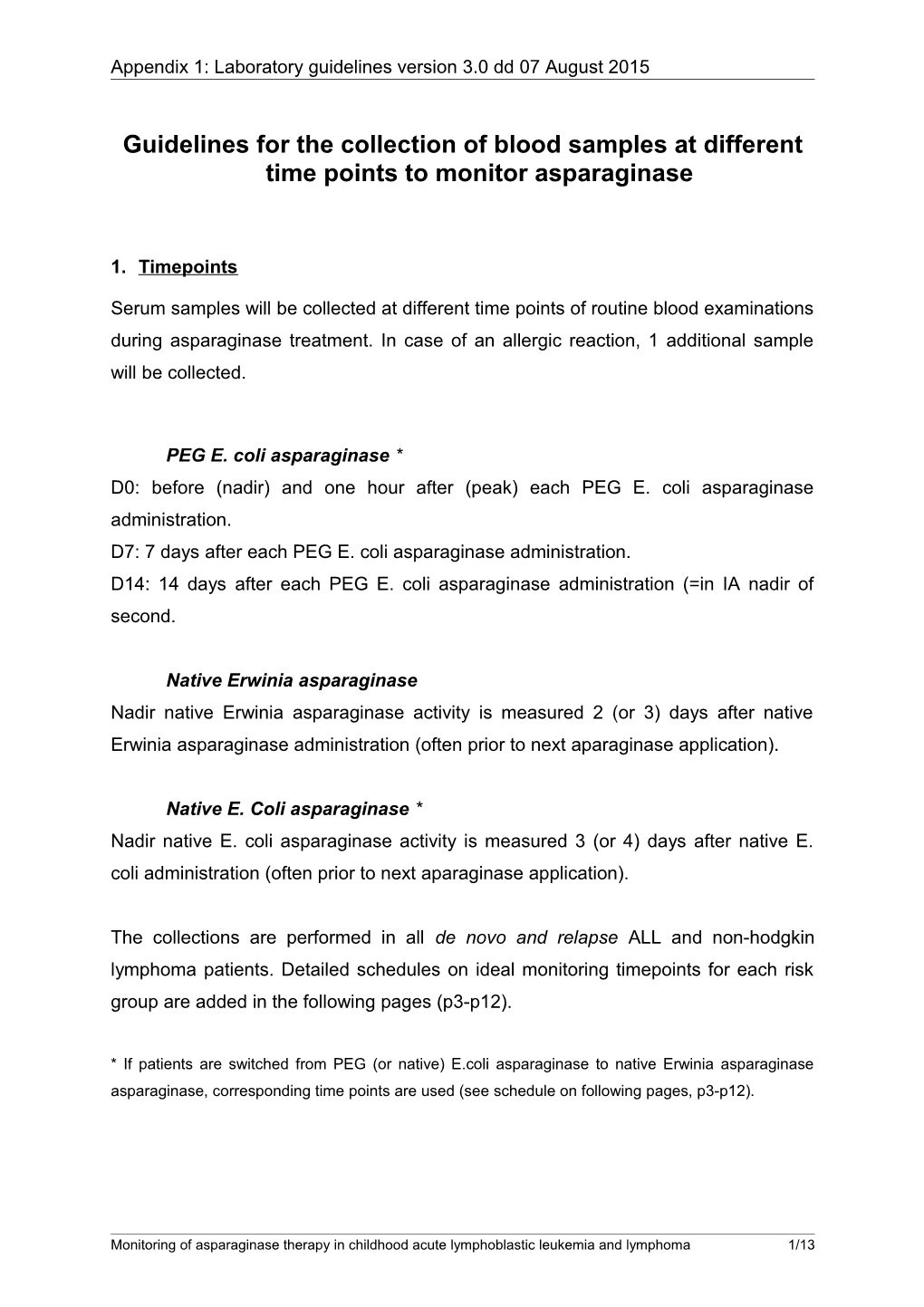 Appendix 1: Laboratory guidelines version 3.0 dd 07 August 2015
Guidelines for the collection of blood samples at different time points to monitor asparaginase
Timepoints
Serum samples will be collected at different time points of routine blood examinations during asparaginase treatment. In case of an allergic reaction, 1 additional sample will be collected.
PEG E. coli asparaginase*
D0:before (nadir)and one hour after (peak) each PEG E. coli asparaginase administration.
D7: 7 days after each PEG E. coli asparaginase administration.
D14: 14days after each PEG E. coli asparaginase administration (=in IA nadir of second.
Native Erwinia asparaginase
Nadir native Erwinia asparaginase activity is measured 2 (or3) days after native Erwinia asparaginase administration (often prior to next aparaginase application).
Native E. Coli asparaginase *
Nadir native E. coli asparaginase activity is measured 3 (or 4) days after native E. coli administration (often prior to next aparaginase application).
The collections are performed in all de novo and relapse ALL and non-hodgkin lymphoma patients. Detailed schedules on ideal monitoring timepoints for each risk group are added in the following pages (p3-p12).
* If patients are switched from PEG (or native) E.coli asparaginase to native Erwinia asparaginase asparaginase, corresponding time points are used (see schedule on following pages, p3-p12).
Monitoring of asparaginase therapy in childhood acute lymphoblastic leukemia and lymphoma1/13
Appendix 1: Laboratory guidelines version 3.0 dd 07 August 2015
Collection, storage and transport of serum samples
Take blood sample on the time pointsas indicated in the respective schemes (p3-p12).
Cool the centrifuge at 4°C whenever known a sample will be taken.
Collect at least 2 serum tubes of 4 ml blood each.
Put the samplesimmediately on ice after collection of the blood.
Centrifuge the sample preferably immediately. If not possible, this should be marked on appendix 3.
Centrifuge the samplesas soon as possible for 10 minutes cooled at a temperature of 4°C at 2500g. If these conditions are not possible, a maximum temperature of 8°C and a power of 1300g is allowed.
Pipet the serum out of the sample tubes.
Divide the serum equally in 3 labeled cryotubes(labels and tubes provided by the UZ Gent team).Each label is provided in duplo. Stick the duplicate label on the corresponding location of appendix 2.
Put the cryotubes on dry ice to transport it to the freezer. The samples should be stored at -80°C immediately. If this is not possible, a temporary storage at -20°C is allowed, again, mention this in appendix 2.
Send the completed appendix 2 to . For the pick-up of samples on the next day, please notify us before 13h by email to .
As soon as appendix 2 is mailed, shipment of the samples will be arranged by the UZ Gent team.
An email will be send to acknowledge receipt of appendix 1 and pinpoint date and hour when pick-up of the samples will take place.
Remark :For the first asparaginase administrations in 1A, samples at D0 (low, high) and D7will be picked up together whereas all other samples will be picked up in real-time (1-2 working days after sending appendix 3).
The courier will arrive to the place as agreed (cfr address list) with a box of dry ice to transfer the samples to UZ Gent.
Results of the asparaginase activity will be available in 3-4 working days.
Send the completed appendix 3 after each treatment block to .
Example: Schedules of monitoring timepoints in the EORTC 58081
VLR, AR1 PATIENTS

Phase 1A

Actual date / Pegylated E. coli asparaginase / Native E. coli asparaginase / Native Erwinia asparaginase
TP1 = D0
.. / .. / .... / Nadir / Nadir / Nadir
PEG E. coli-aspa1 / Native E. coli aspa 1 / Native Erwinia aspa 1
+ Peak (1h after)
D2-D3
.. / .. / .... / Nadir
Native Erwinia aspa 2
D3-D4
.. / .. / .... / Nadir
Native E. coli aspa 2
D4-D5
.. / .. / .... / Nadir
Native Erwinia aspa 3
D7
.. / .. / .... / Nadir / Nadir / Nadir
Native E. coli aspa 3 / Native Erwinia aspa 4
D9-D10
.. / .. / .... / Nadir
Native Erwinia aspa 5
D10-D11
.. / .. / .... / Nadir
Native E. coli aspa 4
D11-D12
.. / .. / .... / Nadir
Native Erwinia aspa 6
TP1 D14
.. / .. / ....
= TP 2 D0
.. / .. / .... / Nadir / Nadir / Nadir
PEG E. coli-aspa2 / Native E. coli aspa 5 / Native Erwinia aspa 7
+ Peak (1h after)
D16-D17
.. / .. / .... / Nadir
Native Erwinia aspa 8
D17-D18
.. / .. / .... / Nadir
Native E. coli aspa 6
D18-D19
.. / .. / .... / Nadir
Native Erwinia aspa 9
D21
.. / .. / .... / Nadir / Nadir / Nadir
Native E. coli aspa 7 / Native Erwinia aspa 10
D23-D24
.. / .. / .... / Nadir
Native Erwinia aspa 11
D24-D25
.. / .. / .... / Nadir
Native E. coli aspa 8
D25-D26
.. / .. / .... / Nadir
Native Erwinia aspa 12
D28
.. / .. / .... / Nadir / Nadir / Nadir


= minimally required samples for optimal asparaginase monitoring

+ = recommended samples for optimal asparaginase monitoring

VLR, AR1 PATIENTS

Phase 2A

Actual date / Pegylated E. coli asparaginase / Native E. coli asparaginase / Native Erwinia asparaginase
D0
.. / .. / .... / Nadir / Nadir / Nadir
PEG E. coli-aspa1 / Native E. coli aspa 1 / Native Erwinia aspa 1
+ Peak (1h after)
D2-D3
.. / .. / .... / Nadir
Native Erwinia aspa 2
D3-D4
.. / .. / .... / Nadir
Native E. coli aspa 2
D4-D5
.. / .. / .... / Nadir
Native Erwinia aspa 3
D7
.. / .. / .... / Nadir / Nadir / Nadir
Native E. coli aspa 3 / Native Erwinia aspa 4
D9-D10
.. / .. / .... / Nadir
Native Erwinia aspa 5
D10-D11
.. / .. / .... / Nadir
Native E. coli aspa 4
D11-D12
.. / .. / .... / Nadir
Native Erwinia aspa 6
D14
.. / .. / .... / Nadir / Nadir / Nadir


VLR, AR1 PATIENTS

TPA= sample taken as soon as possible after allergic reaction

- Type of last aspa: PEG E. coli/native E. coli/ Erwinia aspa

- Date of last aspa: .. / .. / ….

- Date of allergic reaction: .. / .. / ….

- Date of aspa sample: .. / .. / ….

= minimally required samples for optimal asparaginase monitoring

+ = recommended samples for optimal asparaginase monitoring

AR2 PATIENTS

Phase 1A/ 1A'

Actual date / Pegylated E. coli asparaginase / Native E. coli asparaginase / Native Erwinia asparaginase
TP1 = D0
.. / .. / .... / Nadir / Nadir / Nadir
PEG E. coli-aspa1 / Native E. coli aspa 1 / Native Erwinia aspa 1
+ Peak (1h after)
D2-D3
.. / .. / .... / Nadir
Native Erwinia aspa 2
D3-D4
.. / .. / .... / Nadir
Native E. coli aspa 2
D4-D5
.. / .. / .... / Nadir
Native Erwinia aspa 3
D7
.. / .. / .... / Nadir / Nadir / Nadir
Native E. coli aspa 3 / Native Erwinia aspa 4
D9-D10
.. / .. / .... / Nadir
Native Erwinia aspa 5
D10-D11
.. / .. / .... / Nadir
Native E. coli aspa 4
D11-D12
.. / .. / .... / Nadir
Native Erwinia aspa 6
TP1 D14
.. / .. / ....
= TP 2 D0
.. / .. / .... / Nadir / Nadir / Nadir
PEG E. coli-aspa2 / Native E. coli aspa 5 / Native Erwinia aspa 7
+ Peak (1h after)
D16-D17
.. / .. / .... / Nadir
Native Erwinia aspa 8
D17-D18
.. / .. / .... / Nadir
Native E. coli aspa 6
D18-D19
.. / .. / .... / Nadir
Native Erwinia aspa 9
D21
.. / .. / .... / Nadir / Nadir / Nadir
Native E. coli aspa 7 / Native Erwinia aspa 10
D23-D24
.. / .. / .... / Nadir
Native Erwinia aspa 11
D24-D25
.. / .. / .... / Nadir
Native E. coli aspa 8
D25-D26
.. / .. / .... / Nadir
Native Erwinia aspa 12
D28
.. / .. / .... / Nadir / Nadir / Nadir


= minimally required samples for optimal asparaginase monitoring

+ = recommended samples for optimal asparaginase monitoring

AR2 PATIENTS

Phase 2A

Actual date / Pegylated E. coli asparaginase / Native E. coli asparaginase / Native Erwinia asparaginase
D0
.. / .. / .... / Nadir / Nadir / Nadir
PEG E. coli-aspa1 / Native E. coli aspa 1 / Native Erwinia aspa 1
+ Peak (1h after)
D2-D3
.. / .. / .... / Nadir
Native Erwinia aspa 2
D3-D4
.. / .. / .... / Nadir
Native E. coli aspa 2
D4-D5
.. / .. / .... / Nadir
Native Erwinia aspa 3
D7
.. / .. / .... / Nadir / Nadir / Nadir
Native E. coli aspa 3 / Native Erwinia aspa 4
D9-D10
.. / .. / .... / Nadir
Native Erwinia aspa 5
D10-D11
.. / .. / .... / Nadir
Native E. coli aspa 4
D11-D12
.. / .. / .... / Nadir
Native Erwinia aspa 6
D14
.. / .. / .... / Nadir / Nadir / Nadir


AR2 PATIENTS

HD-MTX1 in maintenance

Actual date / Pegylated E. coli asparaginase / Native E. coli asparaginase / Native Erwinia asparaginase
D0
.. / .. / .... / Nadir / Nadir / Nadir
PEG E. coli-aspa1 / Native E. coli aspa 1 / Native Erwinia aspa 1
+ Peak (1h after)
D2
.. / .. / .... / Nadir
Native Erwinia aspa 2
D7
.. / .. / .... / Nadir / Nadir / Nadir
D14
.. / .. / .... / Nadir / Nadir / Nadir


= minimally required samples for optimal asparaginase monitoring

+ = recommended samples for optimal asparaginase monitoring

AR2 PATIENTS

HD-MTX2 in maintenance

Actual date / Pegylated E. coli asparaginase / Native E. coli asparaginase / Native Erwinia asparaginase
D0
.. / .. / .... / Nadir / Nadir / Nadir
PEG E. coli-aspa1 / Native E. coli aspa 1 / Native Erwinia aspa 1
+ Peak (1h after)
D2
.. / .. / .... / Nadir
Native Erwinia aspa 2
D7
.. / .. / .... / Nadir / Nadir / Nadir
D14
.. / .. / .... / Nadir / Nadir / Nadir


AR2 PATIENTS

HD-MTX3 in maintenance

Actual date / Pegylated E. coli asparaginase / Native E. coli asparaginase / Native Erwinia asparaginase
D0
.. / .. / .... / Nadir / Nadir / Nadir
PEG E. coli-aspa1 / Native E. coli aspa 1 / Native Erwinia aspa 1
+ Peak (1h after)
D2
.. / .. / .... / Nadir
Native Erwinia aspa 2
D7
.. / .. / .... / Nadir / Nadir / Nadir
D14
.. / .. / .... / Nadir / Nadir / Nadir


AR2 PATIENTS

HD-MTX4 in maintenance

Actual date / Pegylated E. coli asparaginase / Native E. coli asparaginase / Native Erwinia asparaginase
D0
.. / .. / .... / Nadir / Nadir / Nadir
PEG E. coli-aspa1 / Native E. coli aspa 1 / Native Erwinia aspa 1
+ Peak (1h after)
D2
.. / .. / .... / Nadir
Native Erwinia aspa 2
D7
.. / .. / .... / Nadir / Nadir / Nadir
D14
.. / .. / .... / Nadir / Nadir / Nadir


AR2 PATIENTS

HD-MTX5 in maintenance

Actual date / Pegylated E. coli asparaginase / Native E. coli asparaginase / Native Erwinia asparaginase
D0
.. / .. / .... / Nadir / Nadir / Nadir
PEG E. coli-aspa1 / Native E. coli aspa 1 / Native Erwinia aspa 1
+ Peak (1h after)
D2
.. / .. / .... / Nadir
Native Erwinia aspa 2
D7
.. / .. / .... / Nadir / Nadir / Nadir
D14
.. / .. / .... / Nadir / Nadir / Nadir


AR2 PATIENTS

HD-MTX6 in maintenance

Actual date / Pegylated E. coli asparaginase / Native E. coli asparaginase / Native Erwinia asparaginase
D0
.. / .. / .... / Nadir / Nadir / Nadir
PEG E. coli-aspa1 / Native E. coli aspa 1 / Native Erwinia aspa 1
+ Peak (1h after)
D2
.. / .. / .... / Nadir
Native Erwinia aspa 2
D7
.. / .. / .... / Nadir / Nadir / Nadir
D14
.. / .. / .... / Nadir / Nadir / Nadir


AR2 PATIENTS

TPA= sample taken as soon as possible after allergic reaction

- Type of last aspa: PEG E. coli/native E. coli/ Erwinia asparaginase

- Date of last aspa: .. / .. / ….

- Date of allergic reaction: .. / .. / ….

- Date of aspa sample: .. / .. / ….

= minimally required samples for optimal asparaginase monitoring

+ = recommended samples for optimal asparaginase monitoring

VHR PATIENTS

Phase 1A

Actual date / Pegylated E. coli asparaginase / Native E. coli asparaginase / Native Erwinia asparaginase
TP1 = D0
.. / .. / .... / Nadir / Nadir / Nadir
PEG E. coli-aspa1 / Native E. coli aspa 1 / Native Erwinia aspa 1
+ Peak (1h after)
D2-D3
.. / .. / .... / Nadir
Native Erwinia aspa 2
D3-D4
.. / .. / .... / Nadir
Native E. coli aspa 2
D4-D5
.. / .. / .... / Nadir
Native Erwinia aspa 3
D7
.. / .. / .... / Nadir / Nadir / Nadir
Native E. coli aspa 3 / Native Erwinia aspa 4
D9-D10
.. / .. / .... / Nadir
Native Erwinia aspa 5
D10-D11
.. / .. / .... / Nadir
Native E. coli aspa 4
D11-D12
.. / .. / .... / Nadir
Native Erwinia aspa 6
TP1 D14
.. / .. / ....
= TP 2 D0
.. / .. / .... / Nadir / Nadir / Nadir
PEG E. coli-aspa2 / Native E. coli aspa 5 / Native Erwinia aspa 7
+ Peak (1h after)
D16-D17
.. / .. / .... / Nadir
Native Erwinia aspa 8
D17-D18
.. / .. / .... / Nadir
Native E. coli aspa 6
D18-D19
.. / .. / .... / Nadir
Native Erwinia aspa 9
D21
.. / .. / .... / Nadir / Nadir / Nadir
Native E. coli aspa 7 / Native Erwinia aspa 10
D23-D24
.. / .. / .... / Nadir
Native Erwinia aspa 11
D24-D25
.. / .. / .... / Nadir
Native E. coli aspa 8
D25-D26
.. / .. / .... / Nadir
Native Erwinia aspa 12
D28
.. / .. / .... / Nadir / Nadir / Nadir


= minimally required samples for optimal asparaginase monitoring

+ = recommended samples for optimal asparaginase monitoring

VHR PATIENTS

Phase 1B augmented

Actual date / Pegylated E. coli asparaginase / Native E. coli asparaginase / Native Erwinia asparaginase
D0
.. / .. / .... / Nadir / Nadir / Nadir
PEG E. coli-aspa1 / Native E. coli aspa 1 / Native Erwinia aspa 1
+ Peak (1h after)
D2-D3
.. / .. / .... / Nadir / Nadir
Native E. coli aspa 2 / Native Erwinia aspa 2
D4-D5
.. / .. / .... / Nadir / Nadir
Native E. coli aspa 3 / Native Erwinia aspa 3
D7
.. / .. / .... / Nadir / Nadir / Nadir
Native E. coli aspa 4 / Native Erwinia aspa 4
D9-D10
.. / .. / .... / Nadir / Nadir
Native E. coli aspa 5 / Native Erwinia aspa 5
D11-D12
.. / .. / .... / Nadir / Nadir
Native E. coli aspa 6 / Native Erwinia aspa 6
D14
.. / .. / .... / Nadir / Nadir / Nadir


VHR PATIENTS

Phase VANDA

Actual date / Pegylated E. coli asparaginase / Native E. coli asparaginase / Native Erwinia asparaginase
D0
.. / .. / .... / Nadir / Nadir / Nadir
PEG E. coli-aspa1 / Native E. coli aspa 1 / Native Erwinia aspa 1
+ Peak (1h after)
D2-D3
.. / .. / .... / Nadir
Native Erwinia aspa 2
D3-D4
.. / .. / .... / Nadir
Native E. coli aspa 2
D4-D5
.. / .. / .... / Nadir
Native Erwinia aspa 3
D7
.. / .. / .... / Nadir / Nadir / Nadir
Native E. coli aspa 3 / Native Erwinia aspa 4
D9-D10
.. / .. / .... / Nadir
Native Erwinia aspa 5
D10-D11
.. / .. / .... / Nadir
Native E. coli aspa 4
D11-D12
.. / .. / .... / Nadir
Native Erwinia aspa 6
D14
.. / .. / .... / Nadir / Nadir / Nadir


VHR PATIENTS

Phase 2A

Actual date / Pegylated E. coli asparaginase / Native E. coli asparaginase / Native Erwinia asparaginase
D0
.. / .. / .... / Nadir / Nadir / Nadir
PEG E. coli-aspa1 / Native E. coli aspa 1 / Native Erwinia aspa 1
+ Peak (1h after)
D2-D3
.. / .. / .... / Nadir
Native Erwinia aspa 2
D3-D4
.. / .. / .... / Nadir
Native E. coli aspa 2
D4-D5
.. / .. / .... / Nadir
Native Erwinia aspa 3
D7
.. / .. / .... / Nadir / Nadir / Nadir
Native E. coli aspa 3 / Native Erwinia aspa 4
D9-D10
.. / .. / .... / Nadir
Native Erwinia aspa 5
D10-D11
.. / .. / .... / Nadir
Native E. coli aspa 4
D11-D12
.. / .. / .... / Nadir
Native Erwinia aspa 6
D14
.. / .. / .... / Nadir / Nadir / Nadir


VHR PATIENTS

Phase 2A bis

Actual date / Pegylated E. coli asparaginase / Native E. coli asparaginase / Native Erwinia asparaginase
D0
.. / .. / .... / Nadir / Nadir / Nadir
PEG E. coli-aspa1 / Native E. coli aspa 1 / Native Erwinia aspa 1
+ Peak (1h after)
D2-D3
.. / .. / .... / Nadir
Native Erwinia aspa 2
D3-D4
.. / .. / .... / Nadir
Native E. coli aspa 2
D4-D5
.. / .. / .... / Nadir
Native Erwinia aspa 3
D7
.. / .. / .... / Nadir / Nadir / Nadir
Native E. coli aspa 3 / Native Erwinia aspa 4
D9-D10
.. / .. / .... / Nadir
Native Erwinia aspa 5
D10-D11
.. / .. / .... / Nadir
Native E. coli aspa 4
D11-D12
.. / .. / .... / Nadir
Native Erwinia aspa 6
D14
.. / .. / .... / Nadir / Nadir / Nadir


VHR PATIENTS

TPA= sample taken as soon as possible after allergic reaction

- Type of last aspa: PEG E. coli/native E. coli/ Erwinia asparaginase

- Date of last aspa: .. / .. / ….

- Date of allergic reaction: .. / .. / ….

- Date of aspa sample: .. / .. / ….

= minimally required samples for optimal asparaginase monitoring

+ = recommended samples for optimal asparaginase monitoring
For other protocols

Actual date / Pegylated E. coli asparaginase / Native E. coli asparaginase / Native Erwinia asparaginase
D0
.. / .. / .... / Nadir / Nadir / Nadir
PEG E. coli-aspa1 / Native E. coli aspa 1 / Native Erwinia aspa 1
+ Peak (1h after)
D2-D3
.. / .. / .... / Nadir
Native Erwinia aspa 2
D3-D4
.. / .. / .... / Nadir
Native E. coli aspa 2
D4-D5
.. / .. / .... / Nadir
Native Erwinia aspa 3
D7
.. / .. / .... / Nadir / Nadir / Nadir
Native E. coli aspa 3 / Native Erwinia aspa 4
D9-D10
.. / .. / .... / Nadir
Native Erwinia aspa 5
D10-D11
.. / .. / .... / Nadir
Native E. coli aspa 4
D11-D12
.. / .. / .... / Nadir
Native Erwinia aspa 6
D14
.. / .. / .... / Nadir / Nadir / Nadir


PEG E. coli asparaginase *

D0:before (nadir) and one hour after (peak) each PEG E. coli asparaginase administration.

D7: 7 days after each PEG E. coli asparaginase administration.

D14: 14 days after each PEG E. coli asparaginase administration (=nadir of subsequent administration, if appropriate)

Native Erwinia asparaginase

Nadir native Erwinia asparaginase activity is measured 2 (or 3) days after native Erwinia asparaginase administration (often prior to next aparaginase application).

Native E. Coli asparaginase *

Nadir native E. coli asparaginase activity is measured 3 (or 4) days after native E. coli administration (often prior to next aparaginase application).

Monitoring of asparaginase therapy in childhood acute lymphoblastic leukemia and lymphoma1/13