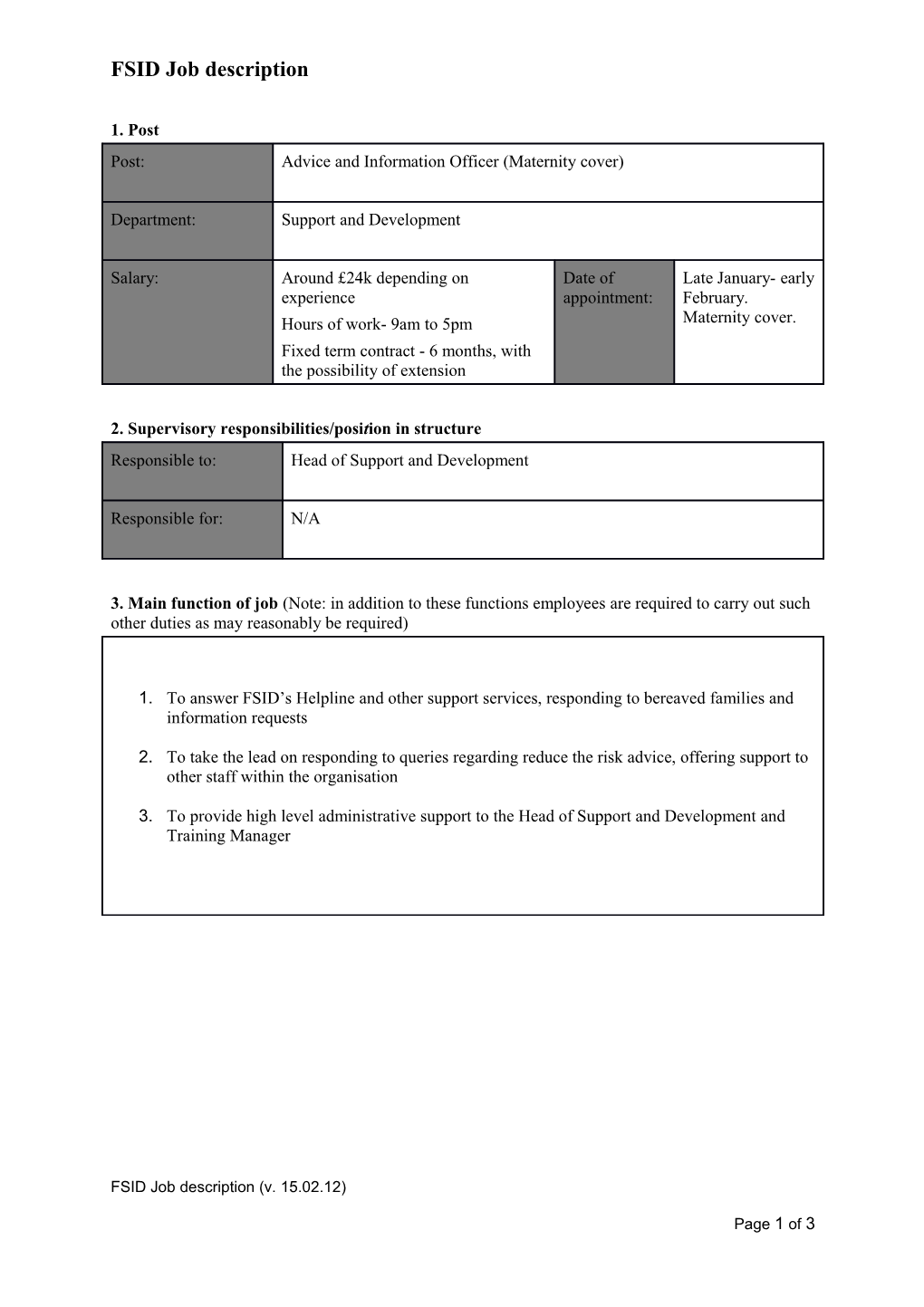 FSID Job description

1. Post
Post: / Advice and Information Officer (Maternity cover)
Department: / Support and Development
Salary: / Around £24k depending on experience
Hours of work- 9am to 5pm
Fixed term contract - 6 months, with the possibility of extension / Date of appointment: / Late January- early February. Maternity cover.
2. Supervisory responsibilities/position in structure
Responsible to: / Head of Support and Development
Responsible for: / N/A
3. Main function of job (Note: in addition to these functions employees are required to carry out such other duties as may reasonably be required)

To answer FSID's Helpline and other support services, responding to bereaved families and information requests
To take the lead on responding to queries regarding reduce the risk advice, offering support to other staff within the organisation
To provide high level administrative support to the Head of Support and Development and Training Manager

4. Main duties (brief description)
Duties/Responsibilities / Level of responsibility
direct or indirect (D/I):

To answer FSID's Helpline, responding to bereaved families and information requests
To support the Helpline Adviser by taking Helpline calls during office hours including calls from bereaved families (full training will be given);
To answer Helpline emails regarding information requests, and other requests where necessary;
To assist in arranging Befriender training sessions (to be held on Saturdays, TOIL will be given);
To support Befrienders in their work by maintaining regular contact and providing information updates of FSID work;
2. To take the lead on responding to queries regarding reduce the risk advice, offering support to other staff within the organisation
To respond to enquiries from parents and professionals on safe sleep;
To support staff to answer questions on safe sleep advice;
To co-ordinate the response to more complex enquiries, in conjunction with the Head of Support and Development;
To ensure standard replies for the helpline and Support Services are updated regularly;
To regularly review and update website information;
To organise the library of resources and research papers.
3. To provide high level administrative support to the Head of Support and Development
To collate statistics on all contacts received in the department on a monthly basis;
To transfer Regional Development Officers (RDO) monthly reports onto the Excel spreadsheet;
To ensure all contacts from RDO training sessions are added to Raiser's Edge;
To collate and extract information on RDO work from the Excel spreadsheet to produce an Annual Report of RDO work, and to give information to other departments within FSID as required;
Help to organise national conferences and events throughout the UK under the management of the Head of Support and Development;
Create and maintain a database of information on CDOP and allied professional training sessions;
Assist in organising internal training for Befrienders;
Prepare training materials to the direction of the Training Manager
To provide other administrative support to the Department as required, and in line with projects and regional work being undertaken.
/ I
D
I
D
D
I
D
I
D
D
I
I
I
I
I
I
D
5. Requirements to carry out job
Essential or desirable requirement – please indicate against each heading / E / D
Qualifications/education required:
Educated to degree level
GCSE Maths and English grade C or above, or equivalent / E
E
Competencies required:
Excellent written and verbal communication skills (will be tested at interview)
Experience of working on a Helpline or in an information advice service
Ability to interpret and convey medical and scientific advice clearly
Understanding of Raiser's Edge database
Working knowledge of Microsoft Office packages, including Outlook, Excel,Powerpoint and Word
Experience in writing web text / E
E
E / D
D
D
Specialist training required:
Training will be given to the right candidate on our advice and supporting bereaved families.
Personal characteristics required:
Highly organised
Ability to prioritise a range of tasks
Work cooperatively in a small team
Empathy with bereaved families / E
E
E
E
6. Special terms
Special conditions, eg, working with hazardous substances, equipment, animals: / N/A
Working in different locations: / The job will be based in our head office in London. Whilst no travel is foreseen during this post, it may be required on rare occasions by prior agreement.
Benefits / Annual leave 25 days (pro rata), up to5% a matched Employers pension contribution after a successful probationary, other benefits including eye care vouchers and a childcare scheme.
FSID Job description (v. 15.02.12) / Page 1 of 3