Form 7171 Short Form Insured Mortgages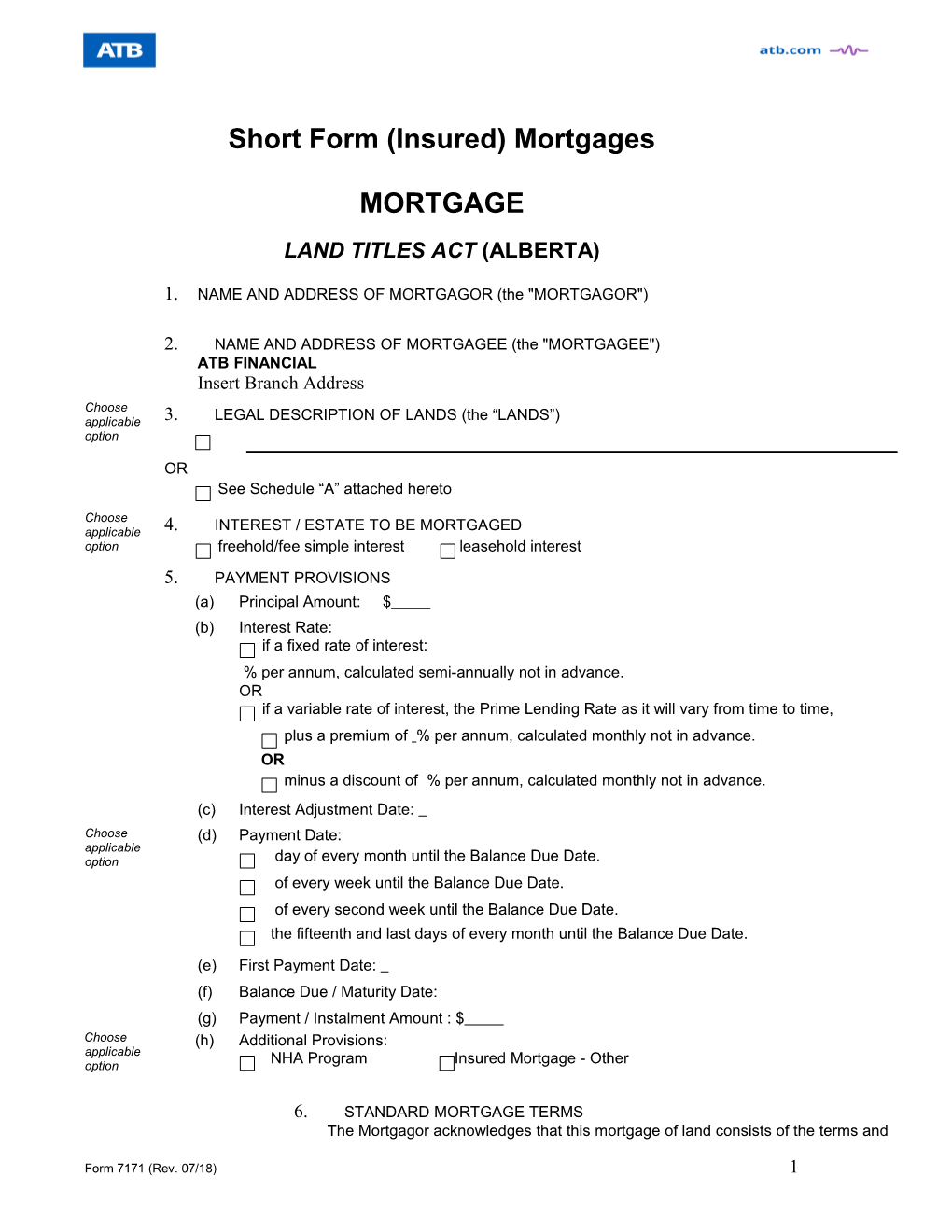 Short Form (Insured) Mortgages
MORTGAGE
LAND TITLES ACT (ALBERTA)
NAME AND ADDRESS OF MORTGAGOR (the "MORTGAGOR")
NAME AND ADDRESS OF MORTGAGEE (the "MORTGAGEE")
ATB FINANCIAL
Insert Branch Address
Choose applicable option /
LEGAL DESCRIPTION OF LANDS (the "LANDS")

OR
See Schedule "A" attached hereto
Choose applicable option /
INTEREST / ESTATE TO BE MORTGAGED

freehold/fee simple interest leasehold interest

PAYMENT PROVISIONS

(a)Principal Amount:$
(b)Interest Rate:
if a fixed rate of interest:
% per annum, calculated semi-annually not in advance.
OR
if a variable rate of interest, the Prime Lending Rate as it will vary from time to time,
plus a premium of % per annum, calculated monthly not in advance.
OR
minus a discount of % per annum, calculated monthly not in advance.
(c)Interest Adjustment Date:
Choose applicable option / (d)Payment Date:
day of every month until the Balance Due Date.
of every week until the Balance Due Date.
of every second week until the Balance Due Date.
the fifteenth and last days of every month until the Balance Due Date.
(e)First Payment Date:
(f)Balance Due / Maturity Date:
(g)Payment / Instalment Amount : $
Choose applicable option / (h)Additional Provisions:
NHA ProgramInsured Mortgage - Other


Form 7171 (Rev. 07/18)1
STANDARD MORTGAGE TERMS
The Mortgagor acknowledges that this mortgage of land consists of the terms and conditions contained herein and is deemed to include the terms and conditions contained in the Standard Form Mortgage ("SFM") that was filed with the Registrar of Land Titles under the Land Titles Act of Alberta as Instrument No. 182153457, together with all schedules thereto and is subject to the terms contained in the SFM as varied by any deletions from, or amendments or additions to the terms of the SFM as set out herein. Capitalized terms not defined herein shall have the meanings ascribed to such terms in the SFM.

DELETED, AMENDED OR ADDED TERMS
See Schedule "C" (if any).

HIGH RATIO
This Mortgage is a high ratio mortgage to which sections 43(4.1) and (4.2) and 44(4.1) and (4.2) of the Law of Property Act apply. You and anyone who, expressly or impliedly, assumes this Mortgage from you, could be sued for any obligations under this Mortgage if there is a default by you or by a person who assumes this Mortgage.
ACKNOWLEDGEMENTS
The Mortgagor hereby acknowledges that:
(a)the Mortgagor understands the nature of the SFM referred to in clause 6 above and the statements made in the said clause;
(b)the Mortgagor has been given a copy of the SFM;
(c)this Mortgage is security for the loan granted pursuant to the Loan Agreement (as defined in the SFM) and may not be used as security for any other loan to the Mortgagor by the Mortgagee, including any line of credit or revolving credit loan;
(d)the Mortgagor is or is entitled to become the registered owner of the mortgaged Lands; and
(e)for better securing to the Mortgagee the repayment in the manner set out above of the Principal Amount and interest and all other indebtedness and obligations of the Mortgagor secured by this Mortgage, the Mortgagor mortgages and charges to the Mortgagee all the Mortgagor's estate and interest in the Lands.

EXECUTION BY MORTGAGOR

The Mortgagor has executed this Mortgage on
[insert date]
Witness:
Witness:
Witness:
Witness: / [Signature of Spouse if Spouse is Not a Registered Owner]


Form 7171 (Rev. 07/18)1

11. CONSENT OF SPOUSE
I,
[name of spouse]
being married to the above named
[name of mortgagor]
do hereby give my consent to the disposition of our homestead made in this instrument, and I have executed this document for the purpose of giving up my life estate and other dower rights in the said property given to me by THE DOWER ACT, to the extent necessary to give effect to the said disposition.
[Signature of Non-Owning Spouse]
12. CERTIFICATE OF ACKNOWLEDGEMENT BY SPOUSE
(a) / This document was acknowledged before me by
[name of spouse]
apart from [her/his husband/wife].
(b) / acknowledged to me that [she/he]:
(i) / is aware of the nature of the disposition;
(ii) / is aware that THE DOWER ACT gives [her/him] a life estate in the homestead and the right to prevent disposition of the homestead by withholding consent;
(iii) / consents to the disposition for the purpose of giving up the life estate and other dower rights in the homestead given to [her/him] by THE DOWER ACT, to the extent necessary to give effect to the said disposition; and
(iv) / is executing this document freely and voluntarily without any compulsion on the part of [her/his husband/wife].
Dated at , Alberta, this day of , .
[Signature of a Commissioner for Oaths in and for Alberta]


Form 7171 (Rev. 07/18)1

13. DOWER ACT AFFIDAVIT
I, / ,
[name of mortgagor] / [Occupation]
of
[address]
in the Province of Alberta, make oath and say:
(a) / I am the mortgagor (or the agent acting under power of attorney in my favour registered in the Land Titles Office on , as instrument number granted by the mortgagor) named in the within instrument.
* Delete the options that do not apply / (b) / *I am (or My principal is) not married
OR
*Neither myself nor my spouse (or my principal nor his spouse) have resided on the within mentioned land at any time since our (or their) marriage.
OR
*I am (or My principal is) married to being the person who executed the release of dower rights registered in the Land Titles Office on , as instrument number
OR
* A judgment for damages was obtained against me by my spouse (or my principal by his spouse) and registered in the Land Titles Office on , as instrument number .


Form 7171 (Rev. 07/18)1

Sworn before me at , in the Province of, this day of , . / )
)
)
)
)
A Commissioner for Oaths in and for Alberta / ) / [Signature of Mortgagor (or agent)]


Form 7171 (Rev. 07/18)1

14. AFFIDAVIT OF EXECUTION
,
[Name of Witness] / [Occupation]
[address]
in the Province of Alberta, make oath and say that:
(a) / I was personally present and did see named in the within instrument, who [is/are]personally known to me to be the [person/persons] named therein, duly sign, seal and execute the same for the purposes named therein.
(b) / The same was executed at the of , in the Province of Alberta and that I am a subscribing witness thereto.
(c) / I know the said [person/persons] and [he/she/they][is/are] in my belief of the full age of eighteen years.
Sworn before me at , in the Province of , this day of , . / )
)
)
)
)
A Commissioner for Oaths in and for Alberta / ) / [Signature of Witness]


Form 7171 (Rev. 07/18)1