Community Assistance Scheme Meeting Minutes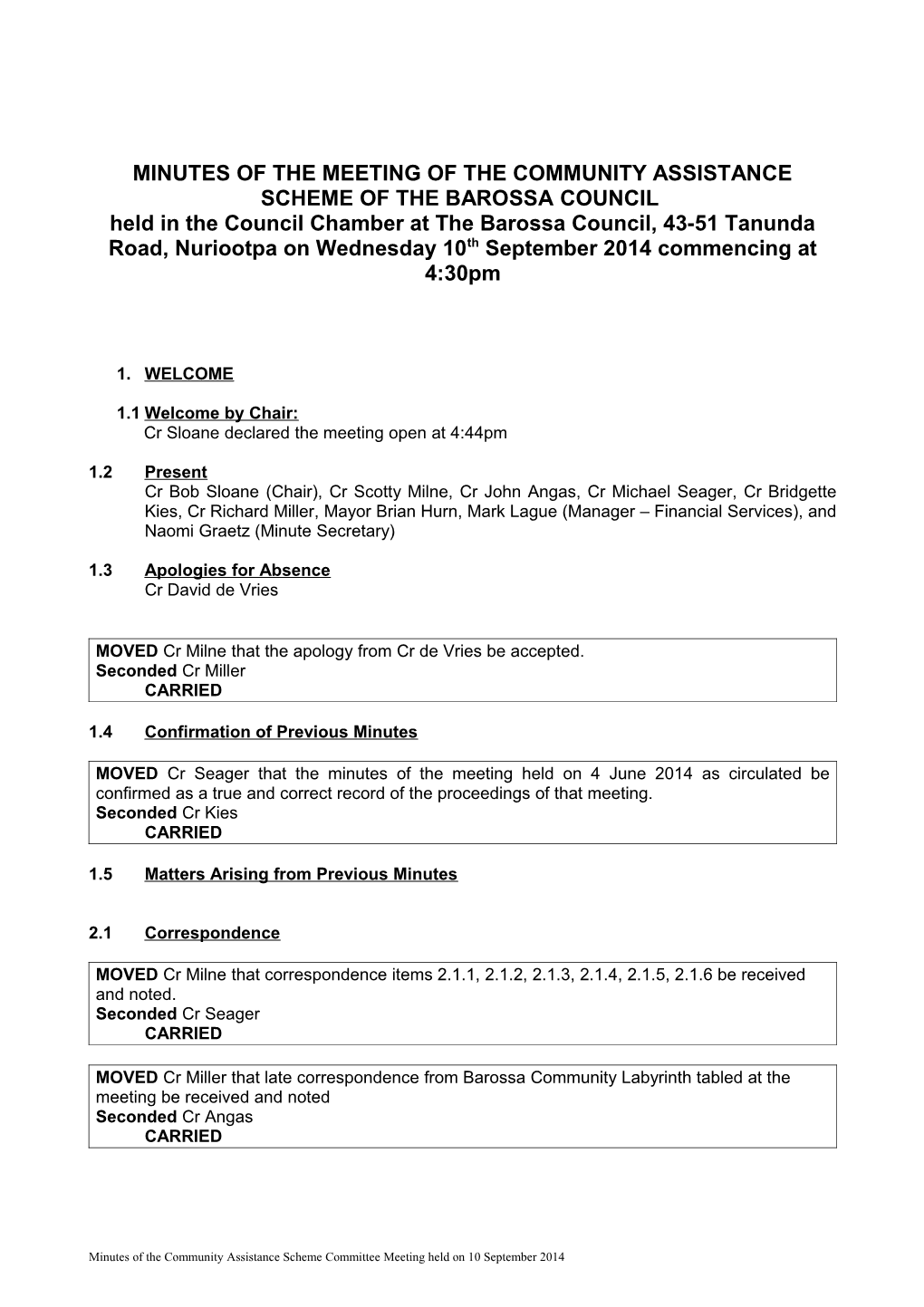 - 1 -
MINUTES OF THE MEETING OF THE COMMUNITY ASSISTANCE SCHEME OF THE BAROSSA COUNCIL
held in the Council Chamber at The Barossa Council, 43-51 Tanunda Road, Nuriootpa on Wednesday 10th September 2014commencing at 4:30pm
1.WELCOME
1.1Welcome by Chair:
CrSloanedeclared the meeting open at4:44pm
1.2Present
Cr Bob Sloane (Chair), Cr Scotty Milne, Cr John Angas, Cr Michael Seager, Cr Bridgette Kies, Cr Richard Miller, Mayor Brian Hurn, Mark Lague (Manager – Financial Services), and Naomi Graetz (Minute Secretary)
1.3Apologies for Absence
Cr David deVries
MOVEDCr Milne that the apology from Cr de Vries be accepted.
SecondedCr MillerCARRIED
1.4Confirmation of Previous Minutes
MOVEDCr Seager that the minutes of the meeting held on 4 June 2014 as circulated be confirmed as a true and correct record of the proceedings of that meeting.
SecondedCr KiesCARRIED
1.5Matters Arising from Previous Minutes
2.1Correspondence
MOVED Cr Milnethat correspondence items2.1.1, 2.1.2, 2.1.3, 2.1.4, 2.1.5, 2.1.6be received and noted.
SecondedCr SeagerCARRIED
MOVED Cr Miller that late correspondence from Barossa Community Labyrinth tabled at the meeting be received and noted
Seconded Cr Angas CARRIED
3.1.1 Actions from Previous Meetings
C=COMPLETEDP=PENDINGN=NO ACTION
2013/2014 – (5/3/13) YOUTH GRANT APPLICATIONS
Aaron Laverty – payment made – certificate sent - waiting for aquittal
/ P
2013/2014 – (4/6/14) YOUTH GRANT APPLICATIONS

Brandon Nankivell – payment made - certificate presented
/ C

Tirryn Nankivell – payment made – certificate presented
/ C

Breanna Fay– payment made – certificate to be presented
/ P

Chloe Fay – payment made– certificate to be presented
/ P

Madison Hampel – payment made - certificate presented
/ C

Chelsea Alexander – payment made – certificate to be presented
/ P

Haydn Trigg - payment made – report received and certificate sent
/ C

Kariss Thomas – payment made – certificate to be presented
/ P
2013/2014 – (3/12/13) – COMMUNITY GRANT APPLICATIONS

Williamstown Uniting Church – payment made – waiting for acquittal
Young Life Barossa – Letter sent requesting more information sent 6 March 2014 – more information received to be presented at September 2014 meeting
/ P
P
2013/2014 – (5/3/14) – COMMUNITY GRANT APPLICATIONS

Good Shepherd Lutheran School – Successful letter sent 6 March – payment made – acquittal received
/ C
2013/2014 – (20/5/14) – COMMUNITY GRANT APPLICATIONS

Springton Progress Association – Successful letter sent 21 May 2014 – invoice received waiting for acquittal
/ P
2013/2014 – (4/6/14) – COMMUNITY GRANT APPLICATIONS

Barossa Valley Squash Rackets – Successful letter sent – payment made – waiting for acquittal
Lyndoch Red Cross – Successful letter sent – payment made – waiting for acquittal
/ P
P
P
2013/2014 – (24/6/14 Council Meeting) – COMMUNITY GRANT APPLICATIONS

Barossa Bid Team – Successful letter sent – payment made – waiting for acquittal
/ P
2013/2014 – (3/12/13) – HERITAGE GRANT APPLICATIONS

Heidi Helbig – Successful letter sent
/ P


3.1.2 Summary of Community/Youth Assistance Grants 2013/14

Funding Type / No. of Applications / Funding
Approved/ Requested
September
Youth Grants
Community Grants
Donations – direct from Council / 4 Applications
-1 Application***
3 applications
-1 Application****
Tanunda RSL Sub-Branch – Australian Living Treasures Initiative
September Total / $800.00
-$200
$5,480.00
-$500
$400.00
$5,980.00
January 22 (Council Meeting) / 1 Application / $1,000.00
$1,000.00
December
Youth Grants
Community Grants / 2 Applications
1 Applications
December Total / $450.00
$3,000.00
$3,450.00
March
Youth Grants
Community Grants / 2 Applications
1 Application
March Total / $450.00
$500.00
$950.00
April
Community Grants / 0 Applications
April Total / $0.00
$0.00
May
Community Grants / 1 Application
May Total / $3,000.00
$3,000.00
June
Youth Grants
Community Grants
June 24 (Council Meeting) / 8Applications
2 Applications
1 Application
June Total / $1,950.00
$2,000.00
$3,000.00
$6,950.00
BUDGET 2013-14 / $25,000.00
FUNDS REMAINING / $3,670.00


***Hudson Walsh (Youth Grant Recipient as per minutes of meeting 3 September 2013) has declined the $200 grant and wished to have only achievements recognised.

****Sporting Car Club of SA declined grant as per correspondence and may reapply in future financial year.

3.1.3 Summary of Heritage Grants 2013/14

(considered annually in the December meetings)

Funding Type / No. of Applications / Funding
Approved/ Requested
September
Heritage Grants / Nil - Applications to be assessed in December
September Total / $0.00
$0.00
December
Heritage Grants / 7 Applications (6 approved)
December Total / $9,000
$9,000
March
Heritage Grants / Nil - Applications assessed in December
March Total / $0.00
$0.00
April
Heritage Grants / Nil - Applications assessed in December
April Total / $0.00
$0.00
May
Heritage Grants / Nil - Applications assessed in December
MayTotal / $0.00
$0.00
June
Heritage Grants / Nil - Applications assessed in December
June Total / $0.00
$0.00
BUDGET 2013-14 / $10,350.00
TOTAL FUNDS ALLOCATED 2013-14
Funds remaining / $9,000
$1,350


MOVEDCr Angas that items 3.1.1, 3.1.2 and 3.1.3 be received and noted.

SecondedCr KiesCARRIED

3.1.4Summary of Community/Youth Assistance Grants 2014/2015

Funding Type / No. of Applications / Funding
Approved/ Requested
September
Youth Grants
Community Grants / 5 applications
3 applications
September Total / $1,100.00
$8,150.00
$9,250.00
BUDGET 2013-14 / $25,000.00
FUNDS REMAINING / $25,000.00
Grant funds remaining if September applications approved / $15,750.00


3.1.5Summary of Heritage Grants 2014/2015

Considered annually in the December meetings

Funding Type / No. of Applications / Funding
Approved/ Requested
September
Heritage Grants / Nil - Applications to be assessed in December
September Total / $0.00
$0.00
BUDGET 2014-15 / $10,915.00
FUNDS REMAINING / $10,915.00


MOVEDCr Milnethat items 3.1.4 and 3.1.5 be received and noted.

SecondedMayor HurnCARRIED

3.1.6Youth Grant Applications

FiveYouth Grant applications have been received since the last meeting for consideration by the Committee.

3.1.6.1

MOVEDCr Milne that Zakeray Heintze-Unger be granted a Youth Grant of $200 for representing The Adelaide North Little League in the National Little League Championships in Queensland in June 2014.

SecondedCr KiesCARRIED

3.1.6.2

MOVED Cr Angas that Tiffany Koek be granted a Youth Grant of $250 for representing The Australia Inline Jnr Women's U14 Hockey in the Inline Hockey Championships Oceanias in New Zealand in July 2014.

SecondedCr SeagerCARRIED

3.1.6.3

MOVEDCr Kies that Kariss Thomas be granted a Youth Grant of $250 for representing BYTE (Back Yard Theatre Ensemble) in Australia, Europe and Asia in September 2014 to January 2015.

Seconded Cr MilneCARRIED

3.1.6.4

MOVEDCr Miller that James Fowler be granted a Youth Grant of $200 for representing SAPSASA Primary School Sport 12 and Under Boys Rugby League Team at the School Sport Australia Championships in NSW held in August 2014.

Seconded Cr KiesCARRIED

3.1.6.5

MOVEDCr Seager that Jeremy Nobes be granted a Youth Grant of $200 for representing the Central Districts Lions Basketball Club at the Australian U14 Boys Club Championships 2014 to be held in NSW in September and October 2014.

SecondedCr Milne CARRIED

LEGISLATION/POLICY/COUNCIL STRATEGIC PLAN

Strategic Plan :

1.2Youth: We are committed to the effective delivery of programs and services encouraging the development and Wellbeing of youth in our community.

FINANCIAL AND RISK MANAGEMENT CONSIDERATIONS

The adopted budget for the Community Assistance Scheme Community Assistance Grants and Youth Grants for 2014-15 is $25,000 and a further $10,915 for Heritage Grants.

3.1.7Community Grant Applications

Two new Community Assistance Grant applications have been received since the last meeting for consideration by the Committee.

Further correspondence has been received for reconsideration of a Community Grant application first submitted at the CASC meeting on 3 December 2013.

3.1.7.1

MOVEDCr Milne that Barossa Community Labyrinth be granted a Community Assistance Grant of $3,000 for building of a labyrinth at the Bushgardens sight for meditation purposes, subject to Council approvals.

Seconded Cr AngasCARRIED

3.1.7.2

MOVEDCr Seager that Barossa Archery Club be granted a Community Assistance Grant of $2,150 for a Shooting Line at Heinemann Park, subject to Council approvals, with non-slip and self-coloured (green) concrete

SecondedMayor HurnCARRIED

3.1.7.3

MOVEDCr Angas that a letter be sent to Young Life Barossa stating that to enable CASC to assist, CASC requests Young Life Barossa to submit a new application for part funding of a total cost that Barossa Young Life could successfully raise funds for the purchase of worship equipment.

Seconded Cr KiesCARRIED

INTRODUCTION

Two new Community Assistance Grant applications have been received since the last meeting for consideration by the Committee.

Further correspondence has been received for reconsideration of a Community Grant application first submitted at the CASC meeting on 3 December 2013.

COMMENT

Two new Community Assistance Grant applications have been received since the last meeting from Barossa Community Labyrinth (3.1.7.1) and Barossa Valley Archery Club (3.1.7.2).

Barossa Young Life (3.1.7.3) was declined a Community Grant as per resolution below from CASC meeting of 3 December 2013.

"MOVED Cr Milne moved that Young Life be declined a community assistance grant of $3000 towards the purchase of audio equipment until more information is provided regarding their source of grant funds according to clause 1.3 in Community Grant guidelines.

Seconded Cr Seager CARRIED"

And reconsidered at the meeting of CASC on 5 March 2014 due to correspondence being received. Resolution from that meeting below:

"MOVED Cr Milne that grant funding is held over pending further clarification of Young Life Australia's ABN and Incorporation alignment with Young Life Barossa, status of funding sources and a balance sheet from the local organisation is received, due to clause 1.3 and 1.15 in the Community Grant Guidelines.

Seconded Cr Angas CARRIED"

Further information has now been received as requested

LEGISLATION/POLICY/COUNCIL STRATEGIC PLAN

Strategic Plan :

1.5 Culture: We are committed to the protection and promotion of our local heritage, and the fostering and promotion of art and culture in our region.

FINANCIAL AND RISK MANAGEMENT CONSIDERATIONS

The adopted budget for the Community Assistance Scheme Community Assistance Grants and Youth Grants for 2014-15 is $25,000 and a further $10,915 for Heritage Grants.

3.1.8Heritage Advisor's Report

A list of activities carried out by Council's Heritage Advisor was attached

MOVEDCr Milne that the Heritage Advisor's Reports be received and noted

Seconded Cr SeagerCARRIED

COMMENT

The attachment shows a summary of the activities undertaken between March and July 2014 by Mr Sam Hosking, Council's Heritage Advisor.

Mr Hosking works for Council one day a fortnight and a summary of time spent is attached to this report.

Mr Hosking will not be in attendance at this meeting to discuss any matters arising but can be contacted by email, if further information is sought.

LEGISLATION/POLICY/COUNCIL STRATEGIC PLAN

COUNCIL STRATEGIC PLAN:

3.1 Character & Heritage: We will ensure the appropriate preservation of the character and heritage of our townships and rural areas.

FINANCIAL AND RISK MANAGEMENT CONSIDERATIONS

No financial risk management considerations.

3.1.9Community Assistance Scheme Annual Report 2013/2014

An annual report on the grants funded under the Community Assistance Scheme must be presented to the Committee.

MOVED Cr Miller that the report be received and noted.

SecondedCr AngasCARRIED

5. NEXT MEETING

Community Assistance Scheme Committee meeting on Tuesday 2December 2014 at 9am

6.CLOSURE OF MEETING

Cr Bob Sloane (Chair) declared the meeting closed at 5:16pm.

Confirmed at Community Assistance Scheme Meeting 2 December 2014

Date:...... Chair:......

Minutes of the Community Assistance Scheme Committee Meeting held on 10 September 2014