College of Human Sciences Oklahoma State University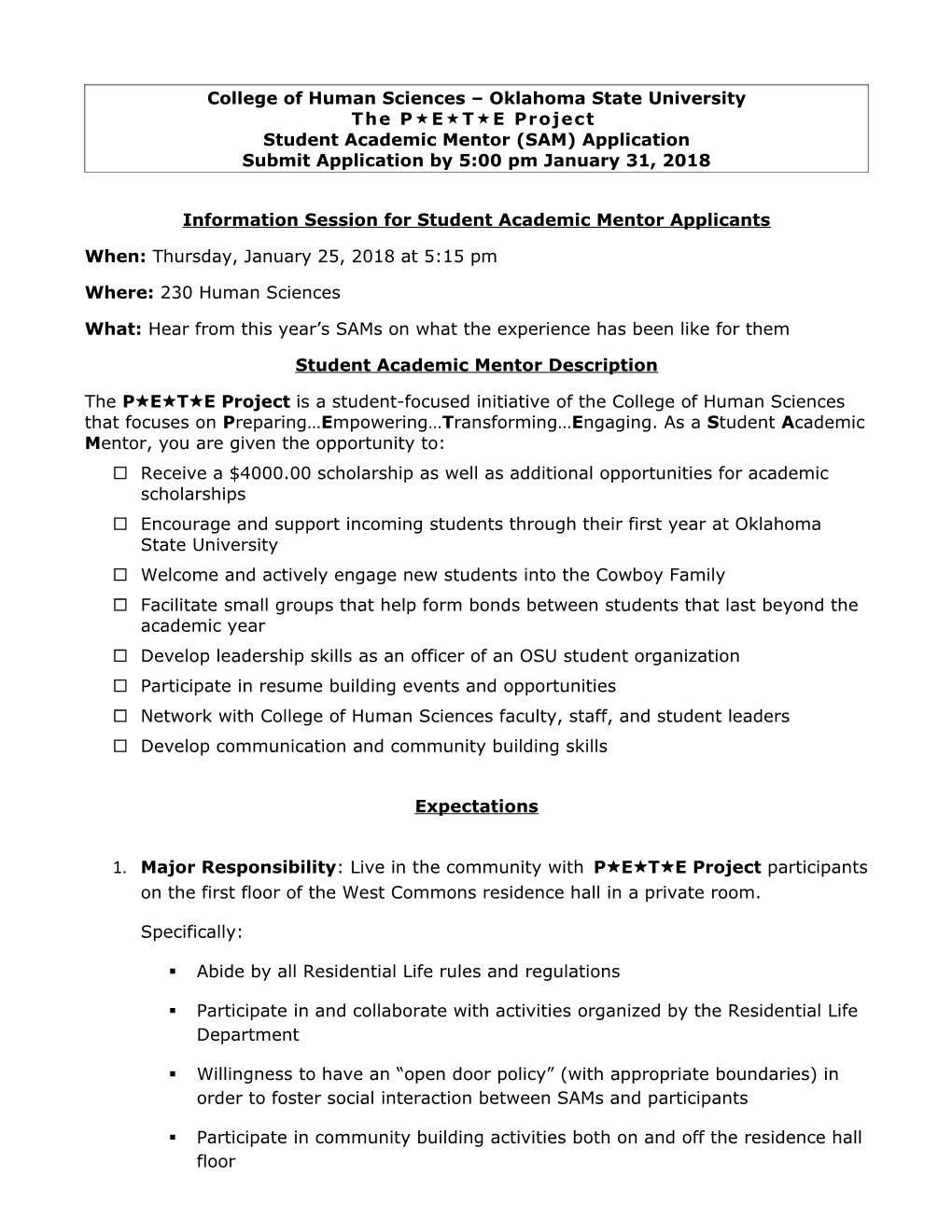 College of Human Sciences – Oklahoma State University
The PETE Project
Student Academic Mentor (SAM) Application
Submit Application by5:00 pm January 31, 2018
Information Session for Student Academic Mentor Applicants
When:Thursday, January 25, 2018 at 5:15 pm
Where: 230 Human Sciences
What: Hear from this year's SAMs on what the experience has been like for them
Student Academic Mentor Description
The PETE Project is a student-focused initiative of the College of Human Sciences that focuses on Preparing…Empowering…Transforming…Engaging. As aStudent Academic Mentor, you are given the opportunity to:
Receive a $4000.00 scholarship as well as additional opportunities for academic scholarships
Encourage and support incoming students through their first year at Oklahoma State University
Welcome and actively engage new students into the Cowboy Family
Facilitate small groups that help form bonds between students that last beyond the academic year
Develop leadership skills as an officer of an OSU student organization
Participate in resume building events and opportunities
Network with College of Human Sciences faculty, staff, and student leaders
Develop communication and community building skills
Expectations
Major Responsibility: Live in the community with PETE Project participants on the first floor ofthe West Commons residence hall in a private room.
Specifically:
Abide by all Residential Life rules and regulations
Participate in and collaborate with activities organized by the Residential Life Department
Willingness to have an "open door policy" (with appropriate boundaries) in order to foster social interaction between SAMs and participants
Participate in community building activities both on and off the residence hall floor
Become familiar with community members
Interact frequently with small group members (beyond small group meetings) throughout the academic year to ensure student engagement
Major Responsibility: Welcome and mentor incoming students through their first year at Oklahoma State University.
Specifically:
Serve as key resource to assist the PETEProject students to engage in academic, extracurricular, professional and social activities that promote personal growth and development
Become knowledgeable about resources at OSU, Human Sciences and Residential Life
Research and inform members of community about campus opportunities
Facilitate a system of accountability for students to achieve goals, not just related to the PETEProject but also goals associated with undergraduate success
Be visible in the College of Human Sciences and West Commons as a ready resource
Promote participant development by encouraging attendance and involvement in extra-curricular activities
Major Responsibility: Actively engage participants as apositive role model
Specifically:
Exhibit a positive attitude about OSU, Human Sciences, Residential Life and the PETEProject
Model behavior that is aligned with rules and regulations outlined by OSU (including the Student Code of Conduct) and The PETEProject
Consistently model professional and responsible behavior, including attending classes, exhibiting excellent study habits and effective time management strategies, as well as respect for leadership and other students
Major Responsibility: Express a willingness to share experiences and support participants by enthusiastically leading small groups and participating in big group meetings.
Specifically:
Lead and facilitate discussion on assigned topics in bi-weekly (or as scheduled) small group meetings
Fully and actively participate in group discussions and activities during big meetings
Share personal experiences to foster social engagement and academic achievement among The PETE Project participants
Promote participant development by encouraging attendance and involvement in meetings and trainings hosted by The PETEProject coordinator
Major Responsibility: Fulfill Leadership Responsibilities of SAM Position
Specifically:
Serve as officer of ThePETE Projectstudent organization
Attend PETEProject bi-weekly (or as scheduled)leadership meetings
Fully participate in the PETEProject SAM training
Attend relevant training, seminars and programs to promote personal growth, self-awareness, career preparation, professional growth, leadership skills and other opportunities to enable better skills to enhance your PETEProject SAM experience
Student Academic Mentor Application for The PETE Project

First Name:MI:Last Name:
CWID:Email:
Cell Phone:(____)
Major:Option (as applicable):
Minor:# of Hours Completed by End of Fall 2017:
OSU Cumulative GPA:Expected GraduationSemester:
Are you or have you been a participant in The PETE Project? ___ Yes ___ No
Expected Involvement for 2018-2019Academic Year
For the 2018-2019 academic year, please list activities to which you have committed (or plan to commit) your time. Include university, college, departmental, community involvement and other service activities.
Activity/ClubLeadership Role
Do you plan to be employed (on- or off-campus) during the 2018-2019 academic year?
If so, how many hours: Anticipated Employer:

Additional Comments:______
List and describe any examples when you have facilitated a small group:
Statement of Interest
Why are you interested in serving as a Student Academic Mentor for The PETE Project?What strengths will assist you in your role as a SAM? (Do not exceed 250 words.)
Demonstration of Initiative
Please share when you have demonstrated initiative. (Do not exceed 250 words.)
Reflection on Leadership
What leadership experience have you grown from the most? (Do not exceed 250 words.)
Personal Commitment
If selected to be a Human Sciences Student Academic Mentor (SAM), I agree to:
Make serving as a Mentor for The PETE Projecta priority
Serve as a positive role model for other students
Abide by The PETE ProjectStudent Academic Mentor expectations
Actively participate in the events, functions and meetings
Attend and leadsmall group meetings of my assignedgroup as scheduled
Applicant SignatureDate
Submit your application with a copy of your current collegiate resume via:
(a) hard copy to the Patricia Kain Knaub Center for Student Success, 101 Human Sciences, Stillwater, OK 74078.
OR
(b) email as attached PDF files (with original signature) to Scott King, ThePETE Project Coordinator, .
Review of applications will begin on Thursday, February 1, 2018.
Applicants selected for interviews will be notified the week of February 5with interviews over the next two weeks.
All applications must be received no later than
8:00 am on Monday, February 5 for consideration.
Feel free to visit with The PETE Project Coordinator about any questions or hesitations you may have about applying for these positions.
Scott King
or 405-744-9386 or 101 Human Sciences