Change Cost Element Group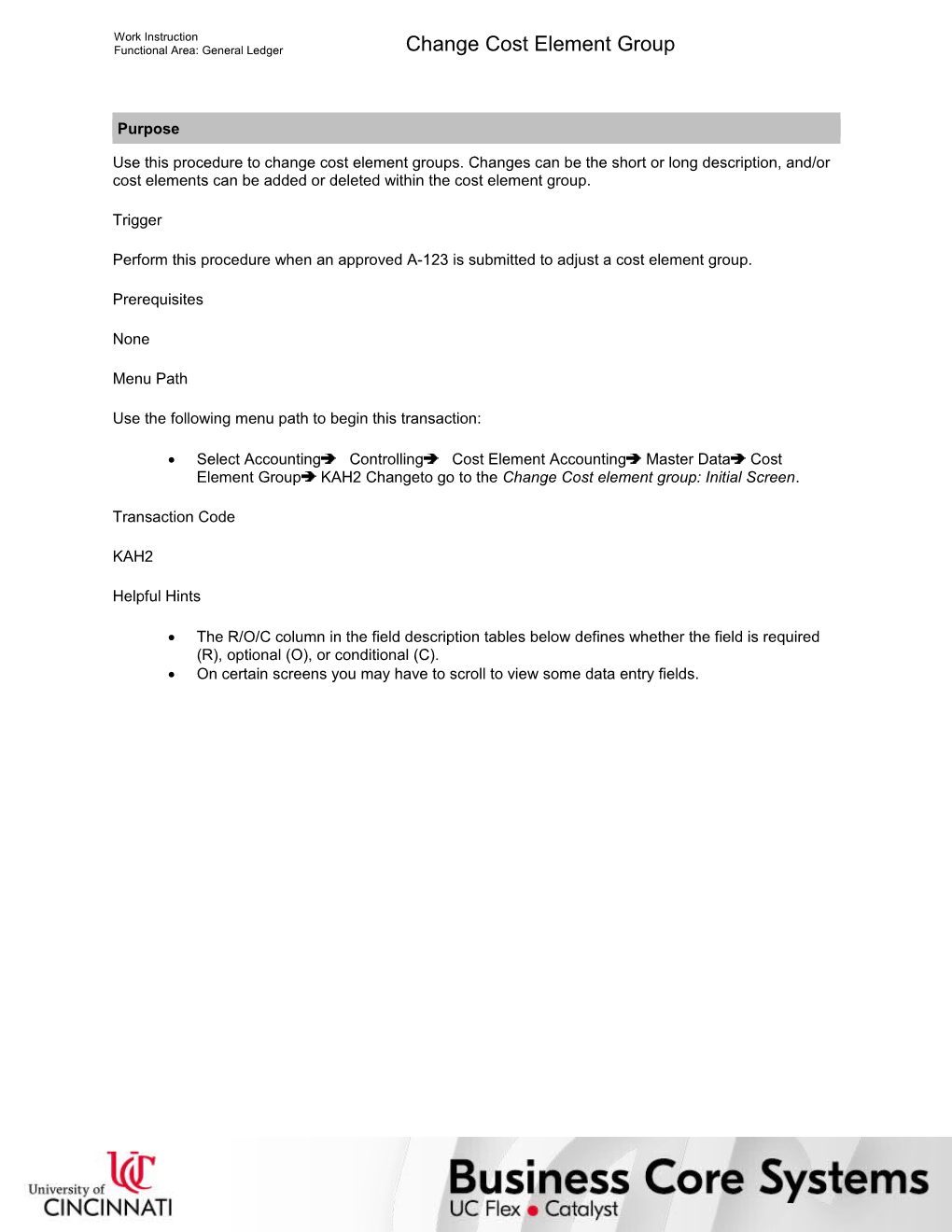 Work Instruction
Functional Area: General Ledger / Change Cost Element Group
Purpose
Use this procedure to change cost element groups. Changes can be the short or long description, and/or cost elements can be added or deleted within the cost element group.
Trigger
Perform this procedure when an approved A-123 is submitted to adjust a cost element group.
Prerequisites
None
Menu Path
Use the following menu path to begin this transaction:

Select Accounting Controlling Cost Element AccountingMaster DataCost Element GroupKAH2 Changeto go to the Change Cost element group: Initial Screen.
Transaction Code
KAH2
Helpful Hints

The R/O/C column in the field description tables below defines whether the field is required (R), optional (O), or conditional (C).
On certain screens you may have to scroll to view some data entry fields.

Work Instruction
Functional Area: General Ledger / Change Cost Element Group
Procedure
1. / Start the transaction using the menu path or transaction code.
Change Cost element group: Initial Screen

2. / As required, complete/review the following fields:
Field / R/O/C / Description
Cost element group / Required / Hierarchical grouping of cost elements created to facilitate data entry and reporting
Example:
ComputerEx
3. / Click .
Change Cost element group: Structure


4. / Perform one of the following:
If You Want To / Go To
Change the Long Description (or short description) name of the cost element group / Step 5
Delete a cost element from the group / Step 7
Add one or more cost elements to the group / Step 10
Exit this transaction / Step 13
Change Cost element group: Structure (2)


5. / Click on the cost element group to access the long description cost element field.
6. / As required, complete/review the following fields:
Field / R/O/C / Description
Cost Element Group Long Description / Required / The full descriptive name of the cost element group
Example:
ing (the word is just being adjusted here)
7. / Click on the appropriate cost element number to identify the cost element you wish to delete.
8. / Click to select the cost element.
Change Cost element group: Structure (3)


9. / Click to delete the cost element highlighted in pink above.
10. / Click to access additional fields so new cost elements can be added to the group.
Change Cost element group: Structure (4)


11. / As required, complete/review the following fields:
Field / R/O/C / Description
Cost Element / Required / Items in a chart of accounts that are relevant to cost and are used to enter all costs within the entire cost accounting system; Primary cost elements have a one-to-one relationship with general ledger expense accounts; Whenever costs are posted, they must be assigned to a specific cost element
Example:
549002
Add additional cost elements. You can use the drop-down box or type the cost element numbers.
12. / Click .
/ The system displays the message, "The changes have been saved."
13. / Click until you return to the SAP Easy Access screen.
14. / You have completed this transaction.
9/26/2017
Ver: / GL_KAH2_ChangeCostElementGroup_0_AccountCodeCustodianGL.udc
© University of Cincinnati / 1/8
Work Instruction
Functional Area: General Ledger / Change Cost Element Group
Result
You have changed the name and/or elements in a cost element group.
Comments
None
9/26/2017
Ver: / GL_KAH2_ChangeCostElementGroup_0_AccountCodeCustodianGL.udc
© University of Cincinnati / 1/8