Application for the Post of Associateprofessor/Professor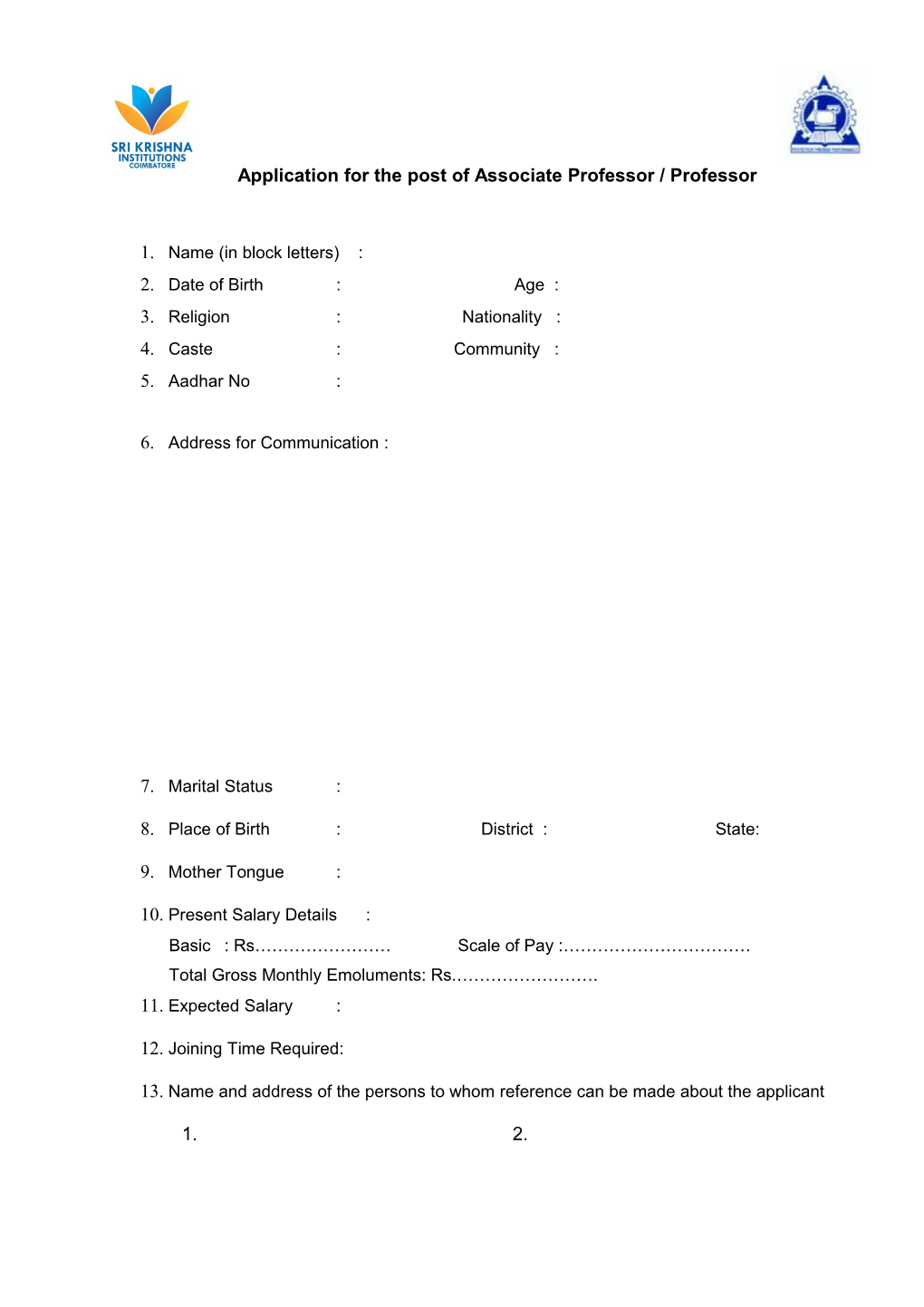 Application for the post of AssociateProfessor/Professor
Name(in block letters) :
Date of Birth: Age :
Religion : Nationality :
Caste: Community :
Aadhar No:
Address for Communication :
Marital Status :
Place of Birth : District : State:
Mother Tongue:
Present Salary Details :
Basic: Rs…………………… Scale of Pay :……………………………
Total Gross Monthly Emoluments: Rs.…………………….
Expected Salary:
Joining Time Required:
Name and address of the persons to whom reference can be made about the applicant
1. 2.
Academic Qualifications: (Starting from Highest Qualification)

Degree/
Diploma / Specialization / Medium of Instruction / Class / % of Marks / Cleared all the papers in single attempt (Say Yes / No)* / Name of the Institution / F / P / D ** / University / Month &
Year of Passing


* If No please provide the details in the following format

** Note : - F / P / D – State Whether – Full-Time (F), Part-Time (P), D – Distance Education

13 b.If passed the Degree with arrears provide the following details

Sl. No. / Degree / Name of the Arrear subjects / Semester in which arrear occurred / No. of attempts to clear / Semester in which cleared

Professional / Teaching / Research Experience (Starting from Present Experience)

Sl.No / Name of the post held / Name of the Employer / Institution / Pay and Scale of Pay / Period of Employment / Teaching/
Industrial/
Research
From
Date / To
Date / Years / Months

COURSE MATERIALS PREPARED
TITLE
YEAR

MONOGRAPHS PREPARED

TITLE
YEAR

18.BOOKS PUBLISHED
NAME OF THE BOOK
PUBLISHER
YEAR

PAPERS PUBLISHED IN INTERNATIONAL JOURNALS DURING THE LAST FIVE YEARS:
(Give Annexure if required)
PAPERS PUBLISHED IN NATIONAL JOURNALS DURING THE LAST FIVE YEARS:
(Give Annexure if required)
PARTICIPATION IN CONSULTANCY ACTIVITIES THROUGH THE INSTITUTION
DURING THE LAST THREE YEARS
CONSULTANCY JOB / PROJECT / ORGANISATION / PROJECT LEADER / REMUNERATION EARNED

PARTICIPATION IN SUMMER/CONTINUING EDUCATION PROGRAMMES
DURING THE LAST THREE YEARS
PROGRAMME
/ HELD AT / DURATION

23.MEMBERSHIP OF PROFESSIONAL BODIES
PROFESSIONAL BODIES / TYPE OF MEMBERSHIP / POSITION HELD

PAPERS PRESENTED IN CONFERENCES DURING THE LAST THREE YEARS:
(Give Annexure if required)
STATE ANY INNOVATION IN TEACHING/EVALUATION YOU HAVE EXPERIEMENTED DURING THE LAST THREE YEARS
PARTICIPATION IN ORGANISING CONTINUING EDUCATIONAL PROGRAMMES DURING THE LAST THREE YEARS

PROGRAMME / DURATION / PERIOD / NO. OF PARTICIPANTS / NATURE OF INVOLVEMENT

27.SPONSORED RESEARCH CARRIED OUT DURING THE LAST THREE YEARS
PROJECT / SPONSORING ORGANISATION / PERIOD / GRANT / PRINCIPAL INVESTIGATOR

DISTINCTION AND AWARDS RECEIVED
Place:
Date : Signature of the Applicant
Attach Xerox Copies of the following:
Educational Qualifications
Community certificate
Salary Proof