Application for Participation in an Event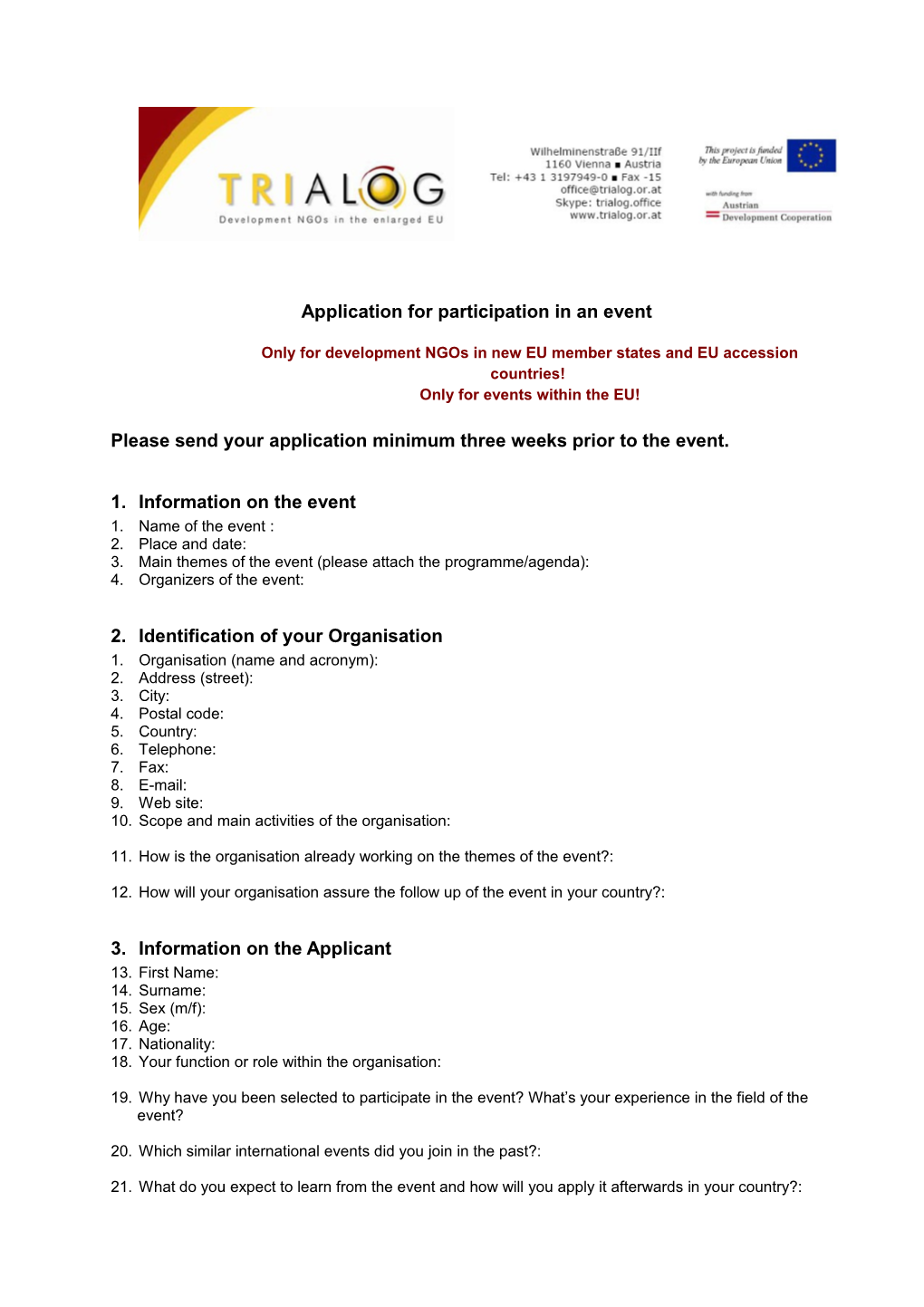 Application for participation in an event
Only for development NGOs in new EU member states and EU accession countries! Only for events within the EU!
Please send your application minimum three weeks prior to the event.
1.Information on the event
1. Name of the event:
2.Place and date:
3. Main themes of the event (please attach the programme/agenda):
4.Organizers of the event:
2.Identification of your Organisation
Organisation (name and acronym):
Address (street):
City:
Postal code:
Country:
Telephone:
Fax:
E-mail:
Web site:
Scope and main activities of the organisation:
How is the organisation already working on the themes of the event?:
How will your organisation assure the follow up of the event in your country?:
3.Information on the Applicant
First Name:
Surname:
Sex (m/f):
Age:
Nationality:
Your function or role within the organisation:
Why have you been selected to participate in the event? What's your experience in the field of the event?
Which similar international events did you join in the past?:
What do you expect to learn from the event and how will you apply it afterwards in your country?:
4.Finance
How much money do you request from TRIALOG?:
Travel
From (if not from main residence): To: to:
Accommodation:
Other (please specify):
What's the contribution of your organisation?:
Is anybody else contributing to the costs?:
5.Reimbursement
When will you arrive at the place of the event (plane or train arrival):
Date:Time:
When will you leave from the place of the event (plane or train departure):
Date:Time:
For events organised by TRIALOG please specify if you have any special food requirements (e.g. vegetarian food)?
For events organised by TRIALOG, to adhere to the principles of efficiency and development cooperation principled financial management, we would ask you to share your hotel room. You can give your preferences regarding your room mate according to the participants list of your event.
Yes, I will share a room.
I would like to share with______
No, I prefer a single room
29.For events organised by TRIALOG, in case of a "no show"or cancellation less than a week before the event we will charge you the costs of the hotel cancellation.
Please note that TRIALOG will only reimburse the agreed costs in case you participate in the whole event from the beginning till the end. Thus, please choose the travel schedule accordingly.
TRIALOG strongly encourages travelling with low CO2 emissions.