Annexure A: Standard Bid Documentation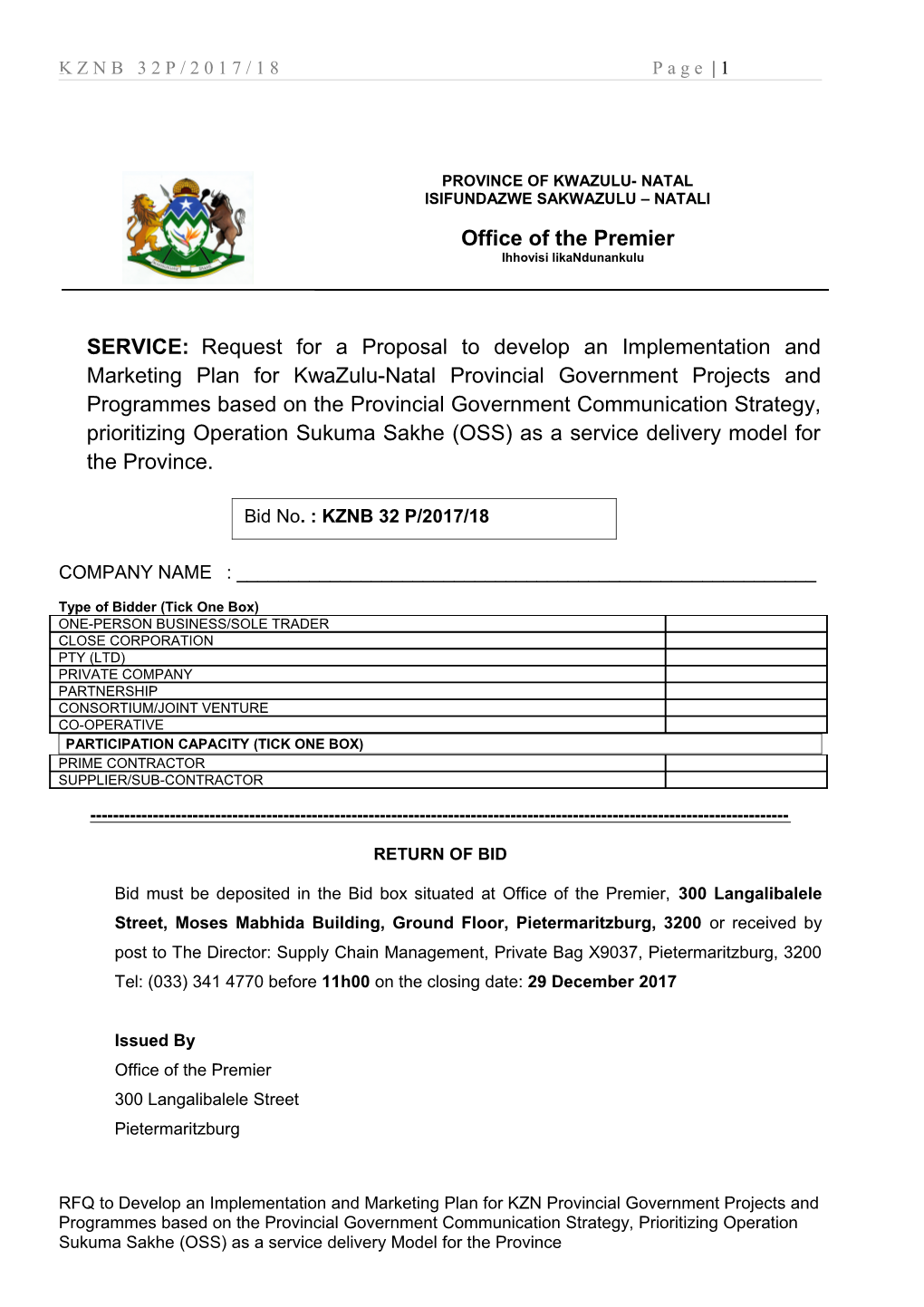 KZNB 32P/2017/18Page | 1

/ PROVINCE OF KWAZULU-NATAL
ISIFUNDAZWESAKWAZULU – NATALI
Office of the Premier
Ihhovisi likaNdunankulu


SERVICE:Request for a Proposal to develop an Implementation and Marketing Plan for KwaZulu-Natal Provincial Government Projects and Programmes based on the Provincial Government Communication Strategy, prioritizing Operation Sukuma Sakhe (OSS) as a service delivery model for the Province.

COMPANY NAME : ______

Type of Bidder (Tick One Box)

ONE-PERSON BUSINESS/SOLE TRADER
CLOSE CORPORATION
PTY (LTD)
PRIVATE COMPANY
PARTNERSHIP
CONSORTIUM/JOINT VENTURE
CO-OPERATIVE


PARTICIPATION CAPACITY (TICK ONE BOX)

PRIME CONTRACTOR
SUPPLIER/SUB-CONTRACTOR


------

RETURN OF BID

Bid must be deposited in the Bid box situated at Office of the Premier, 300 Langalibalele Street, Moses Mabhida Building, Ground Floor, Pietermaritzburg, 3200or received by post to The Director: Supply Chain Management, Private Bag X9037, Pietermaritzburg, 3200 Tel: (033) 341 4770before 11h00 on the closing date:29 December2017

Issued By

Office of the Premier

300 Langalibalele Street

Pietermaritzburg

RETURNABLE DOCUMENTS.

SCHEDULE 1 / ORIGINAL VALID TAX CLEARANCE. IN THE CASE OF A JOINT VENTURE/CONSORTIUM EACH ENTITY MUST SUBMIT A TAX CLEARANCE CERTIFICATE SEPARATELY
SCHEDULE 2 / COMPANY REGISTRATION DOCUMENTS
SCHEDULE 3 / EXECUTIVE SUMMARY
SCHEDULE 4 / MARKETING AND PROJECT MANAGEMENT EXPERIENCE (REFERENCES IN THE RELATED FIELDS)
SCHEDULE 5 / SITUATIONAL ANALYSIS
SCHEDULE 6 / RESEARCH SKILLS
SCHEDULE 7 / MARKETING TOOLS (i.e., Branding, Partnerships, Promotions, Distribution plan, Marketing Evaluation, etc.)
SCHEDULE 8 / TARGET CUSTOMERS
SCHEDULE 9 / UNIQUE SELLING PROPOSITION
SCHEDULE 10 / POSITIONING STRATEGY
SCHEDULE 11 / SKILLS TRANFER


REQUEST FOR PROPOSAL

1. PURPOSE

The purpose of this document is to Request for a Proposal to develop an Implementation and Marketing Plan for KwaZulu-Natal Provincial Government Projects and Programmes based on the Provincial Government Communication Strategy, prioritizing Operation Sukuma Sakhe (OSS) as a service delivery model for the Province.

2. Background

The Communication Strategy emphasizes the fact that communication represents an important function of Government responsible for improving three principal elements of Government – effectiveness (building broad support and legitimacy for programmes), responsiveness (knowing citizens needs and responding appropriately) and accountability (explaining government stewardship and providing mechanisms to hold government accountable). The Communication Strategy answers the question - how does the KZN Government communicate clearly, simply and convincingly when operating in the present circumstances which are constantly changing in the midst of a public-opinionated political space? The Strategy sets out the framework within which the KZN Government can respond to this challenge. Its key focus is to support and enhance government activities and service delivery programmes through effective communication, promoting its reputation and providing first class value-for-money services.

Although the strategy encompasses all government programmes, it prioritizes Operation Sukuma Sakhe.

OSS is an approach that was developed in this Province, adopted by National government and has own its significant recognition for its innovative approach as a service delivery model of government programmes. The approach affords the Province to deliver different programmes addressing poverty, diseases such as TB and HIV, behavior change against social ills, empowerment of vulnerable people in particular youth, women and people living with disabilities. This also includes programmes on poverty alleviation.

3. GOALS
To increase citizens service utilization;
To increase compliance with legislative prescripts;
To improve public health and safety;
To change the mind-set of citizens on anti-social behavior;
To improve the imperative of value-for-money on service delivery;
To improve customer satisfaction and;
To empower citizens with accurate government information.
4. MINIMUM REQUIREMENTS
The Proposal must cover the following minimum deliverables but not limited to these.
Executive Summary
Situational Analysis
Research Skills
Marketing Experience/Company Profile
Marketing Tools
Target Customers
Unique Selling Proposition (USP)
Positioning Strategy
Project Management Experience
Promotions
Distribution Plan
Marketing Evaluation
Skills Transfer

Schedule 01: Tax Clearance Certificate
Schedule 02: Registration Documents
Schedule 03: EXECUTIVE SUMMARY
Schedule 05: SITUATIONAL ANALYSIS
Schedule 06: RESEARCH SKILLS
Schedule 07: MARKETING TOOLS (i.e., Branding, Partnerships, Promotions, Distribution plan, Marketing Evaluation, etc.)
Schedule 08: TARGET CUSTOMERS
Schedule 09: TARGET CUSTOMERS
Schedule 10: UNIQUE SELLING PROPOSITION
Schedule 11: SKILLS TRANFER


RFQ to Develop an Implementation and Marketing Plan for KZN Provincial Government Projects and Programmes based on the Provincial Government Communication Strategy, Prioritizing Operation Sukuma Sakhe (OSS) as a service delivery Model for the Province