AASHTO S National Transportation Product Evaluation Program (NTPEP)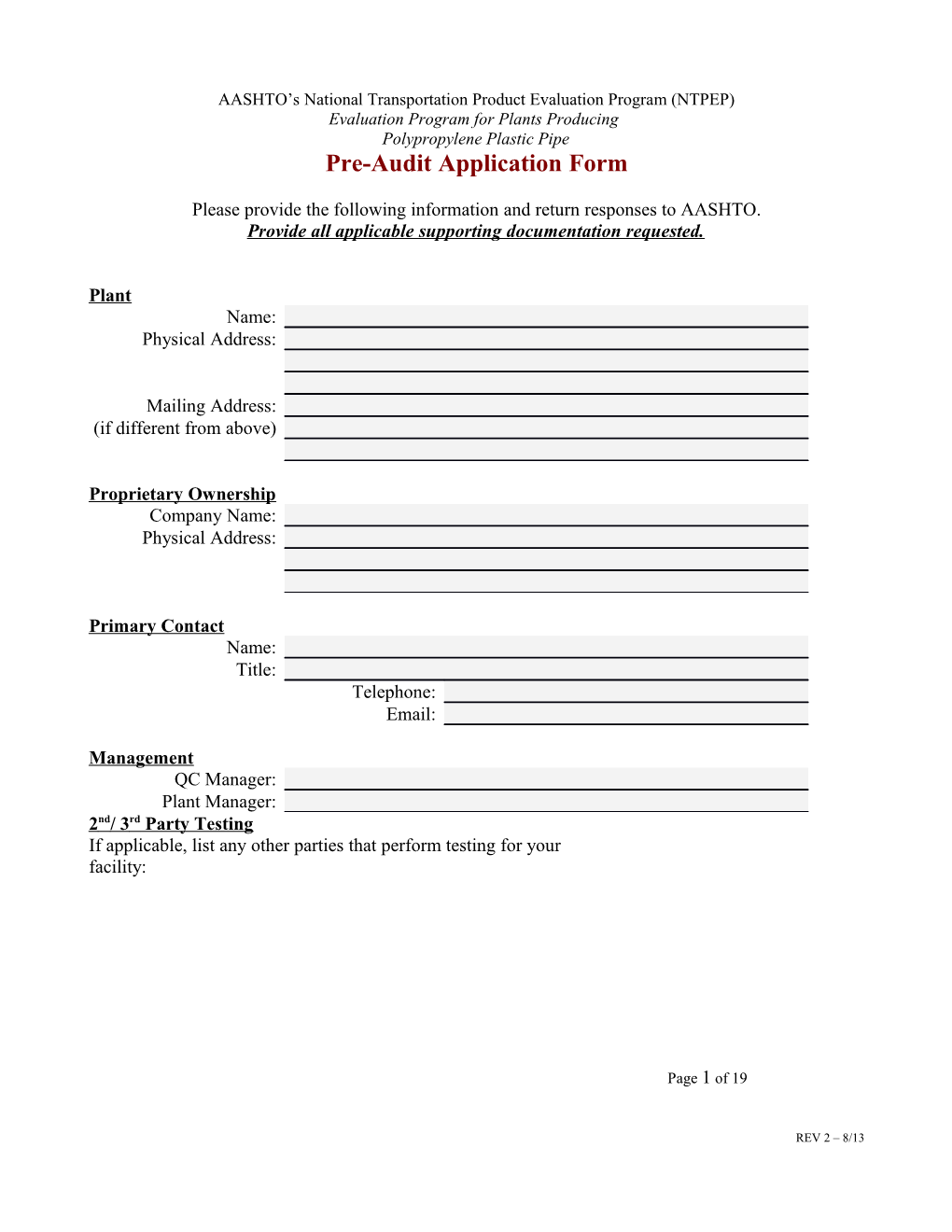 AASHTO's National Transportation Product Evaluation Program (NTPEP)

Evaluation Program for Plants Producing

Polypropylene Plastic Pipe

Pre-Audit Application Form

Please provide the following information and return responses to AASHTO.

Provide all applicable supporting documentation requested.

Plant
Name:
Physical Address:
Mailing Address:
(if different from above)
Proprietary Ownership
Company Name:
Physical Address:
Primary Contact
Name:
Title:
Telephone:
Email:
Management
QC Manager:
Plant Manager:
2nd/ 3rd Party Testing
If applicable, list any other parties that perform testing for your
facility: /


Page 1 of 19

REV 2 – 8/13

AASHTO's National Transportation Product Evaluation Program (NTPEP)

Evaluation Program for Plants Producing

Polypropylene Plastic Pipe

Pre-Audit Application Form

Table of Contents

Section 1: Standard Specifications

Section 2: Size and Type of Material Produced by the Plant

Section 3: Corrugated Pipe Identification Markings

Section 4: Product Information

Section 5: Sample Reports for Resin and Pipe Testing

Section 6: Quality Management System (QMS)

Section 7: Signature

Page 1 of 19

REV 2 – 8/13

AASHTO's National Transportation Product Evaluation Program (NTPEP)

Evaluation Program for Plants Producing

Polypropylene Plastic Pipe

Pre-Audit Application Form

Section 1: Standard Specifications

Auditor Note -Indicate if current versions of the following AASHTO & ASTM standards are available at the plant.
AASHTO / ASTM

Specification for Polypropylene Pipe, 300 to 1500 mm (12 to 60 in.) Diameter
/ M 330-13

Standard Test Method for Determination of Compression Capacity for Profile Wall Plastic Pipe by Stub Compression Loading
/ T 341-10

Test Method for Tensile Properties of Plastics
/ D 638-10
Test Method for Flexural Properties of Unreinforced and Reinforced Plastics and Electrical Insulation Materials / D 790-10

Test Method for Melt Flow Rates of Thermoplastics by Extrusion Plastometer
/ D 1238-10

Standard Test Methods for Density and Specific Gravity (Relative Density) of Plastics by Displacement OR
Test Method for Density of Plastics by the Density-Gradient Technique
OR
Standard Test Method for Density of Polyethylene by the Ultrasound Technique
/ D 792-08
D 1505-10
D 4883-08

Standard Test Method for Determination of Carbon Black Content in Polyethlyene Compounds By the Muffle Furnace Technique
/ D 4218-96(08)

Test Method for Determining Dimensions of Thermoplastic Pipe and Fittings
/ D 2122-98 (10)

Test Method for Determination of External Loading Characteristics of Plastic Pipe by Parallel-Plate Loading
/ D 2412-11

Test Method for Determination of Impact Resistance of Thermoplastic Pipe and Fittings by Means of a TUP (Falling Weight)
/ D 2444-99 (10)

Specification for Polyethylene Plastics Pipe and Fittings Materials
/ D 3350-12e1

Test Method for Notched, Constant Ligament-Stress (NCLS) Test to Determine Slow-Crack-Growth Resistance of HDPE Resins or HDPE Corrugated Pipe
/ F 2136-08
Comments: / None


Company Test Procedures:

Please provide hard copies or electronic copies of any company test procedures used at this plant as substitutes for the standard quality control test procedures listed above.

Section 2: Size and Type of Material Produced by the Plant

Specification 330: Indicate all applicable pipe produced at this location:
Key: St = Straight Co = Coil C1 = Class 1 Perforations C2 = Class 2 Perforations
Type C – No Inner WallType CP – No Inner Wall with Perforations
Type S – Smooth Inner WallType SP – Smooth Inner Wall with Perforations
Type D – Smooth Inner Wall joined to Smooth Outer Wall
Type DP – Smooth Inner Wall joined to Smooth Outer Wall with Perforations
Key: C1 = Class 1 Perforations C2 = Class 2 Perforations
Single-Wall / Dual-Wall / Smooth Inner & Outer Wall
C / CP / S / SP / D / DP
Size inches [mm] / C1 / C2 / C1 / C2 / C1 / C2
12 [300]
15 [375]
18 [450]
21 [525]
24 [600]
27 [673]
30 [750]
36 [900]
42 [1050]
48 [1200]
54 [1350]
60 [1500]


Section 3: Corrugated Pipe Identification Markings

Please provide pictures (hard copy or electronic) that illustrate the polypropylene pipe identification markings used at this plant.

Section 4: Product Information

YES / NO
A) / General
1) Does the company own plants at other locations?
2) If yes, does each plant have its own unique pipe marking?
List other locations: / N/A
B) / Resin Information
1) How is resin received at the plant?
by Railcar by Truckload with Hopper by Truckload of Boxes
by Other Method:
If Other Method, Please Describe:
2) Please Describe your Lot Numbering System:
3) Are Certificates of Analysis furnished by Resin Manufacturers for each lot of resin?
4) Are Certificates of Analysis furnished by manufacturers for each lot of carbon black pellets?
Please identify and describe what blends your facility uses:
Comments: / None
C) / Pipe Information
The following tables include details for quality control testing. Please indicate, for each test shown, whether your facility conducts the test in-house, by a second party facility, or by a third party facility. If the test is conducted by a second party facility or third party facility, please indicate the interval tested as well as the contact information and address for the facility. (The in-house and second parties are the manufacturer and owneragency (DOT), and a third party is an impartial testing facility not under the control or influence of either the manufacturer or owner.)
Matrix of Quality Control Tests, Facilities, and Intervals (M 330)
TEST NAME / Testing Performed: / Test Interval:
In-House / By a Second Party Facility1 / By a
Third Party Facility1 / M330
Resin Tests:
Density:
- Gradient Technique
- Displacement Method
- Ultrasound Technique
Melt Index
NCLS (blended resins only)
Pipe Tests:
Unit Weight
Color Content
Wall Thickness:
- Ball Anvil Micrometer
- Ultrasonic Gauge
Inside Diameter
Pipe Length
Perforation Locations
Perforation Dimensions
Water Inlet Area
Pipe Stiffness & Flattening
Stub Compression
Brittleness
NCLS (pipe liner)
Joint Integrity (Welded Bell/Spigot)
1Names, addresses, and contact information for second and/or third party facilities used:


Page 1 of 19

REV 2 – 8/13

AASHTO's National Transportation Product Evaluation Program (NTPEP)

Evaluation Program for Plants Producing

Polypropylene Plastic Pipe

Pre-Audit Application Form

C) Continued: Training Information Matrix for Quality Control Testing Conducted In-House
Please list the names and quality control tests for which they are trained to perform for those individuals conducting quality control testing at the facility:

Please include a copy of the training record and competency evaluation record for each employee listed below.

Resin Tests / Density / Melt Index / NCLS / Pipe Tests / Unit Weight / Carbon Black Content / Wall Thickness / Inside Diameter / Pipe Length / Perforations Locations / Perforations Dimensions / Water Inlet Area / Pipe Stiffness & Flattening / Brittleness / Joint Integrity / Stub compression / NCLS Liner
Personnel


Page 1 of 19

REV 2 – 8/13

AASHTO's National Transportation Product Evaluation Program (NTPEP)

Evaluation Program for Plants Producing

Polypropylene Plastic Pipe

Pre-Audit Application Form

Section 5: Sample Reports for Resin and Pipe Testing

*Please providesample reports representing the following quality control testing:

M330 Specification:

Resin – Density, Melt Index

Pipe – Unit Weight, Carbon Black Content, Wall Thickness, Inside Diameter,

Pipe Length, Perforation Locations, Perforation Dimensions, Pipe

Stiffness, Pipe Flattening, Brittleness,

Joint Integrity (welded bell), Environmental Stress Cracking

M330 Specification

Resin – Density, Melt Index, NCLS (blend)

Pipe – Unit Weight, Carbon Black Content, Wall Thickness, Inside Diameter,

Pipe Length, Perforation Locations, Perforation Dimensions, Pipe

Stiffness, Pipe Flattening, Brittleness, Joint Integrity( welded bell), Stub Compression, NCLS Liner Test

Section 6: Quality Management System (QMS)

Please attach supporting documentation for each the following requirements:

YES / NO
A) / Cover Page
1) Does the QMS cover page contain:
a) The Company Name
b) The Company Logo
c) The Date of Latest Revision
B) / Organization and Organizational Policies
1) Does the QMS include a document indicating the line of authority from the quality control testing technicians to the quality control manager?
C) / Quality Mission Statement
1) Does the QMS include a quality mission statement endorsed by the company's Chief Executive Officer?
Comments: / None
YES / NO
D) / Quality Control of Raw Materials (Resin)
1) Does the QMS include procedures for the quality control of resin?
2) Do the procedures:
a) indicate the location of random sampling?
b) describe the method for random sampling?
3) Does the method of random sampling include the size of sample and the lot size for the quality control of resin?
4) Does the procedure for the quality control of resin indicate the interval for each test performed?
5) Does the plant conduct any other quality control testing of resin?
If yes, please list:
Comments:
YES / NO
E) / Quality Control Inspection and Testing (Pipe)
1) Does the QMS include procedures for the inspection and testing of pipe?
2) Do the procedures:
a) Require visual inspections of exterior and interior walls for bonding, blowouts, and workmanship items during production?
b) Describe a method for random sampling?
3) Does the method of random sampling include the size of sample and the lot size for the quality control of pipe?
4) Does the procedure for the quality control of pipe indicate the interval for each test performed?
5) Does the QMS include an example of a quality control test report form?
6) Does the QMS document where fittings and couplings are manufactured, the source of the components, and the fabrication process used?
7) Does the QMS include the process used to assure that all resins (and 3rd party components) used to manufacture fittings and couplings meet M330 requirements?
8) Does the QMS establish traceability from the fitting or coupling back to the resin lot used? (blow molded or injected fittings)
9) Are the documents that establish traceability of fittings and couplings maintained along with the inventory? (blow molded or injected fittings)
Comments:
YES / NO
F) / Training and Competency Evaluation for Quality Control Personnel
Training
1) Does the QMS include procedures used to ensure that the plant's personnel are trained to perform all quality control tests?
2) Do the procedures indicate that the quality control manager is responsible for the training program and maintenance of records?
Competency Evaluations
3) Does the QMS include procedures used to evaluate staff competency to ensure that each quality control test is performed in accordance with standard procedures?
4) Do the procedures:
a) indicate that the evaluations are conducted at least annually and / or whenever there is a change in procedures?
b) indicate that the quality control manager is responsible for evaluating staff competency and maintaining records?
G) / Statistical Analysis of Test Results
1) Does the QMS include a document describing the statistical process control plan?
2) Does the plan include methods such as control charts to monitor production facility quality control test results to identify trends and make production adjustments as necessary?
Comments:
YES / NO
H) / Resolution of Non-Conforming Product or Test Results
1) Does the QMS include provisions for resolving non-conforming product or test results?
2) Do the provisions require that a test report clearly identify the deficiencies?
3) Dothe provisions require that product produced subsequent to the deficiency will be quarantined pending an investigation of the failure?
4) Does the investigation include:
a) Obtaining and testing check samples?
b) If check sample meets requirements, reasons for original failure documented?
c) After reasons are documented, is the quarantined material released?
d) If check sample fails requirements, corrective action taken?
e) Corrective action noted on test report?
f) A second sample taken to verify the deficiency has been corrected?
g) If second sample fails, is the process (a – f) repeated until the deficiency is corrected?
5) Does the QMS require that test reports indicate the action taken to resolve resin or product failures?
6) Does the QMS have a procedure for addressing the protocol followed when non-conforming product leaves the yard?
I) / Retention of Test Results and Product Traceability
1) Does the QMS include a process for storing quality control test reports?
2) Does the process:
a) include an identification in such a way that the test results for any pipe can be located including the test results for the resin used to manufacture the pipe?
b) include an identification of the location of the quality control test reports?
Comments:
YES / NO
J) / Records Retention
1) Does the QMS include requirements for records retention?
2) Do the requirements indicate the following documents be retained for at least 7 years:
a) NTPEP audit documentation?
b) Resin test reports (QC of Raw Material)?
c) Pipe test reports (QC of Product)?
d) Training and Competency Records
e) Equipment calibration / standardization / checks?
f) Internal Audits?
K) / Quality Control Testing Facilities
1) Does the QMS include requirements for the quality control testing facilities?
2) Do the requirements indicate that:
a) There is a description of how QC responsibilities are covered at all times, including when the QC manager is away from the plant for any reason?
b) The quality control manager be responsible for quality control testing at all facilities and shall assure that all sampling and testing is done by technicians meeting the requirements of manufacturer's technician qualification program as described in the quality system manual?
c) The facilities shall maintain current versions of all AASHTO, ASTM, and Company Test Procedures for all tests performed and a current version of the company's quality system manual?
d) The testing equipment shall be calibrated/verified in accordance with the equipment manufacturer's recommendations at least once every 12 months by personnel customarily involved in such work as documented in the quality system manual?
e) All testing facility equipment shall be properly maintained and maintenance activities shall be documented?
f) The testing facility shall maintain records of all NTPEP reviews and actions taken to resolve any note deficiencies?
g) Records of equipment calibration, verification, and maintenance will be retained and available to the NTPEP for review upon request?
Comments:
YES / NO
L) / Lab Equipment List
1) Does the QMS include a list(s) giving a general description of physical and chemical test equipment requiring calibration, standardization, or checks?
2) Does the list include:
a) The interval between calibration, standardization, or checks?
b) A reference to calibration, standardization, or check procedures?
c) An identification of the location of calibration, standardization, or check records?
M) / Lab Equipment Plan
1) Does the QMS include procedures for ensuring that equipment standardizations and checks are performed for all required equipment at specified intervals?
2) Do the procedures include:
a) How to handle equipment which is newly acquired, removed from service, or does not meet accuracy requirements?
b) In-house equipment standardization and check procedures, when they cannot be referenced in applicable standards?
c) Certificates or other documents that establish traceability of in-house equipment or reference standards used for standardization and checks?
N) / Lab Equipment Maintenance
1) Does the QMS include procedures for ensuring that equipment maintenance is performed for all required equipment at specified intervals?
2) Do the procedures indicate:
a) The position(s) or employee(s) responsible for ensuring the maintenance is performed?
b) How the maintenance is documented?
c) The location of maintenance records?
O) / Marking, Storage, Shipping, and Handling of Finished Pipe
1) Does the QMS include procedures for marking, storing, shipping, and handling of finished pipe?
Comments:
YES / NO
P) / Internal Audits
1) Does the QMS include procedures for performing internal quality audits?
Note – the audit may be performed by an independent auditor (third party) provided all the activities listed under 2) are covered.
2) Do the procedures include:
a) an evaluation of plant inspection?
b) an inspection of testing equipment and calibrations?
c) an observation of resin sampling and lot control procedures?
d) an observation of pipe sampling and testing procedures?
e) a review of the product certification procedures
f) a review of nonconforming product documentation and actions taken?
3) Are the results of the audit documented?
4) Is the most recent report included in the quality manual?
Q) / Management Reviews
1) Written procedures for performing management reviews?
2) Do the procedures indicate the following:
(a) What position(s) or employee(s) are responsible for ensuring that management reviews are performed?
(b) The frequency, scope and criteria used for performing the management review(s)?
(c)Conditions under which corrective action will be implemented?
R) / List of Plants, Quality Control Testing Facilities, and Technicians
1) Are the addresses and telephone numbers of all plants and quality control testing facilities included in the QMS?
2) Are the quality control contacts for each facility identified?
Comments:


Please provide any additional information or comments you would like the auditor to be aware of in the following table.

S) / Optional Comments
Comments:


Section 7: Signature

Signature: / Date:
I certify that all responses are truthful and accurate.
Name: / Title:
Plant Name: / Location (City, State):


Page 1 of 19

REV 2 – 8/13