2015Henry Clark Memorial Award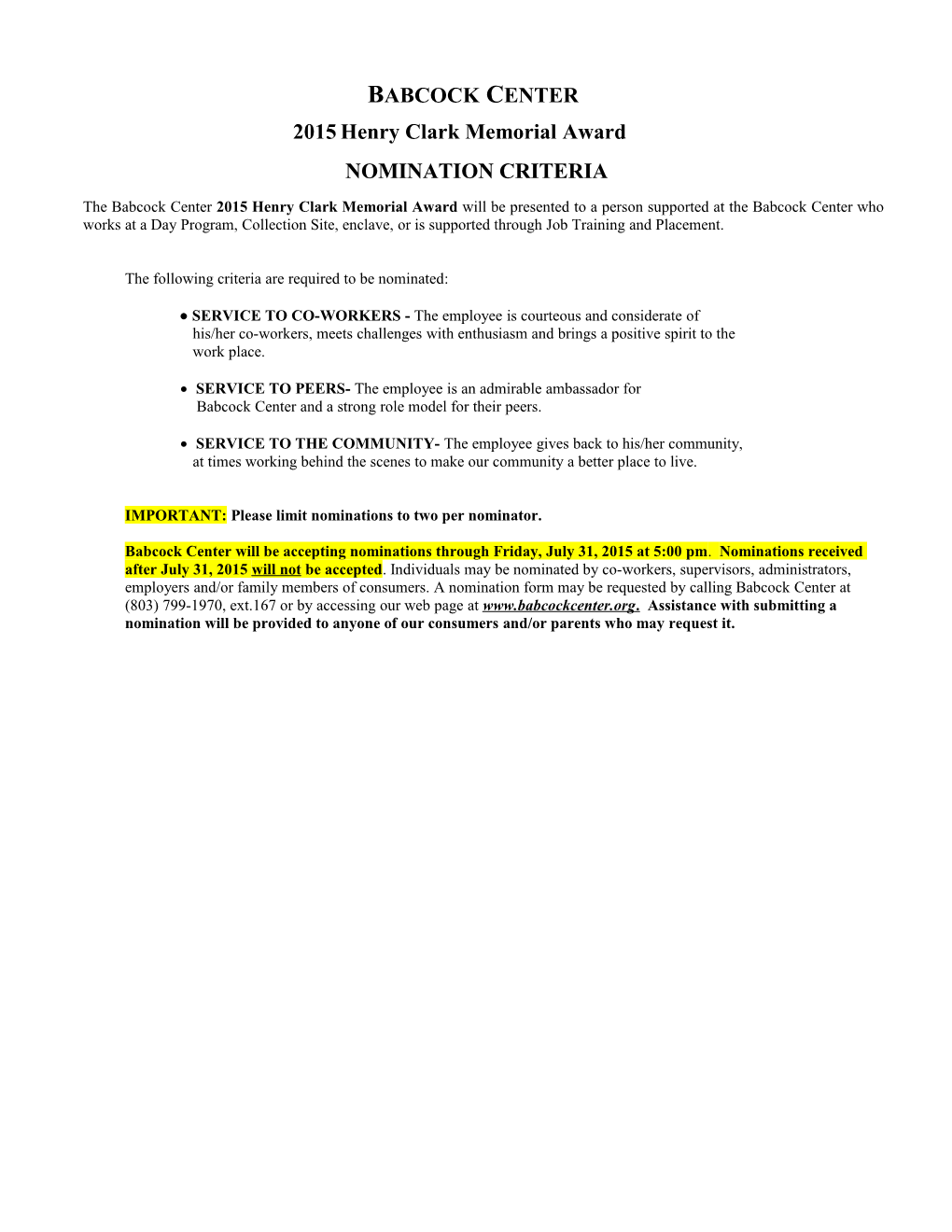 BABCOCK CENTER
2015Henry Clark Memorial Award
NOMINATIONCRITERIA
The Babcock Center 2015Henry Clark Memorial Award will be presented to a person supported at the Babcock Center who works at a Day Program, Collection Site, enclave, or is supported through Job Training and Placement.
The following criteria are required to be nominated:
 SERVICE TO CO-WORKERS - The employee is courteous and considerate of
his/her co-workers, meets challenges with enthusiasm and brings a positive spirit to the
work place.
 SERVICE TO PEERS- The employee is an admirable ambassador for
Babcock Center and a strong role model for their peers.
 SERVICE TO THE COMMUNITY- The employee gives back to his/her community,
at times working behind the scenes to make our community a better place to live.
IMPORTANT:Please limit nominations to two per nominator.
Babcock Center will be accepting nominations through Friday, July 31, 2015 at 5:00 pm. Nominations received after July31, 2015will not be accepted. Individuals may be nominated by co-workers, supervisors, administrators, employers and/or family members of consumers. A nomination form may be requested by calling Babcock Center at (803) 799-1970, ext.167 or by accessing our web page at Assistance with submitting a nomination will be provided to anyone of our consumers and/or parents who may request it.
BABCOCK CENTER
2015Henry Clark Memorial Award
NOMINATION FORM
(Please type or print clearly. Complete a separate form for each nomination. Nominations are due NO LATER than July 31, 2015)
Nominee Information
Name (First, MI Last): Title:
Workplace : Total Years of Service:
Title and description of current position held with Babcock Center or current employer :
Questions:
1. How is the employee courteous and considerate of his/her co-workers? Please give examples of how he/she brings a positive and enthusiastic spirit to the workplace.
3. Give examples of special ways that this employee is an ambassador for Babcock Center and a strong role model for their peers.
4. List examples of service that this employee has accomplished to make our community a better place to live.
References:
List the names and telephone numbers of three individuals who could verify the information provided and support your nomination for this person to receive the Employee of the Year award.
1.
2.
3.
Nominator Information
Name (First, MI Last):
Daytime Phone Number: Evening Phone Number: Relationship to Nominee:
If an employee of Babcock Center: Position: Facility:
Nomination criteria and applications can be accessed by visiting our web page at
Please return this application and any attachments by July 31, 2015 to the Mary L. Duffie Building, Attn: Carrie Deaton
Babcock Center, Inc.Tel: (803) 799-1970, ext. (167)
P.O. Box 4389Fax: (803) 779-8829
West Columbia, SC 29171E-Mail: